Envisioned and influenced by the picturesque landscapes of the French countryside, Leena Monga, the visionary behind Agnom Designs, has unveiled her most recent endeavor in Vasant Kunj, offering a serene and soothing refuge from the daily urban hustle and bustle. Drawing inspiration from the concept of biophilia, which taps into our inherent human longing to commune with nature, this home showcases a Biophilic French design. It is distinguished by a meticulous blend of organic components like lush foliage and timber, seamlessly interwoven with the elegance and refinement synonymous with French architectural styles.
Nestled within a sprawling 11,000 sq ft expanse in Vasant Kunj, Villa Verdure boasts four opulent bedrooms and expansive lounging areas. Immerse yourself in an ambiance of refined tranquility and supreme comfort, where the utilization of natural materials takes center stage in the design. The moment you step inside, you're enveloped by an aura of grandeur and splendor. A bespoke chandelier with an impressive 8 ft diameter and a console resembling a chess piece, crafted from travertine and black Marquina marble blocks, immediately evoke a sense of opulence upon entering the foyer. Throughout the villa, natural elements like stone, wood, and textiles exude a welcoming warmth, creating an inviting haven for relaxation and unwinding. Thoughtfully positioned windows usher in abundant natural light and fresh air, while abundant greenery and foliage instill a profound connection with the natural world. The ample infusion of daylight seamlessly melds the indoor and outdoor spaces, while earthy tones such as green and brown are artfully employed to mimic the serene colors of nature.
A checkered flooring, marble table, and console, complemented by stylish chandeliers and a striking black and gold staircase railing, set the stage for the Biophilic French design theme. The living room, adorned with gold wall trims, exudes opulence. Divided into three distinct seating areas, each element is adorned with luxurious upholstery and metallic accents, elegantly lit by chandeliers and wall sconces. Indoor plants grace the space, infusing a touch of nature, fostering a serene atmosphere, and introducing natural textures to the room.
The informal lounge on the upper floor is imbued with a mysterious allure, boasting darker tones and a captivating ambiance. The master bedroom design incorporates the soft curves, ornate details, and intricate moldings characteristic of French design. It seamlessly merges natural and organic elements with refined elegance, presenting a canvas of soothing greys with subtle silver accents, all in a tastefully minimalistic arrangement.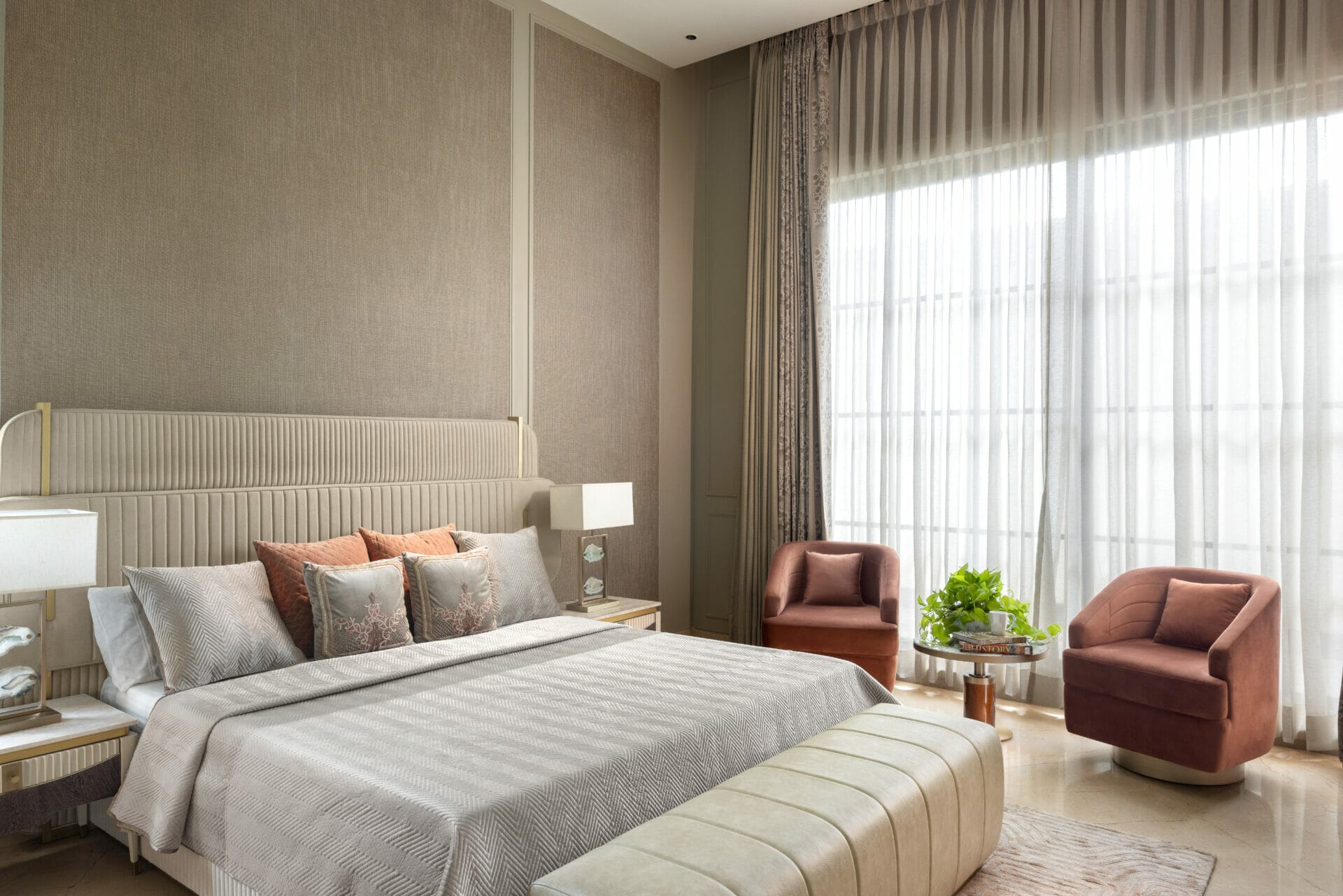 In the son's bedroom, vibrant splashes of blue and yellow against a grey backdrop, along with a quirky personalized carpet, cushions, and charming decor pieces, elevate the space with a playful and personalized touch. The daughter's room, adorned with a four-poster bed, a cozy play area, and soft furnishings, is bathed in natural light, harmoniously blending a variety of colors while maintaining an air of delicacy.The guest room, adorned in soothing beige and taupe tones, achieves balance and harmony with a subtle pop of rusty color provided by lounge chairs. Wall moldings, a consistent design feature throughout the house, continue their graceful presence in this room as well.
Fact File :
Project Name : Villa Verdure
Location : Vasant Kunj, New Delhi
Size: 11,000 square feet
Typology: Residential space,
Interior Design Firm : Agnom Designs
Photography Credit: Atul Pratpa Chauhan
Product Library:
Flooring: FCML
Paints: Asian Paints
Lightning: Jainsons Emporio
Façade: Kviraaj India
Elevator: Kone
Furniture: Nivasa and Quba
Furnishing: UDC and Floor and Furnishings
Styling: Elvy, Attico, Table, and Twist.
Rugs: Jaipur rugs
Beddings :Lush and Beyond
Painting: Anyaah