Tucked away in a green lane of Mount Pleasant Road, Malabar hills in Mumbai is a 2-Bhk Abode of interior designer Shonali Mahajan. The flat is a part of a beautiful building – Everest apartments, with big windows that provide access to abundant natural light and an overlook of the green tree avenue outside. The client, being an interior designer herself, got involved with her team at Studio Wodehouse in remodeling the space.
The flat includes 2 bedrooms, a small but simple kitchen, a staff room with bathroom, and 2 perfectly sized en suite bathrooms. The initial finish of the Everest was simple white walls and cherry wood flooring across the entire house. The team delved in to make the cosmetic changes to the interior that can later be changed or removed easily if required.
The doors had a laminated finish which is covered with a 3mm matt black film that gives a neat finish and does not require polishing and saves time. The windows saw the addition of pelmets to add curtains that gelled with the interiors of Everest. Full-length curtains like sheers are used with black rods to add height to the room and filter the light and ensure a softer influx indoors. Heavy curtains might decrease the size of the room visually so instead a lighter curtain option is an apt choice to go for.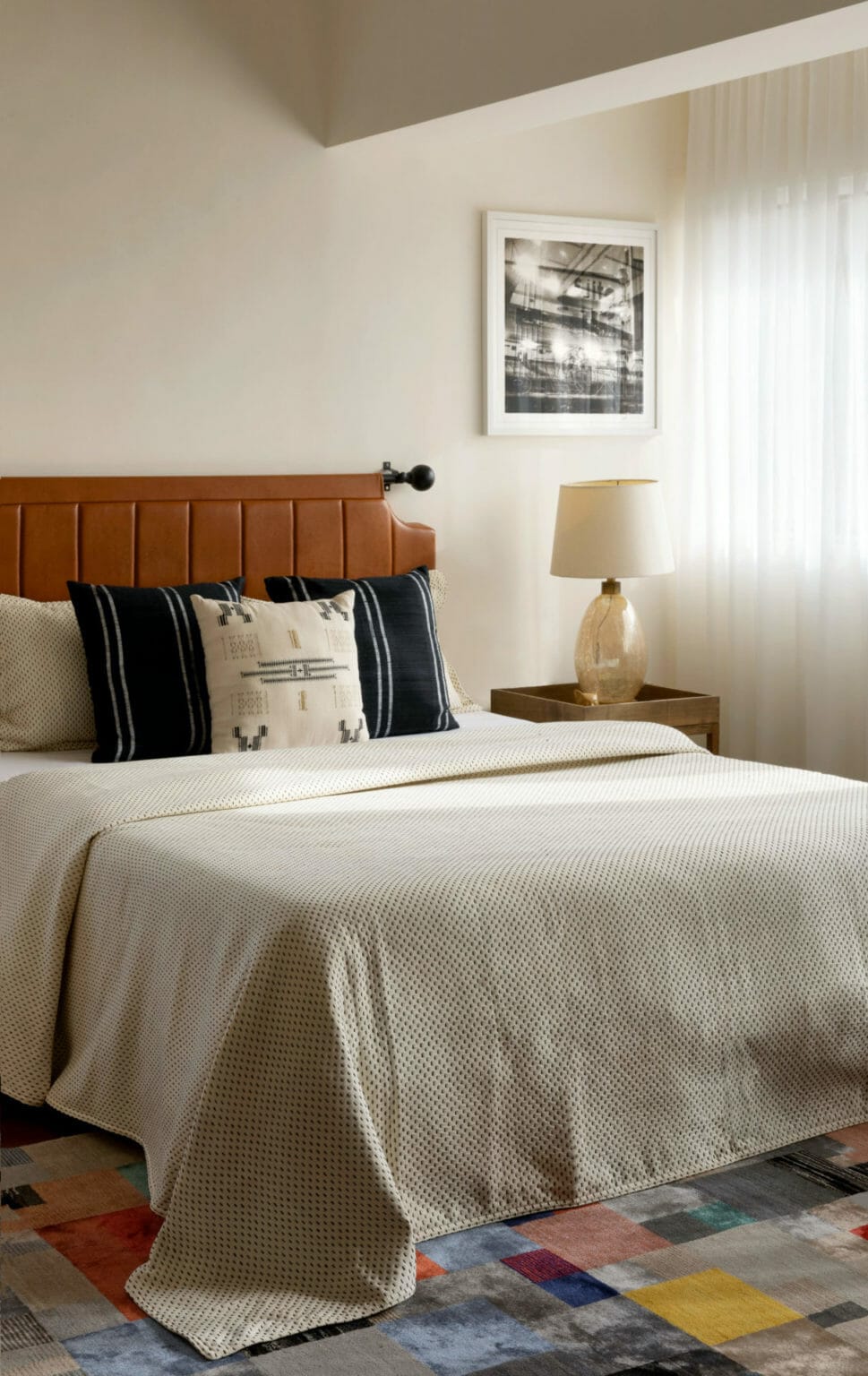 The living room has two odd-sized windows on either side of the main window which is covered up with mock drapes. The sofa set is upholstered with white fabric and a jute rug brings the whole room together. The Frey Dijon Print from Iqrup & Ritz is used for mock drapes. The kitchen had less storage available so an overhead cabinet for storage was added to provide more storage space. The staff room was remodeled with a washing/drying area and a loose pullout storage bed.
The furniture used In Everest is mostly Parsi style sourced from Rustom's Grandfather, Pune. The lighting that accentuates the decor is mostly white light sourced and repurposed. The pieces used like beaten metal side tables, bone inlay coffee tables, marble side tables, dining console, rust daybed, bar trolley, or any other element that beautifies the interiors have been sourced locally and are extremely sustainable. The walls are graced with plastered oversized and dramatic modern art. This project entails the nuances that can easily alter the vibe and aesthetic of a space and do not require more investment in terms of time and money.
Fact Sheet
Project Name: Everest
Location: Mount Pleasant Road, Malabar hill, Mumbai
Firm Name: Studio Wodehouse
Image Credits: Studio Wodehouse