When you're remodeling a house, it's important to think about the kind of view that you want to have. If you don't have a view, it's important to create one with the balconies.
That's where balconies come in. A balcony can be the perfect spot for a morning cup of coffee, for reading a book, or for entertaining guests. A balcony creates a stunning focal point for your home that combines the best parts of indoor and outdoor living.
When you build a balcony onto your home, you create the opportunity to take advantage of outstanding views, whether they are mountain vistas, sunsets over water, or city skylines. Balconies are also excellent places to entertain guests or host parties.
If you are looking to renovate or add a cozy place to your house, take a look at the 7 tips to transform your empty balcony into a desirable space.
Create a Sense of Privacy
For those whose outdoor spaces adjoin a neighbor's, a room divider can create the illusion of privacy as well as make for an attractive contrast with more casual seating areas. Rather than a sofa and loveseat, try pairing a bench with a side chair for an airy seating area that takes up less space but can be just as cozy if you add cushions and throws.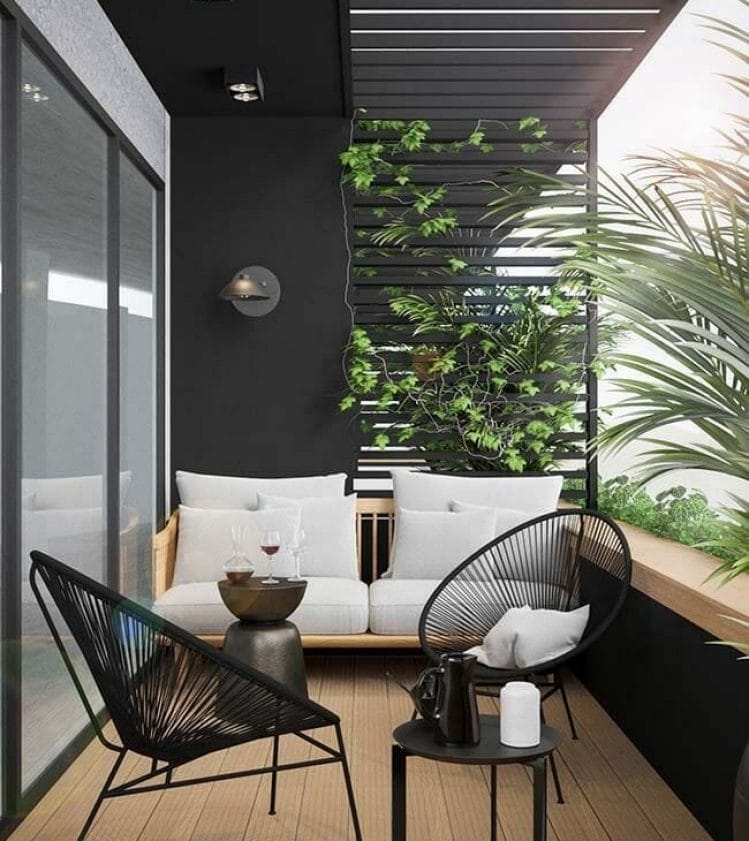 Mimic Your Interiors
When your formal sitting room or guest room opens onto a balcony, decorate your patio furniture to blend with the style and color palette of your indoor furnishings. The traditional meets rustic furniture speaks to the laidback ranch-style Montecito, California, design featured inside this home.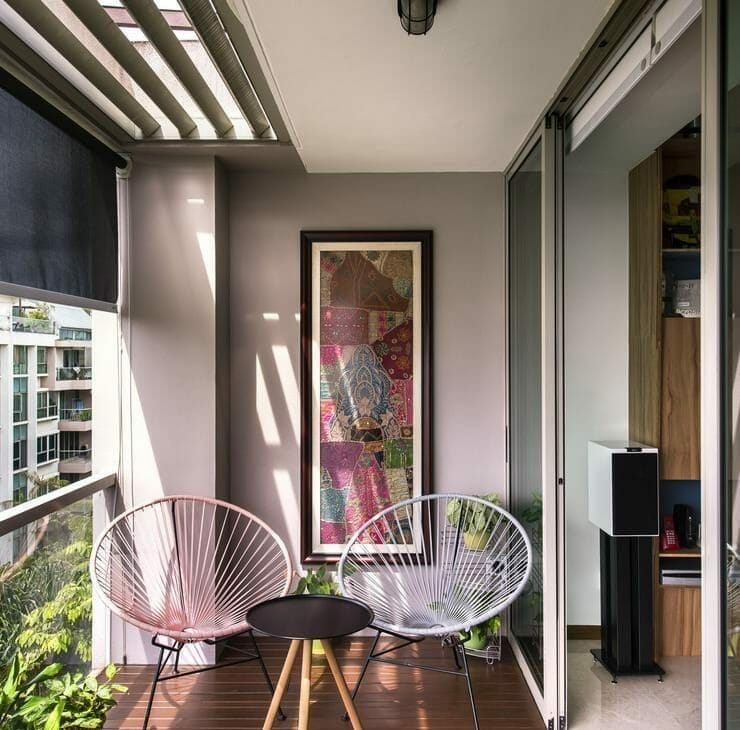 When you're hosting a sizable group of guests, consider a wide option that can accommodate everyone. And if you're planning on entertaining outdoors during the sweltering summer months, look for a fan like this one.
Install a Swing
That's right, swing benches aren't just for porches. You can have a cozy, comfy seat in your outdoor space even if you don't have room for a bench or lounge chair.
Should your balcony have an overhang, secure a swing so that you can relax while taking in the view from a greater height. Just add some throw pillows for comfort. You might be surprised by how much more cozy and private your balcony feels when it's elevated above the street or neighbors.
Use Space-Saving Furniture
If you're craving a cozy outdoor space, but you don't have an expansive balcony, don't worry. You can still turn your small balcony into a beautiful retreat.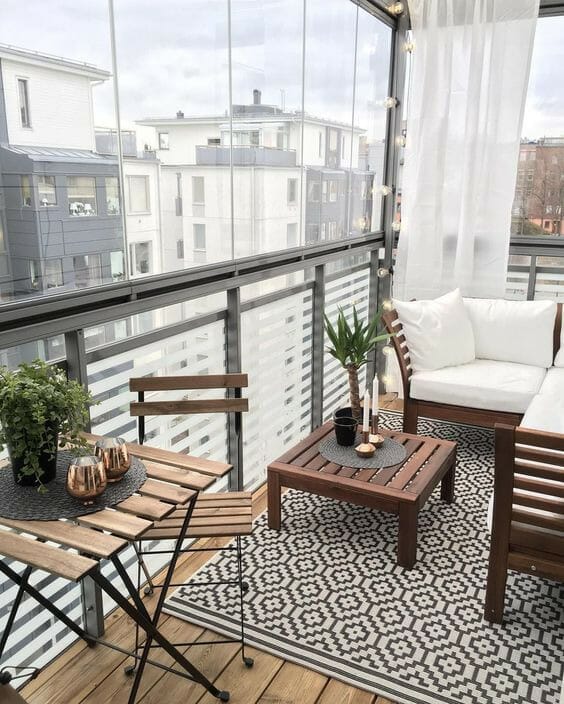 Opt for space-saving furniture, like a rugged wood bench. To make your room cozy and inviting, add color and pattern with a runner, and place a plant in the corner.
Hang a Bold Pendant Light
Don't forget about lighting. It's important to have enough light for cooking and reading, but also enough ambient light so that people can see one another's faces.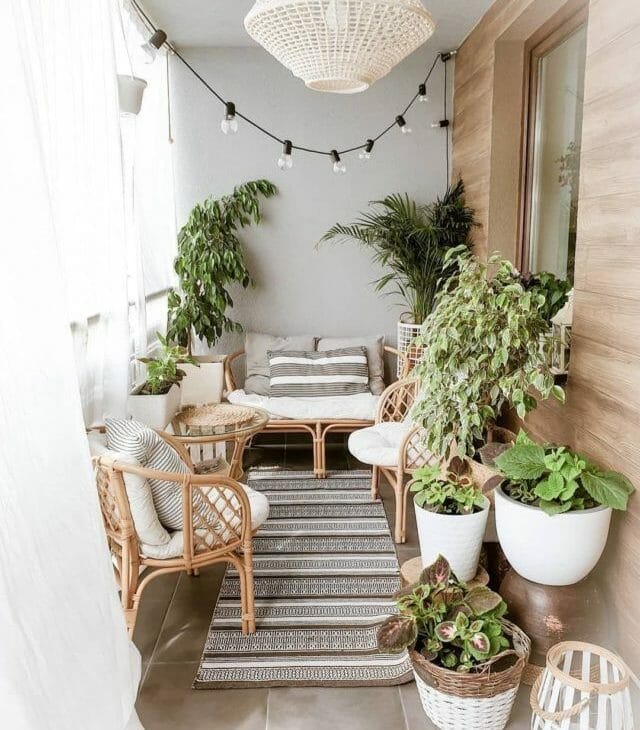 A bold metallic pendant light is a great way to jazz up your exteriors. But this isn't your living room, so to put it in the right context, incorporate nature-inspired materials such as burled wood, ceramics, and anything rattan. Paired with the right elements, you can make any space ready for entertaining. Even if you're going for a modern look overall, these earthy touches will pull the look together and make it feel more natural.
Showcase your curtain collection
When it comes to design, there's no reason to stop at the door. Just because your balcony is not inside your home doesn't mean you can't display collectibles on it.The chair cushions in a fun color and painted the trim in a contrasting tone. To make the outdoor space feel as put together as your interiors, hang drapes that coordinates.
Enhance Architectural Details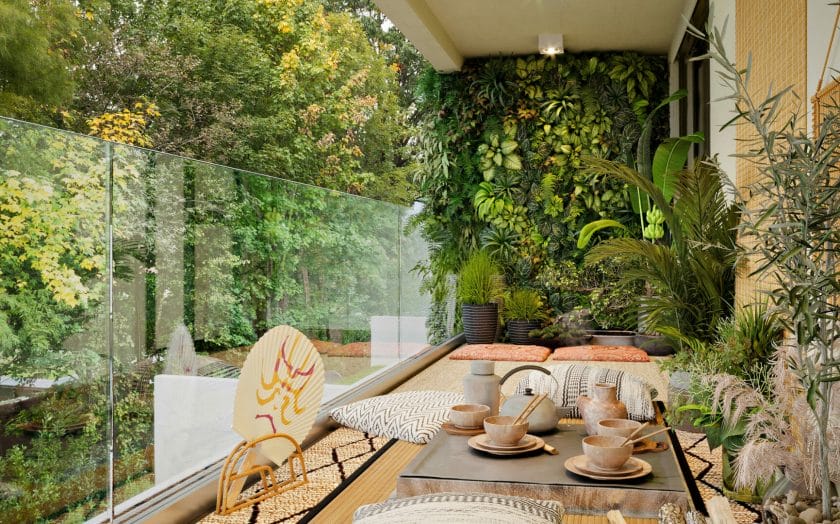 With a little ingenuity, you can make the most of your space, no matter what its size. If you have a large enough balcony, go for some lounge chairs instead of a traditional patio set. Add some sun and reading time to your routine with a couple of these. Then hang a hammock for open air naps. For smaller balconies, try hanging a couple chairs and ditching the table all together. Once you have your seating, add some color and interest with flower boxes, vines, or even window boxes placed on the railing.