The Solluna Resort a flawlessly planned top resort in the valley of Marchula, on the bank of river Ramganga 3.7 miles from Corbett National Park, blending nature's ecstasy and luxury; as the word 'Solluna' signifies the incorporating of the majestic sun's (sol) beauty as well as the moon (Luna) because these are visible simultaneously at dusk. The resort offers a view capturing the expanse starting from one end of the valley to finish at the other end. Visitors are offered a perfect union of all the five senses and the five elements in one place, making Solluna
resort stand out as a 5-star luxury resort in Corbett.

The resort has been planned and executed to cater to five senses namely Vision, Taste, Smell, Hearing and Touch also keeps in mind the connectivity of five elements namely Earth, Air, Water, Sky and Fire offering a serene haven and a luxurious experience to visitors to soak the magnificent views, re-energize in the midst of serene and peaceful ambience with no cell phones or TVs in cottages or any newspapers. Living a hectic life in cities you lose connectivity with self, the Solluna Resort is perfect destination for peace seekers, soul searchers and business travelers to recharge — in paradise — an untouched natural environment equipped with the ultimate luxury.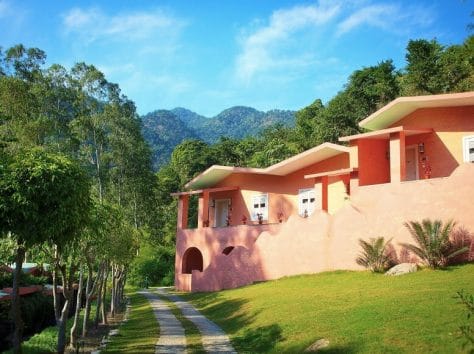 Visit for an unforgettable experience, superior quality services combined with a warm ambiance of well-designed spacious air-conditioned cottages equipped with mini-bar and seating areas. Cottages have individual bathrooms with relaxing bathtubs or massage showers. Also experience the magic first-hand of the cottages as each is unique, detailed with features like fossil paintings, private pebble ponds and glass ceilings. Satiate your taste buds, bite into Indian, Chinese and Continental dishes in buffet style at Solluna Plaza. You have the choice to dine either indoors or outdoors.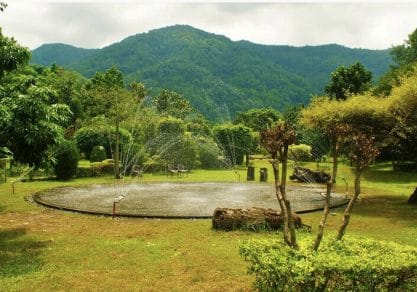 Come out of your comfort zone and increase your positivity and risk taking capabilities with fun-adventure sports like hiking, mountain climbing, trekking, rappelling, gypsy drive, sightseeing, monkey crawling and others. Tour desk can also arrange excursions to Solluna Waterfall, regular nature walks by the river, as well Jungle safari which takes you through the buffer zone of the Jim Corbett and the central areas of the park to explore the abundant wildlife hidden. Tour desk can also arrange car rentals, meeting rooms and laundry services. Visit the Solluna Resort to create memories that will last forever by rejuvenating experience at the resort plus recharge Mentally, Physically and Emotionally; refresh Body, Mind and Soul;
Find Inner peace and positivity.

The Solluna Resort in Jim Corbett is located 35 km away from Ramnagar railway station and
Pant Nagar Domestic Airport.