The latest project from Principal Architect and Founder of Design ni Dukaan, "The Mosaic House," was designed with the diverse preferences of a family of five in mind. The goal was to render their various narratives into a harmonious symphony. The house celebrates the nuances of individual identities, balancing the wants and needs of its inhabitants while staying distinct yet cohesive.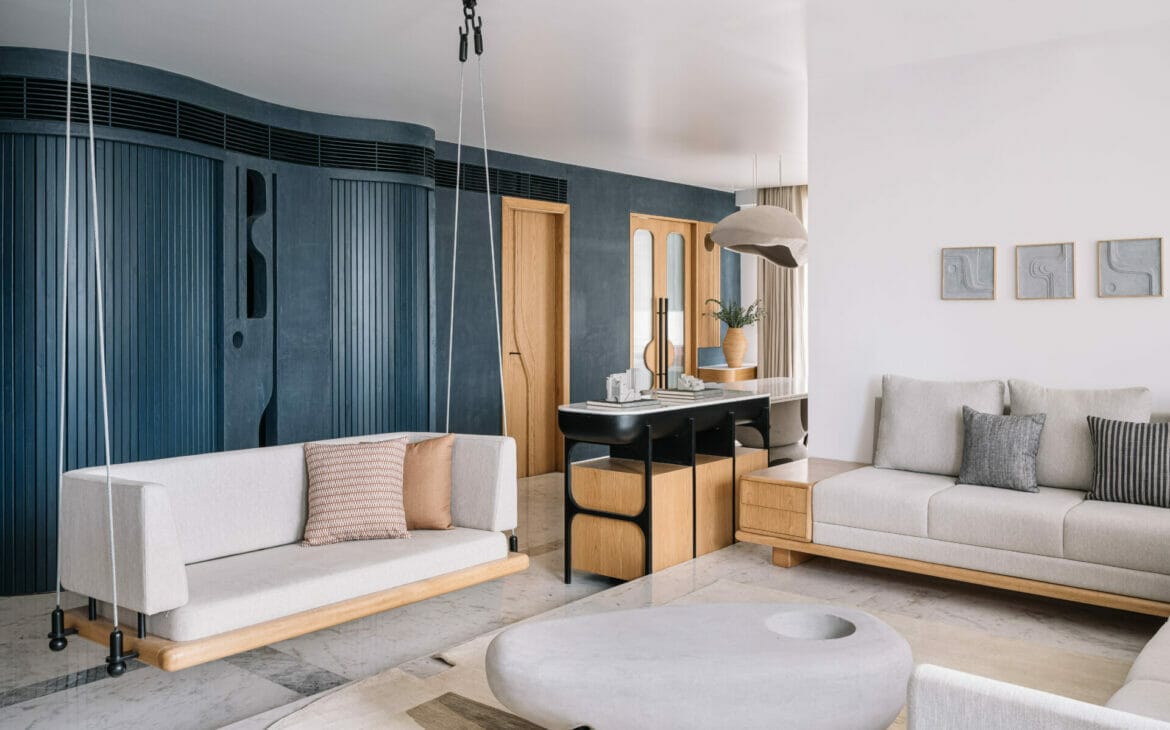 The 2,200 square foot house in Mumbai's Dadar is a unique blend of multiple interpretations that come together to create a cohesive whole. Care and attention are given to spatial lightness, conscious design, and keeping the house natural within its materiality. Developed on the fly, with parts added and subtracted as needed to patronize the lifestyle of all residents, it got the moniker 'The Mosaic House'.
This luxurious home welcomes guests with a beautiful mosaic at the entrance, symbolizing the uniqueness of each family member. The stunning artwork in soft hues against a deep blue backdrop is both eye-catching and inviting. The living room is exquisitely designed with art deco elements, gradients of soft hues, and a tantalizing swing. The dark tones in the furniture create an aura of nostalgia, making this space truly special.
The flooring is the key defining feature of this apartment. It has a serene neutral palette that is enhanced with nuances to create formal and informal spaces. The flooring helps anchor the space and creates subtle identities in personal spaces.
The allure of art deco prevails through the dining area, where a fog-grey stone inlay in an abstract ellipsoid design embellishes the floor. A sublime abstract sculpture of Shrinathji blesses the family from its exalted stance in the traditional temple, opening gently into the living room. Multiple marble steps inside are inspired by Carlo Scarpa's works and adorned with miniature idols in the backdrop of deep-blued walls.
The pendulum dining light is a reflection of the pattern set by the dining table. The table is perfectly balanced with a captivating painting by artist Shahanshah Mittal on the adjacent wall. The kitchen, which is verdant olive green, is spacious and looks more like a family bonding area than a place for cooking or comfort munching.
The parent's bedroom is designed with clean lines and a clutter-free ambience to nourish individual identities in personal spaces. The married son's bedroom was reconfigured to combine two rooms and celebrate multi-functionality in design with eloquent use of space. Straddled on captivating fabric and textural art on the cupboards, an alluring brass mirror, and a comely seater next to an extensive fenestration that facilitates a warm flow of light and fresh air, the room applauds relaxed creativity.
The third bedroom is the final room of this journey through classic modernism. It is bold and dynamic, to match the personality of the youngest member of the family. With convention-defying side tables, a sculptural light accent, and grey textured walls, it is a unique and stylish space.
"The spaces and their elements in this project were designed to reflect the daily routines of the users' lives," says Veeram Shah, Principal Architect and Founder of Design ni Dukaan. "We developed the overall experience of the house through layers of dialogues and discussions. Though the project provided an opportunity to expand beyond a conventional uniformity, it also had its constraints; the logistics of having an extremely architectural approach towards a space located in the city of Mumbai."
Fact File:
Project Name: The Mosaic House
Location: Mumbai, Maharashtra,India
Area: 2200 sq ft
Architect: Ar. Veeram Shah
Firm Name: Design Ni Dukaan
Photography: Ishita Sitwala
Stylist: Samir Wadekar