Shanghai Astronomy Museum is an international competition-winning design entry that is modern yet links the present to the past. It celebrates the continuum of space and time, mirroring the rich history of Chinese astronomy and the future objectives of China's space exploration program. It caters to both the scientific purpose and the celestial surfaces of buildings throughout history. The exhibits and architecture will communicate and reflect the meaning of being human in a vast and unknown universe.
The museum is designed by the architectural firm Ennead Architects which creates an immersive experience that engages the visitors directly with astronomical phenomena. The building design increases the awareness of our fundamental relationship with the sun and the earth's orbital motion, through scale, form, and manipulation of light. It is positioned at 420,000 sq ft and will be the largest museum worldwide exclusive to the study of astronomy.
The design of the Shanghai Astronomy museum takes inspiration from astronomical principles and induces the experience of orbital motion. The three principal forms of the building are – the oculus, the inverted dome, and the sphere, which perform as functioning astronomical instruments. These instruments track the sun, moon, and stars and remind visitors that our genesis of time originates in distant astronomical objects.
The main entrance to the Shanghai astronomy museum is graced with a suspended oculus which is symbolic of the passage of time by tracking the circle of sunlight on the ground. The entry plaza offers a circular platform and the full circle formed due to the suspended oculus aligns with the platform during the summer solstice at noon.
The sphere is half submerged in the building with minimally visible support creating an illusion of weightlessness and anti-gravity and it houses the planetarium theater. The sphere is a primary celestial form that inspires the spherical shape of the structure. It creates an effect of rising out of the earth-bound horizon and gradually emerges from the roof plane of the lower museum wing when one rounds the building.
The central atrium of the Shanghai Astronomy Museum is covered with an inverted dome which is a large glass tension structure at the roof level to experience an unobstructed view of the sky to inculcate a feeling of real-encounter with the universe. The 720-degree spiraling ramp traces the orbital flow of visitors and directs the eye towards the apex of the dome.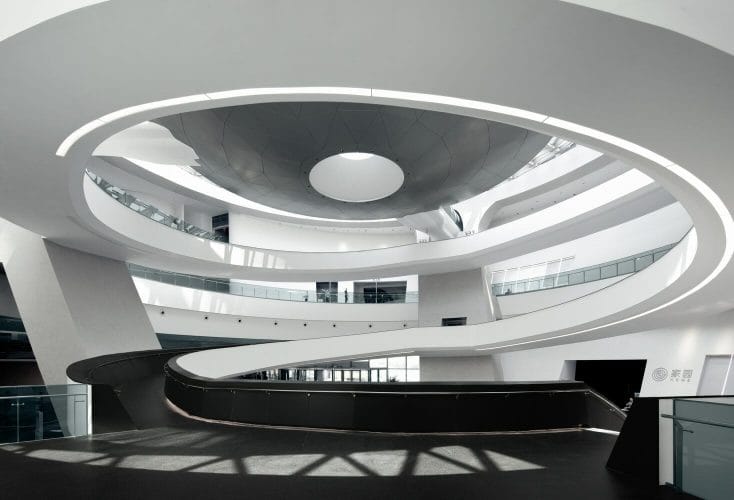 The project is located in an expansive green zone and other structures on the museum grounds include temporary and permanent exhibits, an observatory, an optical planetarium, a 78-foot solar telescope, an education and research center, and a digital sky theater. The museum programming will feature educational exhibits, immersive environments, and artifacts and instruments for space exploration. The Shanghai Astronomy Museum acts as a landmark structure and creates a civic hub for the developing Lingang area.