By the Riverside designed a modern and sophisticated home for a couple who were clueless on how to achieve the same. The couple wishes to have such a house that reflects their personality, which was shared with the design team during the brief.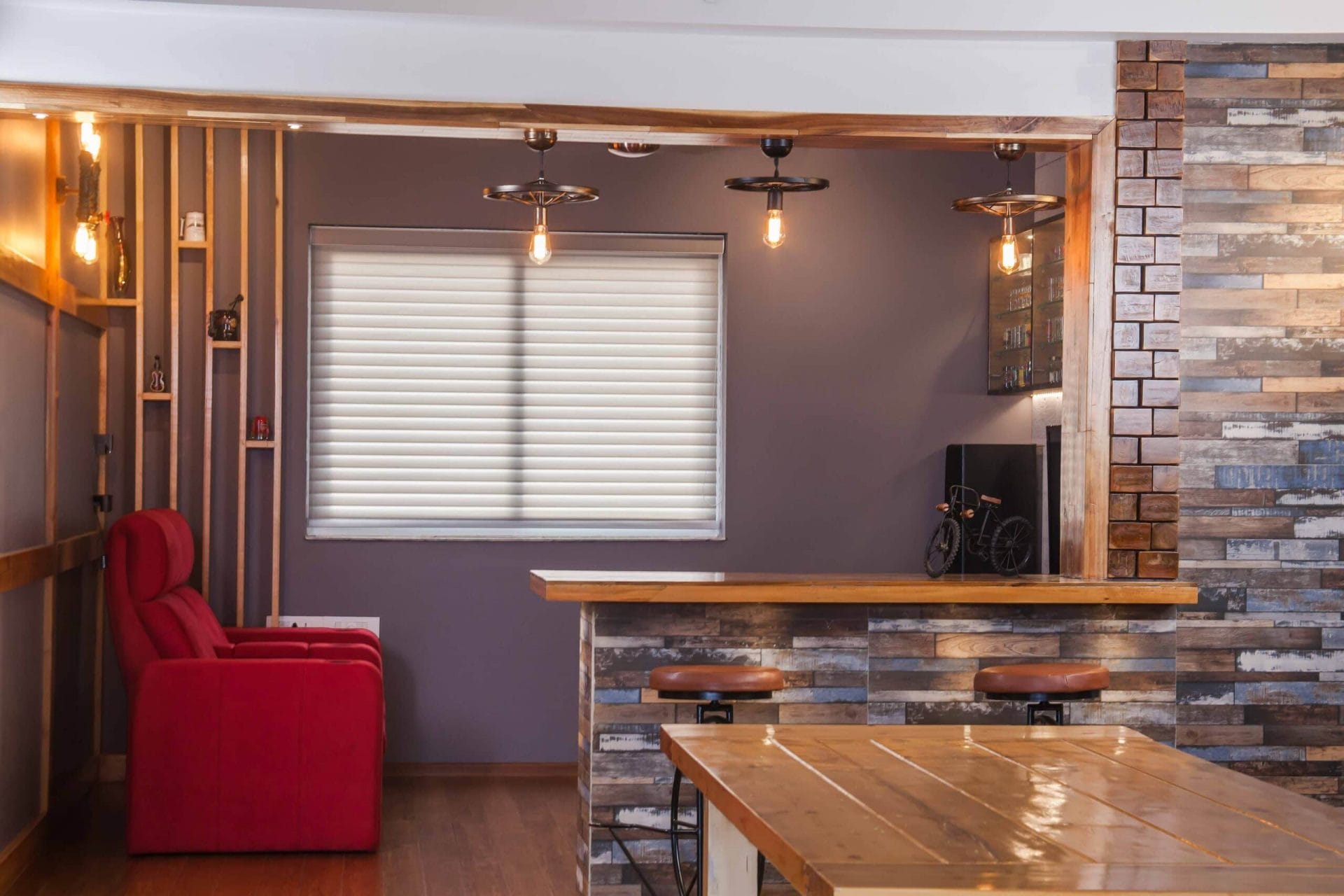 Blue colour and displaying of collectible barware from different places was the main concentration of the design team while designing the house.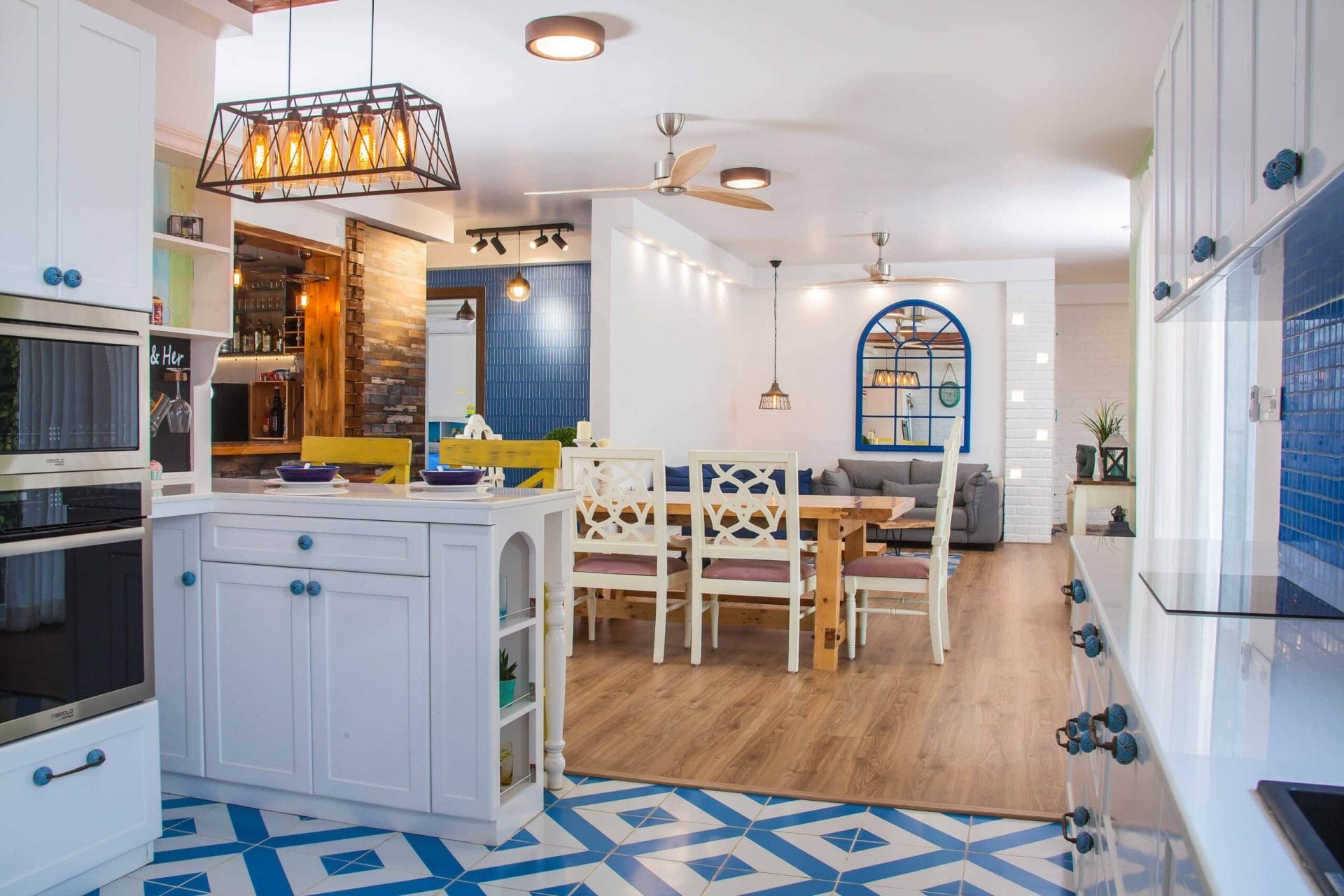 The kitchen was planned to synergize with the entire house. The flooring used in the kitchen involves blue geometric pattern tiles that separate attractively from the wooden floor of the house and in sync with the wooden rafters. The yellow bar chair along with little detailing on the breakfast table made the kitchen area lively.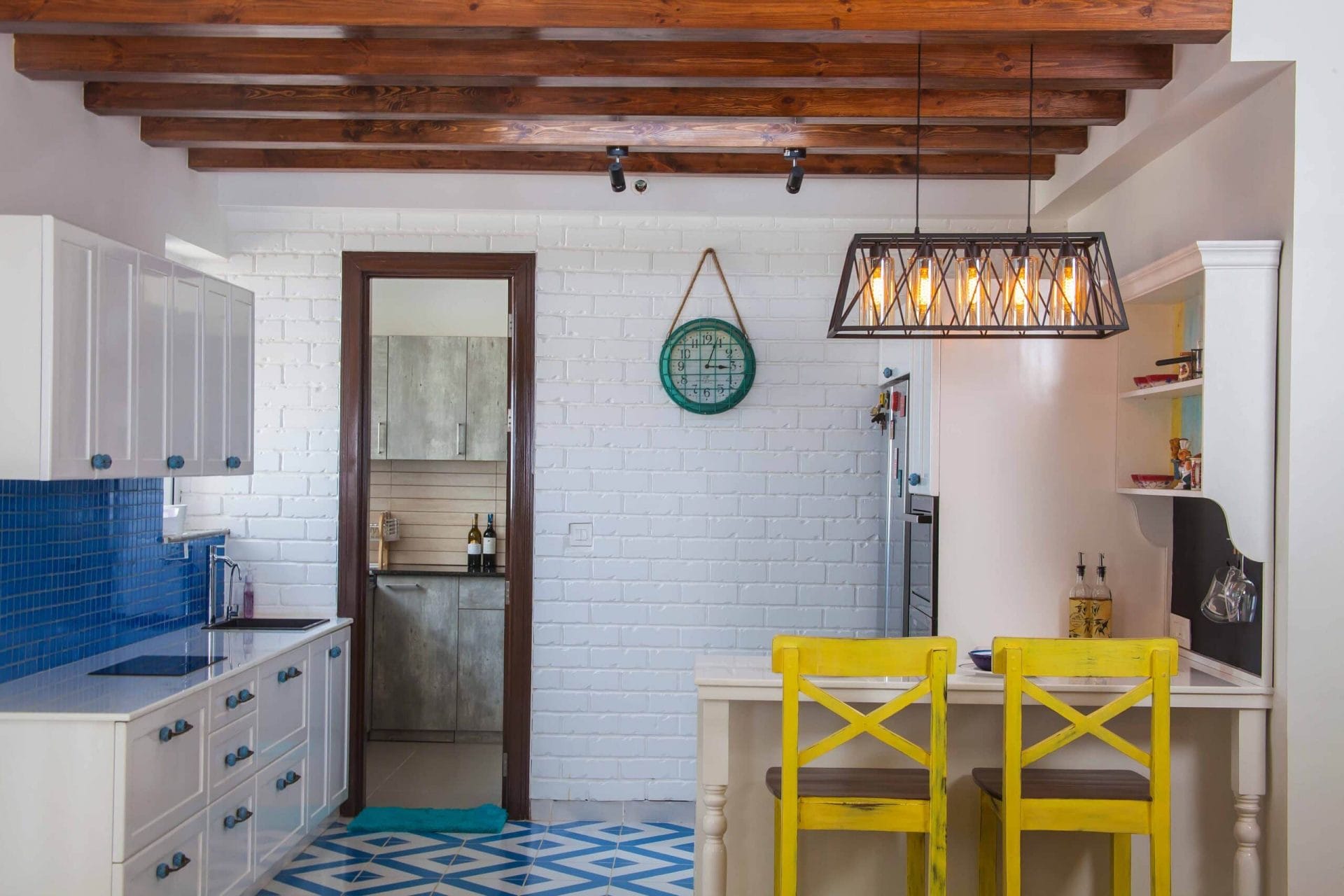 Blue & White shade has been used in the living room contrasting well with the brickwork on the walls giving a special texture that makes the room looks more spacious and enlarge. A blue arched mirror added in the living room adds value to the room. TV Unit clubbed with home theater becomes entertainment space for the couple.
A soft shade colour pallet was used in the master bedroom, which reflects the personality of the couple making the room fresher. The wooden flooring used in the room brings in perfect contrast to the wall extended white-mirrored cupboard which is separated by using printed tiles for the flooring. A well-designed dressing along with carved mirror sits is added to the room.
Also Read
Residence designed By The Riverside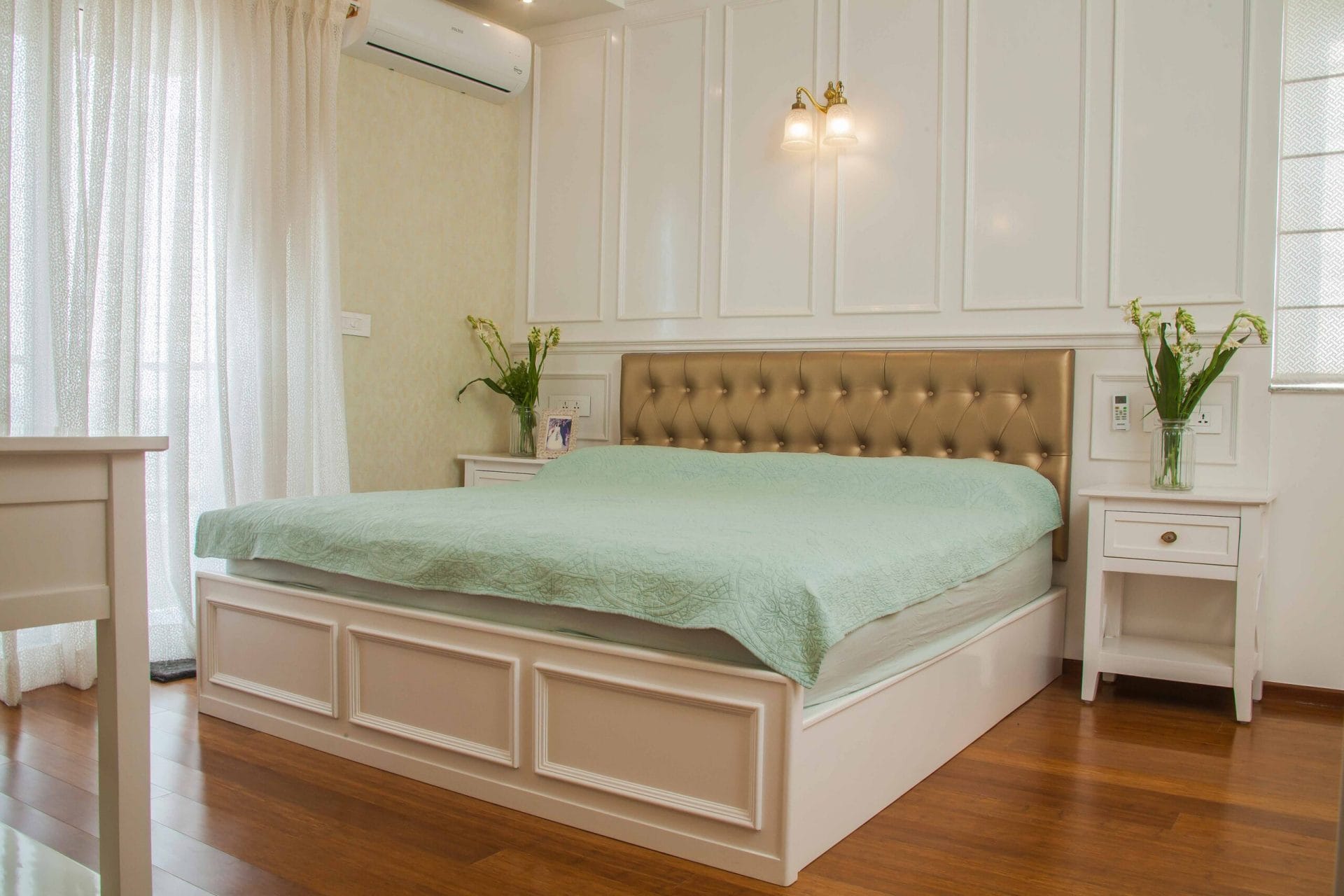 The boy's room had a balance of blue and white and wooden flooring giving the final touches. A trundle bed is used to keep up the modernity and make his room spacious.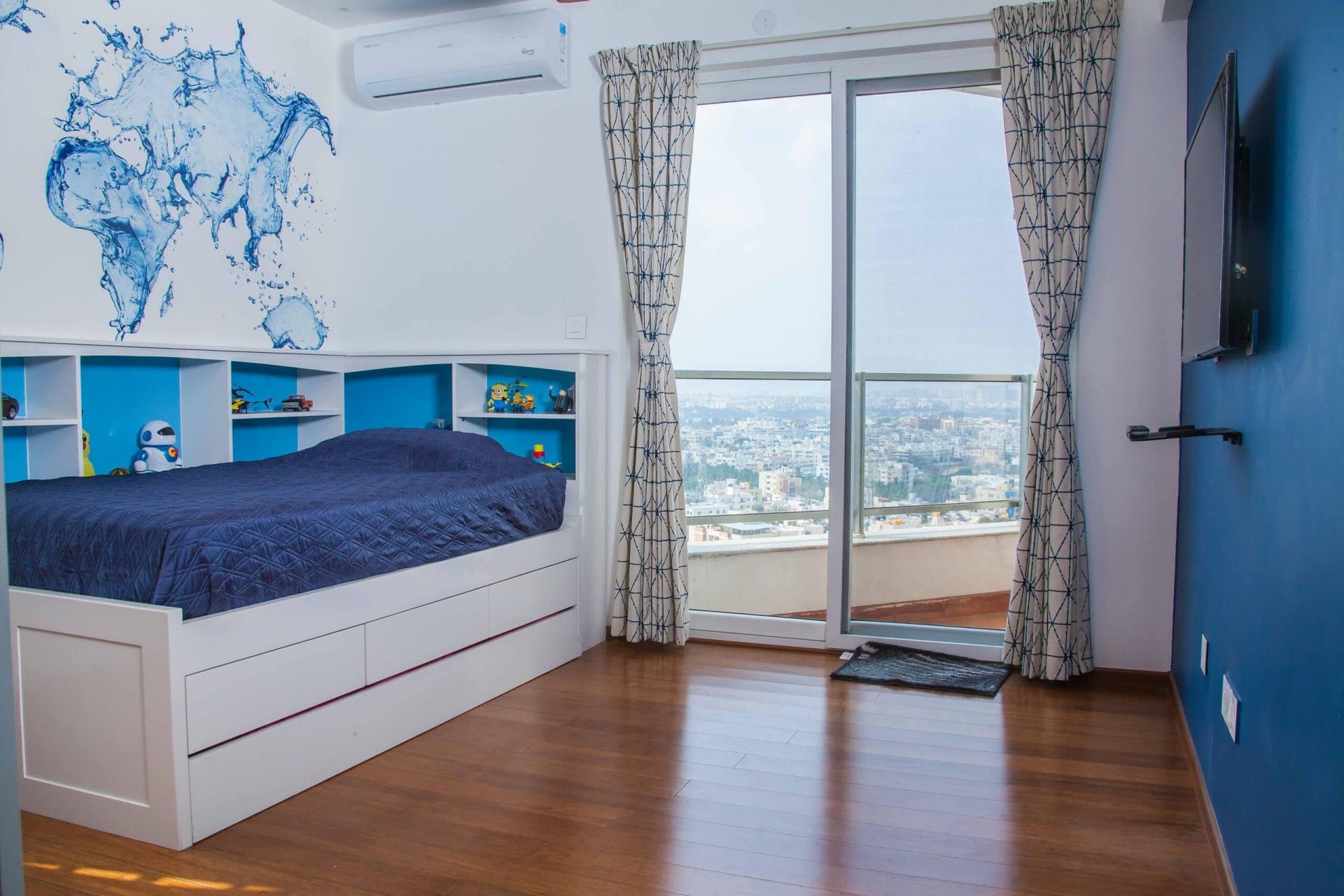 An exclusive bar designed to give the industrial impression was curated to display the exotic collection of barware along with bike wheel seats complementing the bar.
The old dining is reused using the beautiful lights procured in the open balcony giving an expansive view of the city.
Vibrant colours being used in different corners of the house to make the house unique and different. A teal colour rectangular mirror & ladder rack in the bathroom steals the show and becomes an attractive piece in the bathroom.
Fact sheet:
Interior Designer: Swati Seraan
Firm Name: By the Riverside
Location: Bangalore,India
Size: 2500 sq.ft