Embodied in India's fastest growing cities and the wine capital of India, Nashik.  Liquor Embassy a sheer luxurious design exemplifying contemporary aesthetics for the tourists and residents of the wine capital. Welcomed by a soothing colour palette of black, gold and blue and with diluted hues of mustard and green is the double heighted or oversized facade with panels blending them into a single element. 
The entrance is moulded with an orb shaped lighting fixture that adds glory within to the design and vibrates the vertical nature of the space. The combination of the monochrome tiles in marble effect gives a sophisticated face to the space with all the jazzy look of the overall space. The alternate maze pattern on the flooring that moves in the inward direction works as an enhancing element for the shelf area.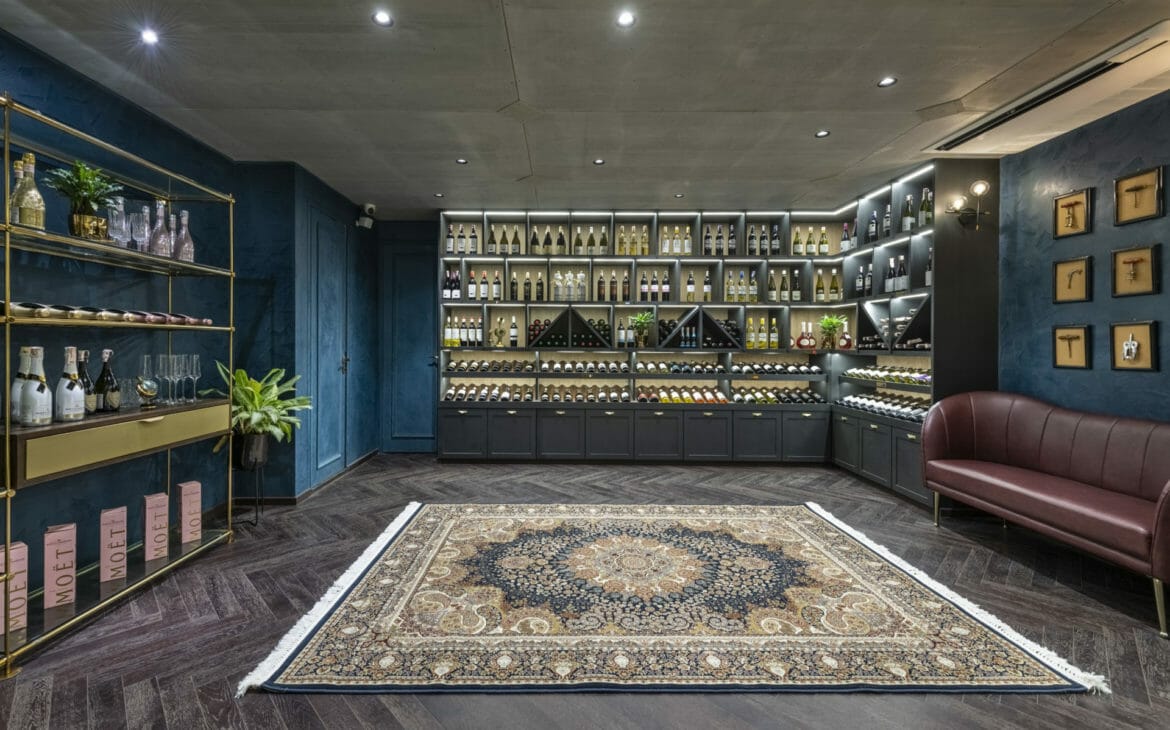 On the other hand the premium wine lounge is all coloured in black in dark wood and black cabinets. The displayed liquor bottles showcased in the blue veneer shelf are highlighted with the lighting around. The nearby cash counter decked in alluring gold top with the logo in the background acts as a centerpiece. Each and every element of the space has been designed with utmost detailing which includes the washroom as well. The full length mirror in the space doubles up the massing adding vibrancy to the compact space. A lavish feeling is developed by the white tiling detail, blue patterned tile on the walls and a hanging fixture complementing the space of the washroom.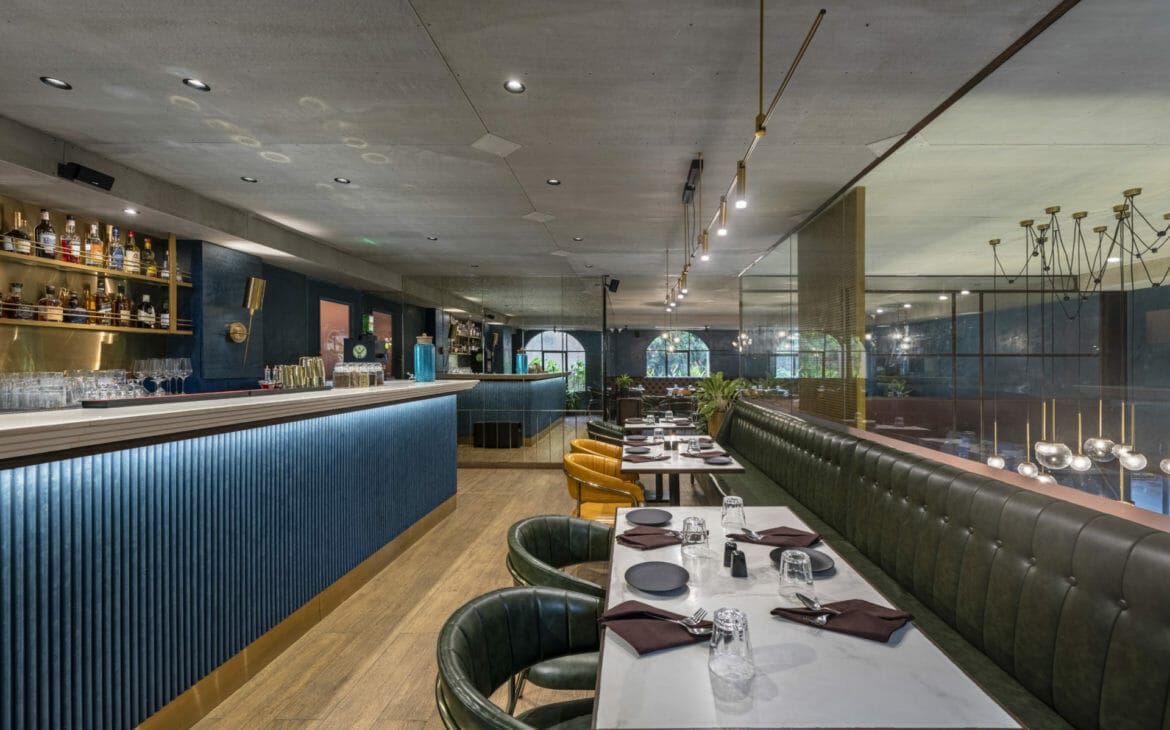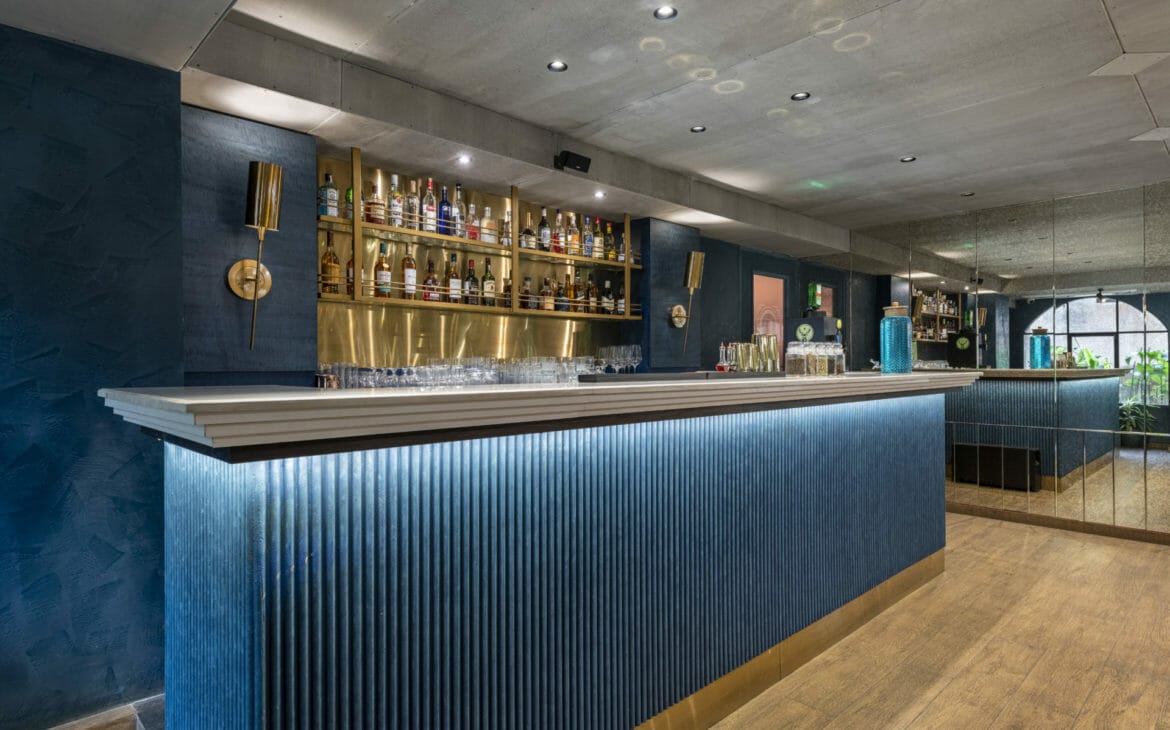 The upper floor just above the wine lounge, the restro bar is located with a dark yet embracing decor. The colour palette has been extended to this area as well to maintain the connection between both the spaces. The door at the entrance with classic paneled design in blue uplifts the spirits in the beginning with a customized desk that has a chandelier to add the sophistication of the space. The arched metal window in the backdrop is an interesting element to the space with its aesthetic. The wall continuing on the adjacent side carries the aesthetic through a variety of wall lamps in metallic finish.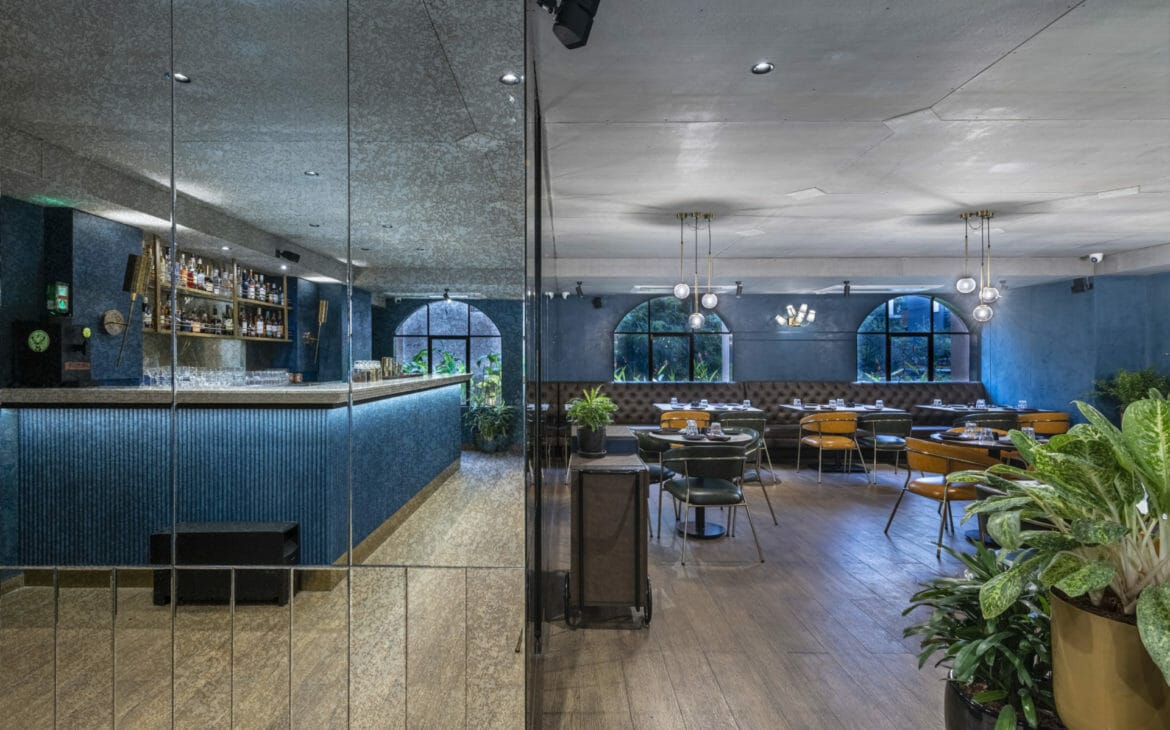 Other elements of decor like the sofa, tables and chair sets perfectly to the space confluence with brass as the base element. The chesterfield sofa seats and contrasted with the mustard yellow chairs aligns with metallic shades of the design. The fluted wall paneling on the upside section of the bar has an ingenious marble top adding a difference to the space. The grey ceiling throughout the restro calms the spirits filled with a high pitched indigo and shades of blue 
Fact Sheet:
Project Name: Liquor Embassy
Location: Nashik, India
Firm Name: Design Konstruct
Image Credits: Design Konstruct