The Park Union Bridge extends Vermijo Avenue, connecting downtown Colorado Springs to America the Beautiful Park and Monument Creek. This pedestrian bridge provides a vital urban link for Colorado Springs by extending the east-west axis of Vermijo Avenue to America the Beautiful Park. By extending this axis and providing access to America the Beautiful Park, the bridge reconnects the urban fabric of downtown Colorado Springs and reestablishes its connection to Monument Creek to the north and other trails on both sides of the creek, such as Pikes Peak Greenway and Midland Trail. The new pedestrian bridge also knits together a growing network of pedestrian and bicycle paths, including the Pikes Peak Greenway and Midland Trail, along Monument Creek.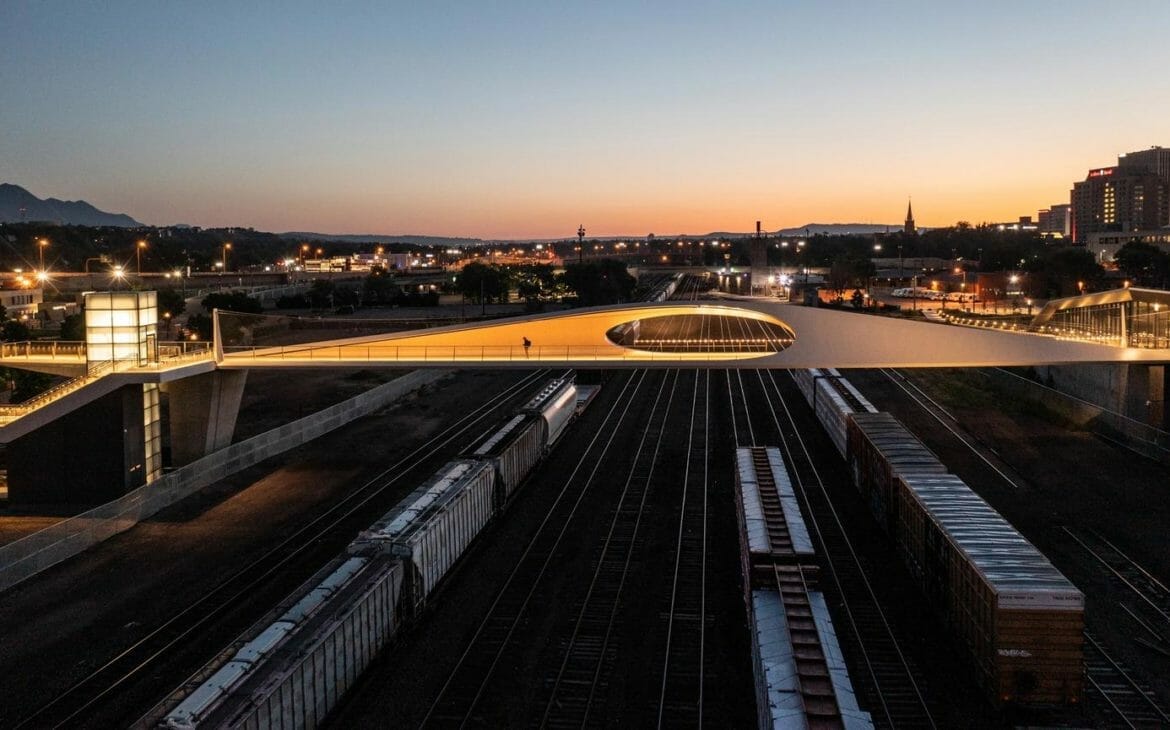 The pedestrian bridge, designed by the same team as the adjacent U.S. Olympic & Paralympic Museum complex, takes inspiration from the motion of athletes. The 250-foot-long curved steel structure floats above the railyard, connecting the museum and the park with two interlocked loops. DS+R Partner-in-Charge and Lead Designer Benjamin Gilmartin stated, "The bridge is a fitness exercise, both material and geometric. The hybrid steel system acts both as an arch and a truss, preserving views from Downtown to the majestic mountain ranges of Pikes Peak.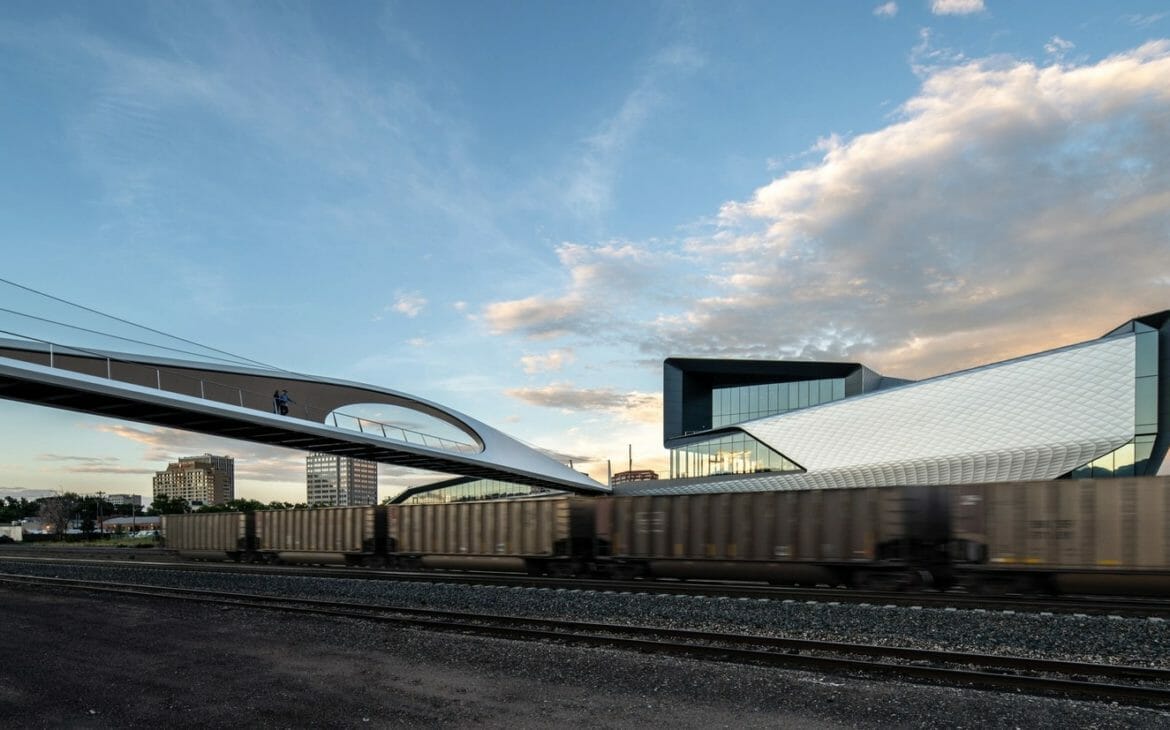 The bridge is wide enough to comfortably accommodate both pedestrians and cyclists. The large steel-and-glass oculus at the centre of the pedestrian bridge frames the museum and downtown to the east, a platform for trainspotting below, and a distinct lookout to the Rocky Mountain to the north. Lighting along the bridge traces a single vector from one side of the tracks to the other, giving a sense of speed and motion.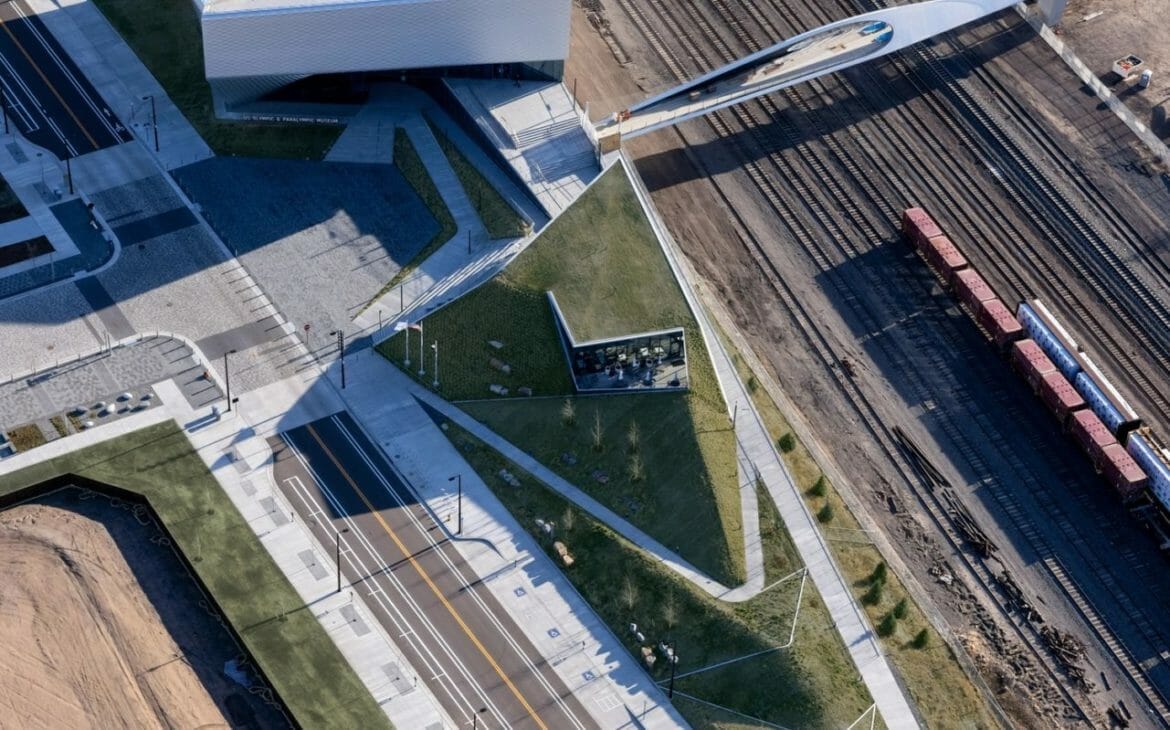 A prefabricated bridge was assembled over five weekends in 2020. The pieces were driven into place over a weekend using self-propelled modular transporters, minimizing the shut-down time for the rail lines and yard. When the bridge sections were delivered, they were assembled on the ground and welded together. The Assembly of the bridge sections was completed at the end of June 2020. In October 2020, the bridge was hoisted and placed onto its abutments in a carefully orchestrated process that took place over an eight-hour window.
Photo credits: Diller Scofidio +Renfro