Started in 1992 single-handedly, without any background in home decor and now after 30 years in the industry – Mrs. Sarita Handa is shaping Indian Design Aesthetics in a new way and taking it to the global platform. Sarita Handa is a brand in itself of home decor that reflects the creative vision of a woman who aspired to reinvigorate pride in art and textile design. She did so by targeting the most valued possession of an individual – home.
Mrs. Handa was a student of history instilled with awe and love for Indian heritage. Taking her zeal and enthusiasm a level up, she created Sarita Handa Exports – a brand that embraces textile design nationally and internationally. She still at the age of 75 years pays personal attention to every aspect of her work and advises not to take anything for granted however good the situation is.
Here is her conversation with the TDJ correspondent sharing her journey and experiences.
1) How did Home decor happen for you?
The innate curiosity to know and explore more about India's reservoirs of textile history came true when I traveled the length and breadth of the country with my husband, who was an army officer. Whenever we moved to different cities, I ensured I educated myself on the states or region's ingenious textile or craft. At that time, I had no idea that one day I would be founding the eponymous label.
One of the encouraging moments during these sojourns came in 1972 when I came across beautiful hand-embroidered linen at the Defense Services Staff College at Wellington, Tamil Nadu. I brought them to Delhi and sold them to friends. I was elated because it gave me confidence. Eventually, all the learning came together in early 1992 when after putting in two years of meticulous research, I launched Sarita Handa. At that time, I had set up a small team of a few tailors at my mother's home in South Extension, Delhi. Though we began as a small line, we first entered the international market for craft-centric home furnishings and ventured into domestic retail after a decade – in 2012.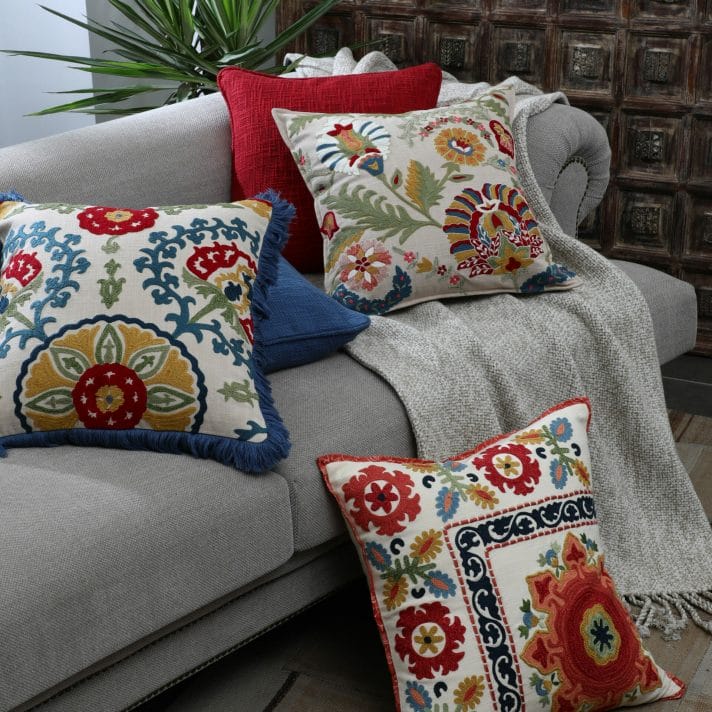 2) What is the philosophy of design that you incorporate into your home decor products?
My love for my saris has always inspired us to do a collection year on year. The saris carry an imprint of India's cultural legacy, motifs, textile traditions, craft and techniques. Artisan and craft have always been at the center of our design ethos. . Moreover, Sarita Handa is not just about designing products, it is about curating lifestyle choices. We work towards becoming the ultimate choice in home design and home styling. Besides, our best-selling embroideries are anchored in age-old Indian needlework techniques and hand-embroidered designs.
3) What is the process of designing any particular product catalog and what factors are considered while finalizing any home decor product in the catalog? And How do you finalize materials for different products that are available under your label?
The process from ideation to completion is a collective effort of our design team, artisans, our karigars, production team, and so on. At Sarita Handa we believe in team effort and our design process is not rigid, but open to new ideas. We collectively try to work with different crafts and textiles to ensure continuity in cultural heritage.
4) Plentiful brands are dealing in Home Decor in the market. How do you think yours stand out more than the rest? Is there anything that you are doing differently?
The design language of Sarita Handa has been inspired by global culture, folklore, artifacts and textile. We thrive on interpreting local crafts and textiles of regions from across the globe in the form of embroidery and varied techniques. Our brand doesn't believe in following trends because our design language is crafts driven and preservation. For us, our collective aim is to ensure that cultural histories of the globe, especially South Asia are documented and conserved through our constant endeavors.
5) What is the preferred design choice – technology or handwork, and Why?
We work closely with artisans to reinvent and reinterpret traditional embroidered techniques and textiles. Our brand believes in co-creating and enabling an ecosystem that is flourishing for the artisan community, generates employment and has artisan spirit at the core of every collection. For us, collaboration with local artisans and craftsmen lies at the core of our brand's philosophy. Thus, our preferred design choice will always be handwork.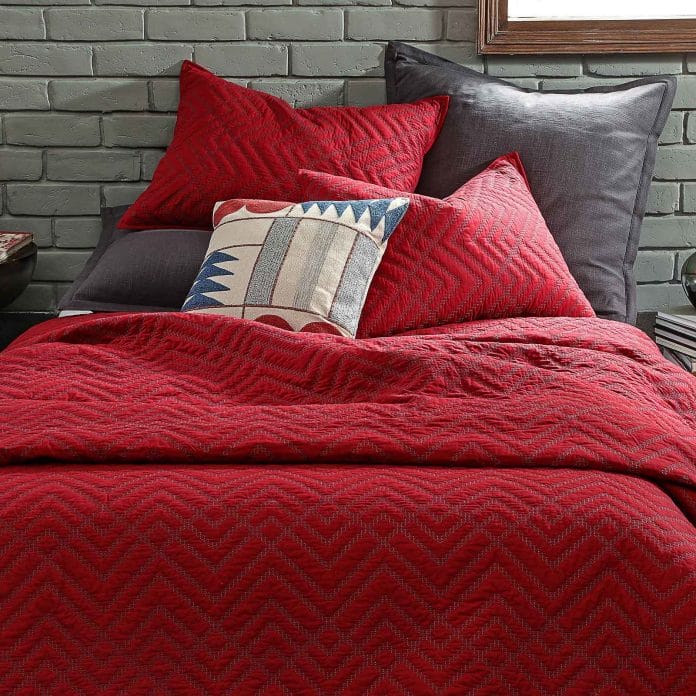 6) In a world where ample trends pour in every day, How does your brand provide a user-oriented experience of home decor that is personal and exclusive?
We see ourselves nurturing craftsmanship and artisans. People across different continents encourage varied craftsmanship. Wouldn't it be wonderful to create and have a global community of artisans that would preserve indigenous crafts that are anchored in their cultural history. For Sarita Handa, we will continue to explore, reimagine and reinvent.
For instance, block printing in India is majorly associated with Jaipur. However, it is being done in Kolkata, Andhra Pradesh and Tamil Nadu as well. Similarly, handwoven silks come from different Indian regions. We will be going deeper in our quest to preserve and explore India's rich crafts heritage, thus providing a user-oriented experience that is personal and exclusive
7) How was it back when you started to get into the entrepreneurial world on your own, and How has the journey been so far?
There have been several milestones in our three decades journey. Starting your own business with no financial backing is very challenging. We pumped in our life savings and borrowed money from our family, besides getting a loan from a bank. It surely was more risky because I don't have any design background. But I am someone who isn't scared of challenges because I believe failures and hardships make you who you are.
However, one big shift India is witnessing now is that the ecosystem is more welcoming to business; it is easier to avail loans and the government is also supporting entrepreneurs and visionaries. From being a small start-up with a few tailors to having over 1,100 workers across our factories and 180 staff across all businesses. More importantly, we have built a community of over 2,500 artisans working through our vendors and suppliers.
I was fortunate to have the support — financial and emotional — of my family and friends who believed in my vision. The year when we started our export arm was a changing landscape in India that had just been liberalized. There was a renewed vigor in India and the government was also supportive of companies that were into exporting textiles. It was a big decision for a non-business family like us to pour in all our savings to nurture our vision. Besides, love and support from our close group, our vision to celebrate Indian craft and textiles on a global level helped us overcome every challenge.
Image Credits : Sarita Handa Exports