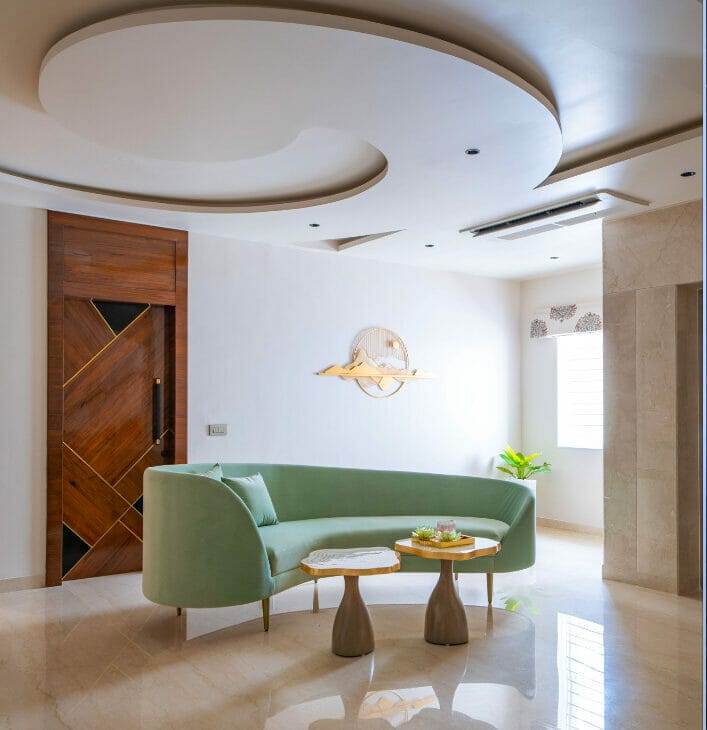 To truly feel like a home, a house must exude warmth and character that reflects its occupants. The interior design and aesthetics play a vital role in achieving this goal. The villa located in Cyprus Palm, Hyderabad, is a prime example of an exquisite dwelling that was meticulously crafted by Golden Pyramids Design. This sprawling 5400 square feet villa is a true labor of love, tailored to cater to the specific needs of the family that will call it home. It boasts five bedrooms, a formal drawing room, a living room, a dining room, a kitchen, a lounge, a home theater, and a gym, among other amenities. The villa radiates luxury with a timeless aesthetic, making it a truly unique and rare masterpiece. Additionally, the villa is equipped with state-of-the-art technology, further enhancing the overall living experience.
Under the reign of Shruti Malani, the principal designer, the team at Golden Pyramids Design dedicated tremendous efforts towards creating something truly extraordinary. Their focus was on innovative ways to incorporate materials, textures, colors, and accessories that elevate the overall living experience. The team conducted extensive research and meticulously planned every aspect of the villa's functionality and design elements. Their core value of aligning with the customer's needs is evident in every corner of the villa. This commitment to tailored design is what inspires Golden Pyramids Design to create the most luxurious, classy, and functional living spaces. Their unparalleled expertise in customizing the décor and ambience of each home to suit each family's unique needs ensures that each space exudes positivity and vibrancy.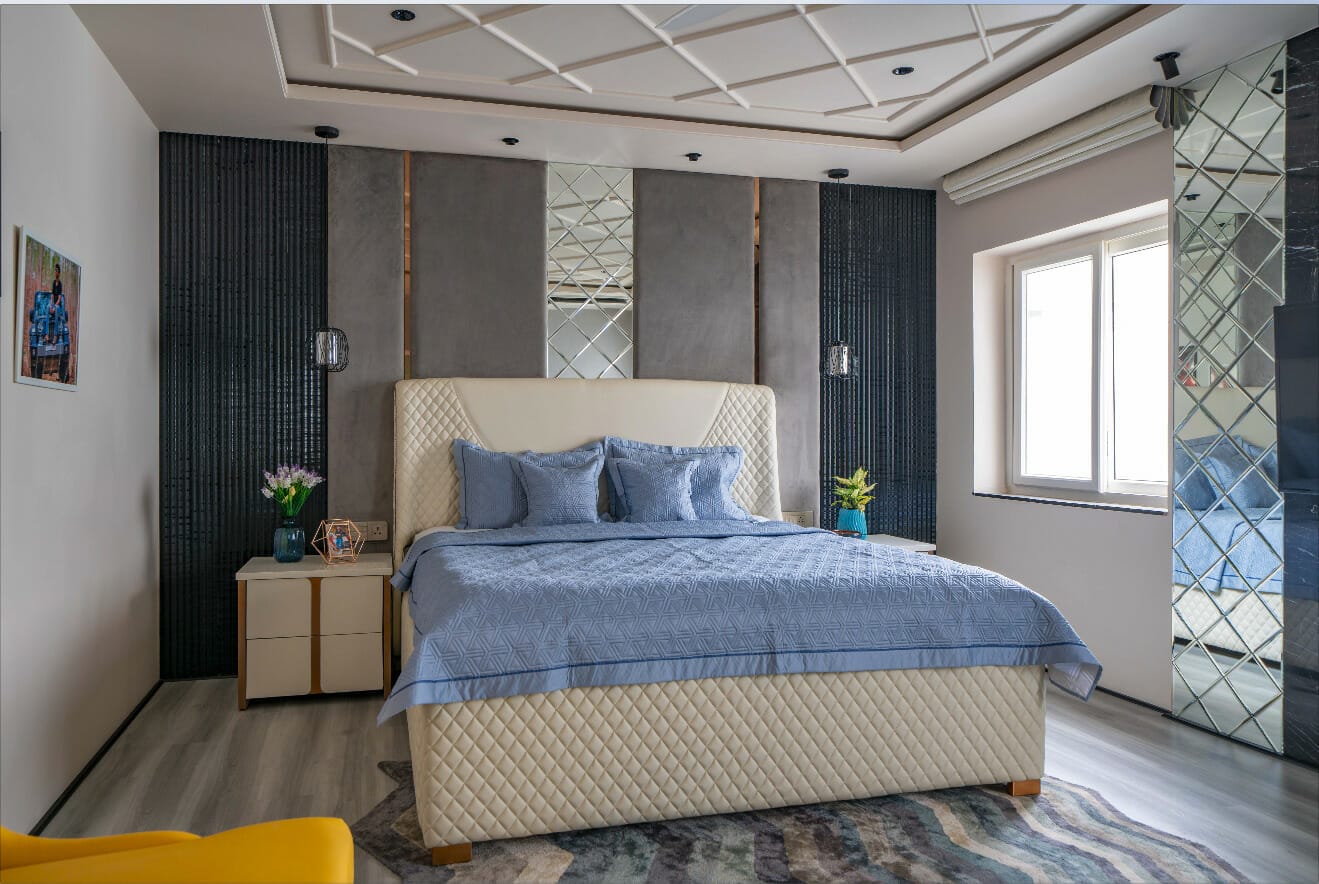 Neutral and luxurious palettes with golden accents have been used throughout every room in this villa. The Italian marble, leather, veneer, and brass used in the interiors further enhance the villa's opulent look. The integration of high-end automation and technology ensures that the villa is both future-ready and highly utilitarian. The design of each room, bathroom, corridor, and stairway has been meticulously planned to create a sense of cohesiveness across the entire house.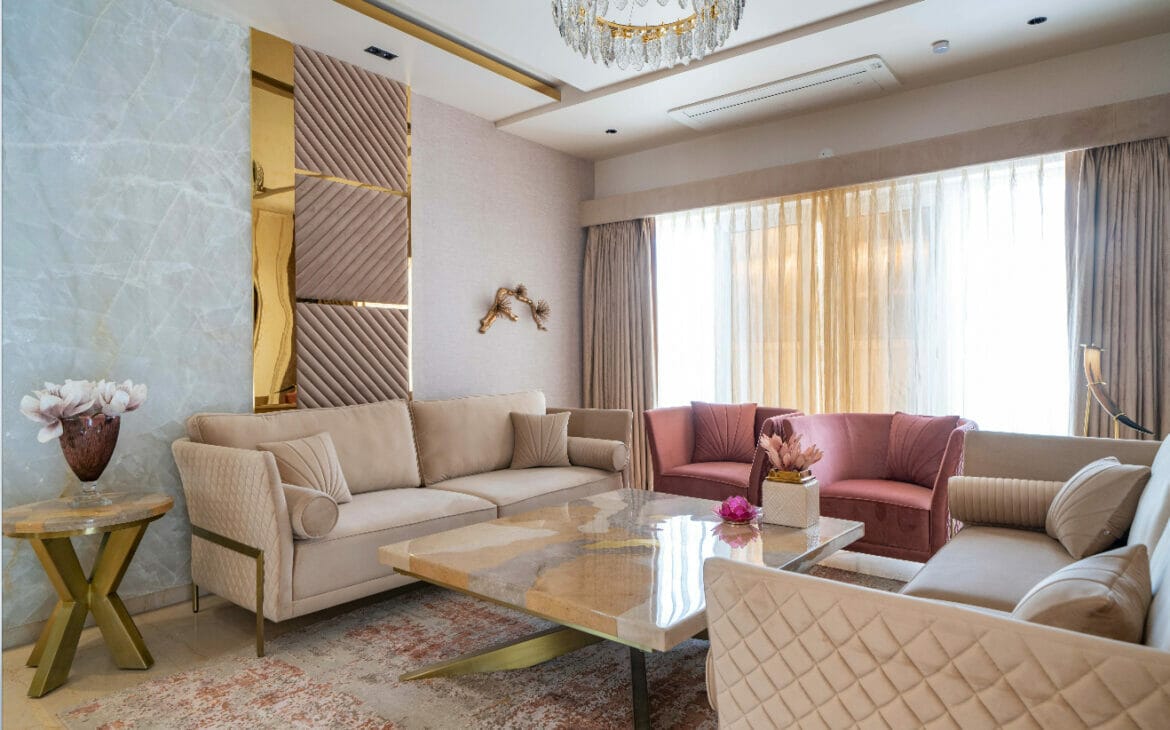 The living room features a large sofa with a contrasting bright chair, while a massive marble table with a chess set and matching wall hangings complete the look. Long mirrors separate the dining room, giving the living room a more expansive feel. The dining table is designed with contrasting leather chairs and a grand chandelier that adds to its elegance. The master bedroom boasts a fabric bed-back with metal strips, matching side tables, and curtains, all designed with precision. The other bedrooms also have leather bed-backs, matching side tables, large closets with transparent doors, and unique accents like yellow couches and marble and mirror combinations.
The first-floor lounge has a shapely couch in a unique muted tone, giving it a distinct look and feel while still maintaining cohesiveness with the rest of the house. A pristine and calming Pooja room attached to the lounge is white with touches of gold. The thoughtful design of the house emphasizes comfort and builds a narrative that flows effortlessly through each of its components.
Golden Pyramids Design successfully achieved their goal of creating a modern and luxurious living space through the use of science and precision. The team, led by Shruti Malani, worked relentlessly for over nine months to complete this magnificent villa that is now the pride and joy of the family that calls it home. The addition of high-end technologies further elevates the villa's modernity, making it a truly exceptional living experience.
Fact Sheet:
Designer Name: Shruti Malani
Firm Name: Golden Pyramids Design
Size: 5400 square feet
Location: Cyprus Palm, Hyderabad, India
Photographer: Ricken Desai