Wine is now an experience— Wine culture is evolving in India slowly but significantly, with wineries making strides towards bringing better quality and newer bottles to our wine shelves. Today, there is more to wine than enjoying it over dinner — stays at luxe-vineyards to sessions of wine-tasting. All this has helped us grow a more sophisticated wine palate. If you are simply looking to pick the finest wines for your party, here's a list of best wine brands you can choose from.
Cabernet Shiraz By Sula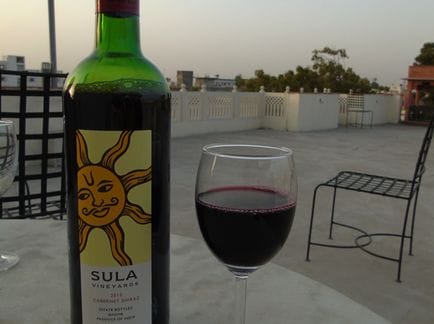 Cabernet Shiraz by Sula a smooth, medium-bodied red wine is touted to be India's best-selling red wine, and one sip later you will understand why. Shiraz-Cabernet Sauvignon blends (85%/15%) sports an enticing burst of aroma of spices, rich deep purple in color, grilled accents which complement the wine perfectly, coupled with blueberries and blackberries. The wine is a medium-plus bodied wine, complemented by ripe cherry and black plum. Other aromas and flavors include mocha, cardamom, cinnamon, vanilla spice and juniper berry, lending to complexity and works well with the balanced tannin backbone. With food, go with some cheddar cheese, or enjoy with grilled\tandoori specialties.
| | |
| --- | --- |
| Winery | Sula Vineyards, Nashik Valley |
| Grape Variety | 70% Shiraz + 30% Cabernet Sauvignon |
| Price INR | 895 for 750 ml |
| Alcohol Content | 13.5% |
Sette by Fratelli Wines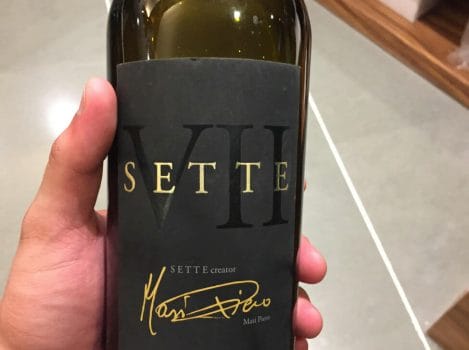 The most delicious red wine, boasting of rich aromas and flavors of smoky coffee and chocolate earth notes with red fruits, followed by subtle notes of tobacco and dark plum. SETTE means 'Seven' in Italian — a dream and the labor of love of three sets of seven brothers from India and Italy, which came true with quality grapes from the Fratelli's estate-owned vineyards in Akluj near Pune. Overseen by Tuscan master winemaker Piero Masi to create a signature ruby blend, of around 70 per cent Sangiovese and 30 per cent Cabernet Sauvignon cultivated near the Nira River. 'SETTE' is a red wine matured in French oak barrel for fourteen months.
| | |
| --- | --- |
| Winery | Fratelli Vineyards, Akluj, Pune |
| Grape Variety | Cabernet Sauvignon 50%, Sangiovese 30%, Cabernet Franc 20% |
| Price INR | 1,700 for 750 ml. |
| Alcohol Content | 13.5% |
GROVE ZAMPA LA RESERVE
La Reserve by Grover Zampa is an elegant, yet smooth, complex and full-bodied red with a flavor of ripe red and black fruits, and spicy aromas which leaves a pleasant aftertaste on your tongue. With blueberries, blackcurrant, coffee beans and vanilla aromas, it combines grace, majesty and smooth tannins. A blend of 80% Cabernet Sauvignon and 20% Syrah, the wine shows off lashings of oak, one of the most respected favorites as it delivers a smoky aroma, with an exquisite hint of spice and complexity. This full-bodied blend pairs well with lamb biryani and hard cheese.
| | |
| --- | --- |
| Winery | Grover Zampa Vineyards, Doddaballapura, Karnataka |
| Grape Variety | Blend of Cabernet Sauvignon + Shiraz |
| Price INR | 1,050 for 750 ml. |
| Alcohol Content | 13% |
YORK ARROS
Arros is the flagship wine by York winery in Maharashtra, a family-run team producing a limited production blend of Shiraz (55%) and Cabernet Sauvignon (45%). The wine is aged for 13 months in French and American oak barrel and another 12 months in the glass bottle before release. A red that shows an impressive breadth of distinct flavors of chilli pepper note that's delightful to the senses. The sweet vanilla notes of the American oak dominates, along with strawberries, raspberries, cherries and Indian spices (cinnamon) creating an uncomplicated, easy-going smooth taste which pairs well with an extensive food variety ranging from grilled steaks and kebabs to spicy Indian dishes.
| | |
| --- | --- |
| Winery | York Vinery, Nashik Valley — India |
| Grape Variety | Reserve Blend of Cabernet Sauvignon + Shiraz |
| Price INR | 800–1500 for 750 ml. |
| Alcohol Content | 14.3 % |
MYRA MISFIT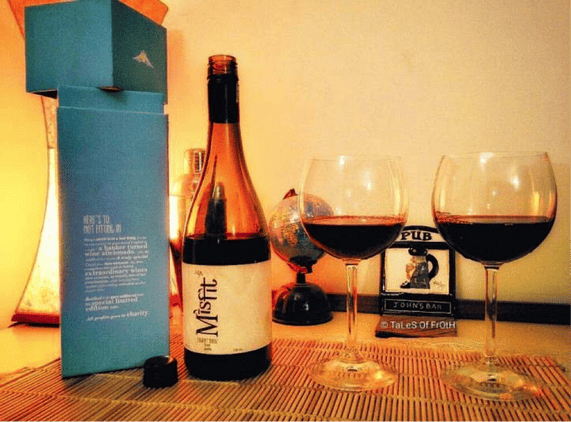 Myra Misfit, a bolshy blend of unfiltered Cabernet Sauvignon and Shiraz, launched in 2013 by Ajay Shetty. Myra Vineyards are located in Banglore and 3 distinct categories were launched — entry level, premium and super premium. A limited edition bottle Misfit was launched in 2016; this is a rich red blend of Classic Sauvignon and fruity Shiraz which is aged in French oak barrels for 18 months. The aroma comes with a strong berry whiff its natural characteristic due to being unfiltered. The taste is spicy and fruity ending on a medium sweet note finish. This is also India's first unfiltered wine which can be paired with seafood, lamb, meat sauce, pizza and pasta.
| | |
| --- | --- |
| Winery | Myra Vineyards, Bangalore, India |
| Grape Variety | Cabernet Sauvignon |
| Price INR | 1500 for 750 ml. |
| Alcohol Content | 14.3 % |
KRSMA SANGIOVESE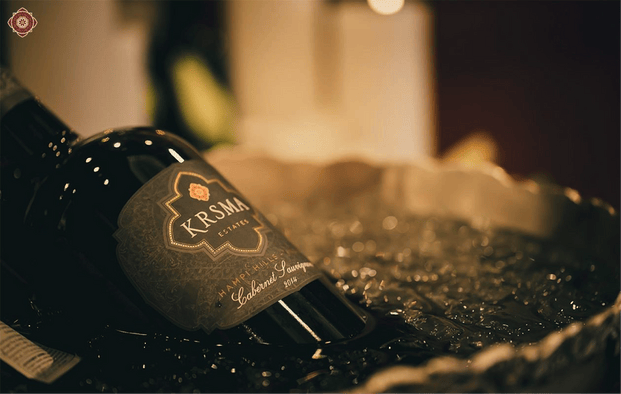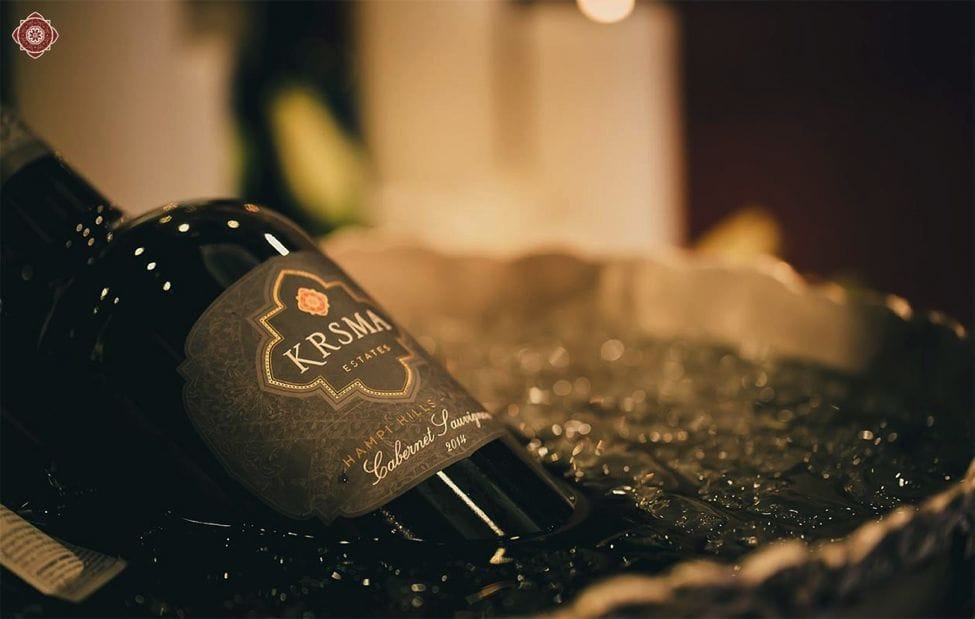 KRSMA a full-bodied red comes from the hitherto untapped vineyards of Hampi, in a deep crimson shade mixed together with hints of purple, promising a well-balanced, whiff of juicy red fruit with a hint of spiciness on the palate a very drinkable taste best enjoyed by itself. This is a complex, yet a clean but exceptional mellow-tasting wine with a lot of cherries and clove notes to be enjoyed with lighter meals like tomato-sauce pasta, hummus bi lahm and the chicken tomato tartlets.
| | |
| --- | --- |
| Winery | KRSMA Estate, Hampi Hills |
| Grape Variety | Sangiovese |
| Price INR | 1,800 for 750 ml. |
| Alcohol Content | 13% |
SULA RASA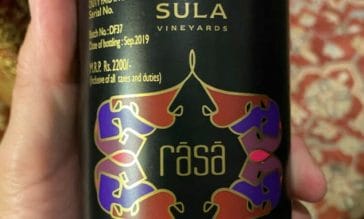 Sula Rasa or Rasa Shiraz is a complex wine with finesse best served at 16-degree Celsius, termed as India's best reserve shiraz. Sula Rasa is stored for 12 months in premium French oak barrels and then further matured in the glass bottle before release. To best enjoy this wine, we recommend that bottle must be opened and decanted 30 minutes prior to being served slightly chilly with chocolate, barbeque dishes, and Gouda Parmesan cheese.
| | |
| --- | --- |
| Winery | Sula Vineyards, Nashik Valley — India |
| Grape Variety | Blend of Cabernet Sauvignon + Shiraz |
| Price INR | 1495 for 750 ml. |
| Alcohol Content | 13% |
Image Credits: To Respective Owners