Choosing the tiles for your kitchen is important as tiles here have multiple applications either as countertop or flooring option. Therefore the first step is to consider where the tile is going to be placed as per your design layout and functionality or this simply means balancing the functionality and aesthetics. Glossy tiles are perfect on the wall but are not suitable for the floors. Here we offer practical advice for selecting the right tile as per the application for your kitchen.
Determine the surface where the tile is to be installed – If the tiles are to be installed behind the stove area as a backsplash then it has to withstand daily cleaning due to hot oil splashes and grease. Glossy and painted tiles are therefore perfect for this area. Plus, these tiles are a vertical element in a kitchen design. The kitchen's splashback creates a visual impact, and tiles therefore must be colorful, reflective, patterned tiles, or tiles laid in an interesting pattern like herringbone, or appealing shapes such as hexagons or fish-scale tiles, or a natural stone to create a visually appealing feature in the kitchen. Or tiles can be installed on the wall to the underside of the cabinets. Choose from porcelain, ceramic, glass, metal or stone materials for a backsplash to be subtle or bold bringing a decorative flair to the kitchen.
Alternatively, tiles on the kitchen floor must be less extrovert than those on the wall, use the timeless style of natural stone or the clean contemporary effect with porcelain or ceramic or wood-look tile to bring natural warmth to the kitchen.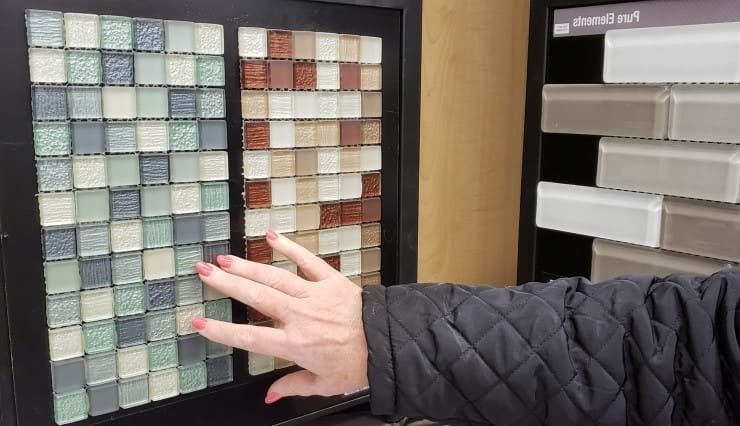 Decoding tiles – Tiles are man-made resilient options to be laid on surface of counters, walls or floors; most commonly used are vinyl, porcelain, glass and ceramic. Glass tiles are reserved for use on walls and backsplashes. Tiles are available in different designs, colors and finishes, either plain or patterned to create an interior you love. Even natural stone is an option adding beauty and individuality. Ceramic tiles are an affordable choice, ideal for walls, but some aren't suitable for flooring as it won't endure the traffic of a busy room like the kitchen. While porcelain tiles are more apt for use on the floor as they can bear the brunt of rough use, as these are fired at a higher temperature than ceramic and have higher density. Glass tiles being reflective in nature are best to be used as backsplashes on walls to add an extra glossy sparkle and make a stunning focal point to brighten the kitchen. Glass tiles are easy to clean and use them for designing a smaller kitchen look bigger. In case you want to create a subtle contrast in the kitchen opt for a matt\flat finish to tiles but these may be difficult to clean.
Determine your budget – Kitchen tile may be expensive or inexpensive – custom designed ceramic tile are expensive while vinyl or linoleum tiles are inexpensive. Do you homework before buying to estimate the amount of product which will be actually needed and the best tile you need for your kitchen keeping in mind both the installation site and the look you want.
Consider your lifestyle – Tiles are usually resilient, highly durable and to take the brunt of heat and grease. However remember that a tile can crack or chip depending upon the usage. If tiles are being used on floor, it can withstand heavy traffic, pets, spilled hot food, pets and cleaning supplies. Ensure while purchasing that you are buying a floor tile not a wall tile for use on the floor because then the coefficient of friction (COF) will be too low, which simply means that it will be too slippery for walking. Tiles meant for floor have a texture or a slight raised pattern for safer kitchen floor. You can get clay and limestone based tiles fired to look like natural stone or quarry tile which are more expensive than the traditional ceramic tile, but are gorgeous.
Select the correct size – Size matters,usehuge, oversized rectangular tiles because larger tiles implies less joints, which brings sophistication and a cleaner look with less grouting. Tiles are laid by professionals. Consider orientation while laying down the tile, for a modern kitchen feel run tiles vertically and break the grid; opt for a standard grid pattern for a conservative looking kitchen.
Research your options for tiles to renovate your dream kitchen!