The name Axis Vanam was adapted from a Sanskrit word 'Vanam' means forest. The project transpires to be a green oasis within the cityscape. The design brief was curated with the idea of Condensing the gap between the built and the greens. In contextual research it was observed that the lakes and the greens were dying because of the chaotic urban fabric. To maintain the harmony between green spaces and the built form 'Vanam' was brought into existence. It is curated in order to restore the balance between these spaces.Every unit is outward-facing, with openings planned to integrate ample light and cross- ventilation.
Situated in the heart of one of the busiest neighbourhoods of IT hub Bangalore, Vanam is a mid-size housing project by Purple Ink Studio with 20 living units stacked across 5 levels. Every unit is outward-facing, with openings planned to integrate ample light and cross- ventilation. Comprising 2BHK, each unit is compact yet well planned with an extended deck. This space acts as a multifunctional space to the users and can function as per their lifestyle apart from being used as a green pocket. The balconies/decks are staggered to offer double-height volumes that are attached to either the Living or the Master Bedroom.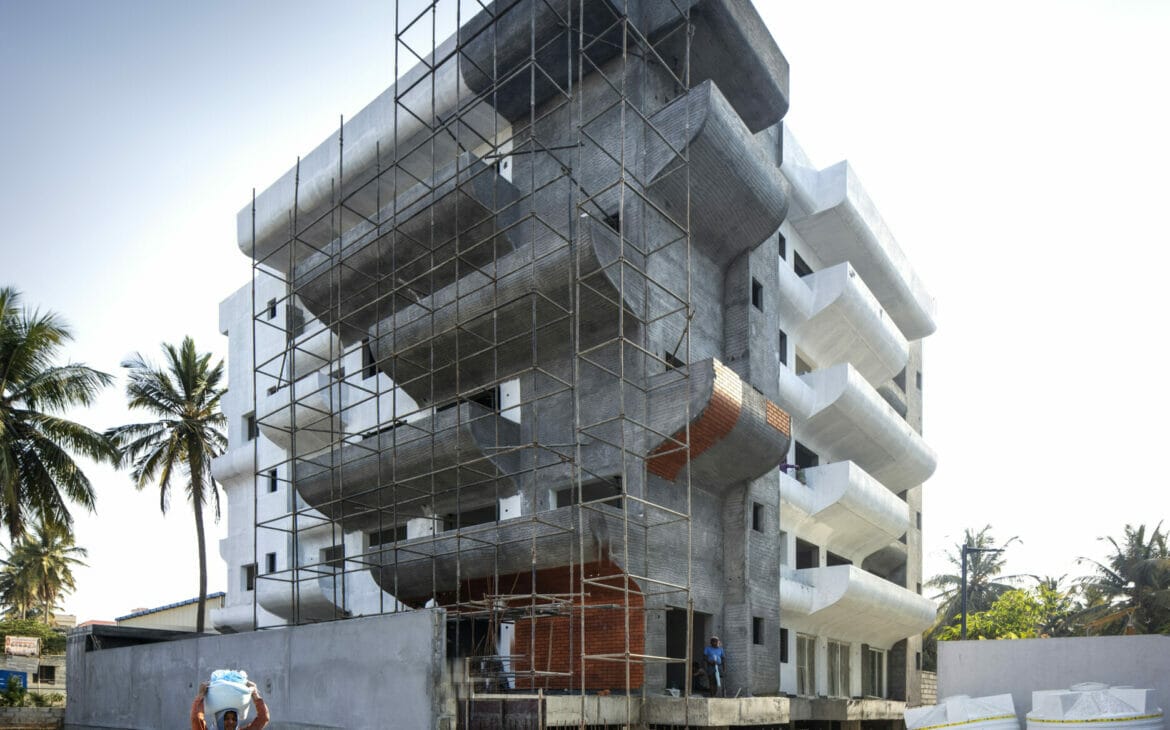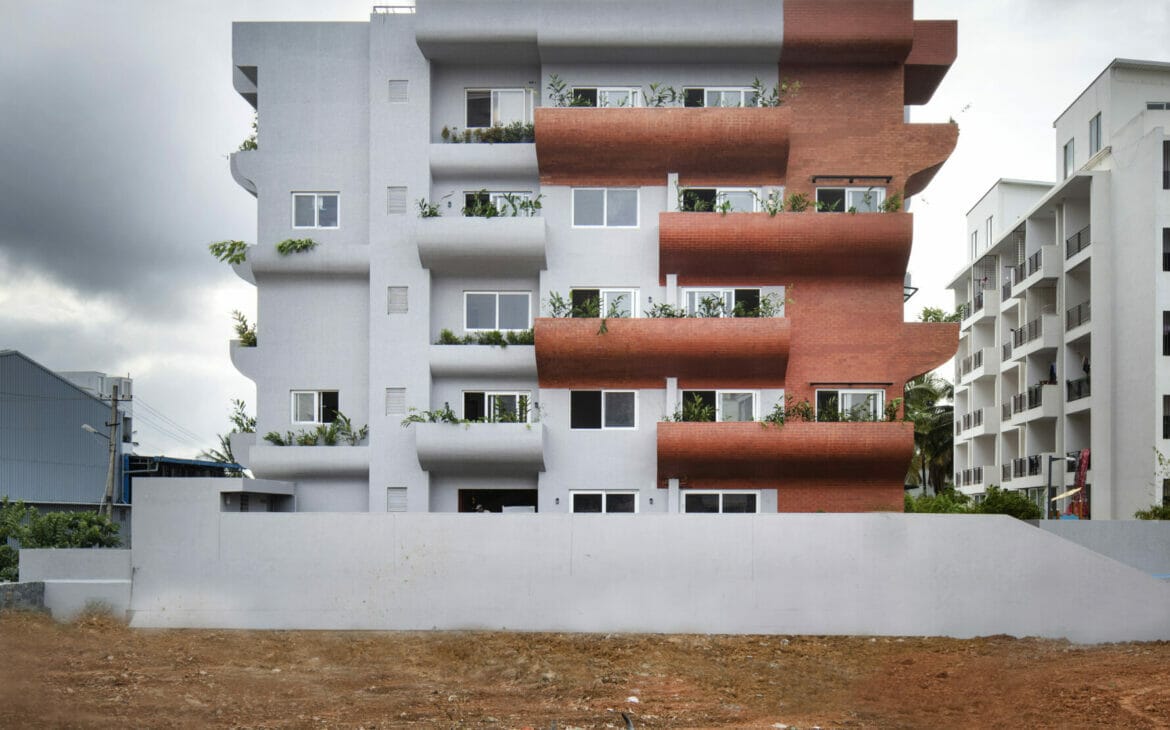 The deck acts as a key element that holds the soil and the paving. The formwork for the balconies was planned in a prototype of 4 feet width, 6 feet height. With several mock-ups done in GI to test the form, the final shuttering modules were done in MS. Grey textures infused in 12mm thick brick cladding forms the facade material palette. The common areas are further held together by natural stone flooring and terracotta jalis for the skylight areas. The planting pattern is tropical and native to the local region. The building is an attempt, to function as an environmental filter by introducing "intermediate landscapes" that connect the residents with their green spaces.
Each Unit in the project is a compact yet well planned 2BHK with feasible space and an extension deck. The unique structure allows the flexibility of converting the extension decks into a green pocket. The multifunctional space is customised as the user lifestyle. The private gardens at all levels were designed to bear the weight of the soil and paving.
The double height forms of the balconies curates a fluidic design and enhances the overall geometry of the structure.The structure for the balcony is planned by adding deeper beams to undertake the soil load which in course also opened a way for taller windows touching the beam bottom to the lower unit. It is planned to highlight the double height corner volumes and scale down the visual vocabulary. 12 mm thick brick cladding along with exposed grey textures formed the prime facade material.
Fact Sheet:
Typology: Residential Building
Name of Project: Axis Vanam
Location: Bengaluru, Karnataka, India.
Principal Architect: Ar. Akshay Heranjal
Design Team: Akshay Heranjal, Nishita Bhatia, Sharanya, Priyanka, Arpita Pai, Jaikumar
Site Area (sq ft & sq m): 5500 Sq Ft
Built-Up Area (sq ft & sq m): 22,000 sqft
Completion Date: Oct 2019
Photography Credits: Niveditaa Gupta