The recent house designed by Punam Karla of I'm, The Centre for Applied Arts reflects the personality of the person well in style, class, and personal statement. Known for her work, she expressed the luxury in its truest form, in a softer, rhythmic design expression, and a choice of unique textures and materials, with a delicately balanced visual consistency in this house.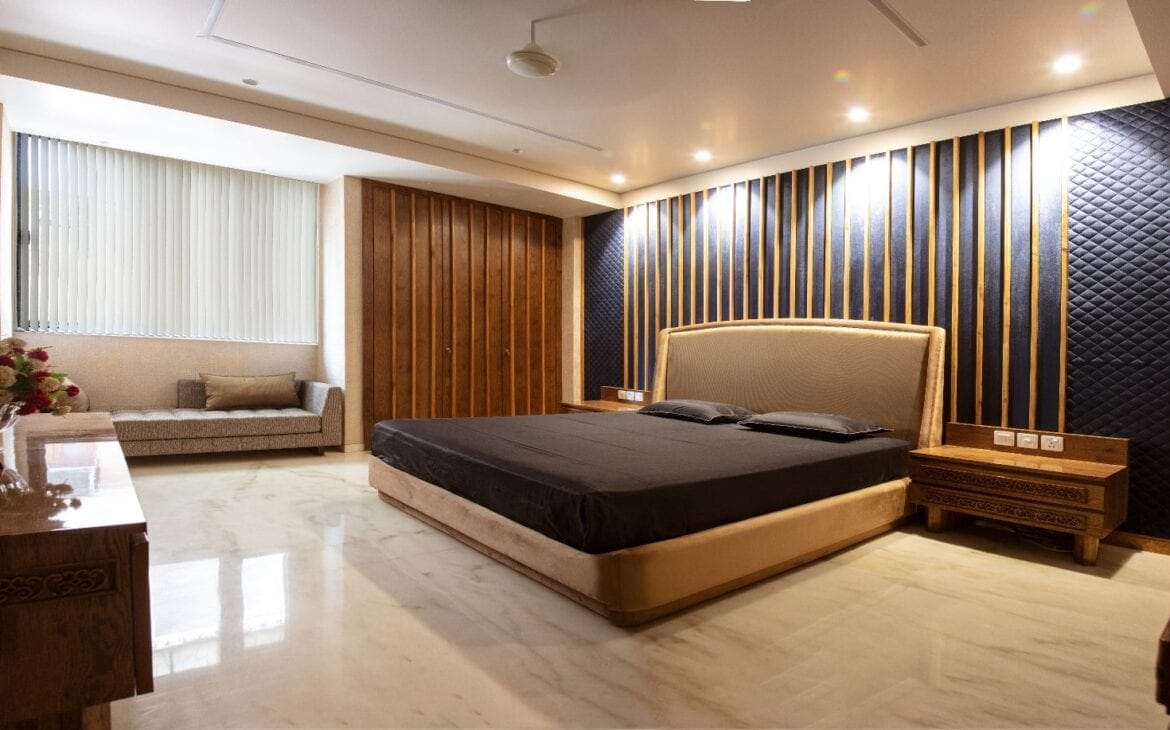 The color palette used in the house brings the warmth of earthy neutral colors enhanced by powerful, regal colors like blue and red. The bold detailing in rich textures and titanium coated steel metallic details with a golden or brass finishing, along with the nifty statement pieces gives the home a strong character and integrity.
The living room houses a plush curvilinear velvet sofa set in shades of beige and taupe, well contrasted with statement neo-modern chairs in an earthy red with subtle metallic detailing. Cushions in tones of copper and antique gold add a touch of glamour to the room.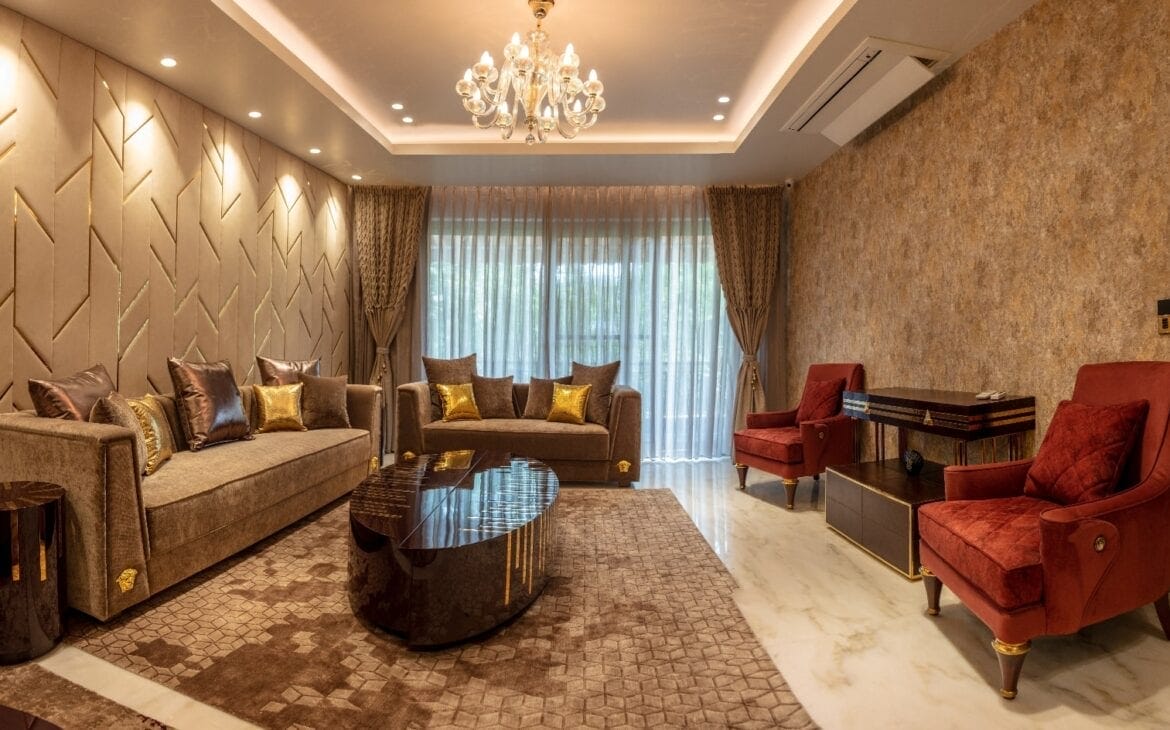 Clean, solid, geometric tables in high gloss PU finishing and minimal metallic details, further complemented with a modern Victorian-inspired crystal chandelier and a deconstructed geometric print earth toned carpet, enhance the visual fluidity of the supple forms and textures.
The elegant suede wall paneling with rectilinear metal inlays, paired with the hearty organic luxuriantly patterned wallpaper and the reinterpreted exquisite golden screen inspired by traditional Indian jaalis, add a touch of extravagance, creating a cozy, affluent and powerful space.
The dining area is conceptualized as an orderly, free voluminous space with the table and the statement lighting as its focal highlights. The table is an artful piece with a clean-cut, semi-precious rose quartz top supported by modern, visually solid, curvilinear legs with neat metallic details.
It is well paired with plush white chairs having contrasting legs and a bold brass lion head feature, giving the room a minimally curated idiosyncratic vibe. The luxurious linear crystal chandelier and the ritzy side table, along with the modern wallpaper complementing the rich marble texture, enhance the gracefully indulgent ambiance.
The beige velvet upholstered bed, with a rich blue suede headboard with a mix of linear metallic and tufted detailing, is complemented by the linear wooden cupboard and the minimal yet ornate bedside table detailing. The bed is an understated sculptural play of silhouettes with planar size and tonal variations and curvilinear edges, giving the room a soft and relaxed finish. The modern grey chaise with the organic wooden and wallpaper texture brings a raw, lavish and refined calmness to the master bedroom.
Fact Sheet
Firm Name: I'm, The Centre for Applied Arts
Design Team: Nisha Rani, Manisha
Location: South Delhi
Size: 3000 sq.ft