Zaha Hadid Architects (ZHA) are the winner of the competition organized to design The Jinghe New City Culture & Art Center. Jinghe New city is located north of Xi'an in China's Shaanxi Province and is a growing hub of science and technology. The city is becoming a center for industries focussing on new energy and materials, artificial intelligence and aerospace. It is supported by scientific research institutes and driven by environmental considerations.
The winding valleys are created by Jinghe river cutting through the mountains and landscapes of Shaanxi province. The Jinghe Bay Academician Science & Technology Innovation district of the city houses the Jinghe New City Culture & Art Center. The design of the center blends with the city's existing urban masterplan and connects the new performing arts theater, studios and multipurpose halls with a new multimedia library to the north of Jinghe Avenue and exhibition galleries to the south through elevated courtyards, paths and gardens. The paths span across the eighth avenue lanes of traffic below.
The center acts as a source of bringing together the commercial and residential districts with the parks and river on the south. The district's network of elevated public walkways is accessed through the sloping ramps and the Jinghe New City Culture & Art Center brings the residents into the heart of the building and gains direct access to the planned metro station.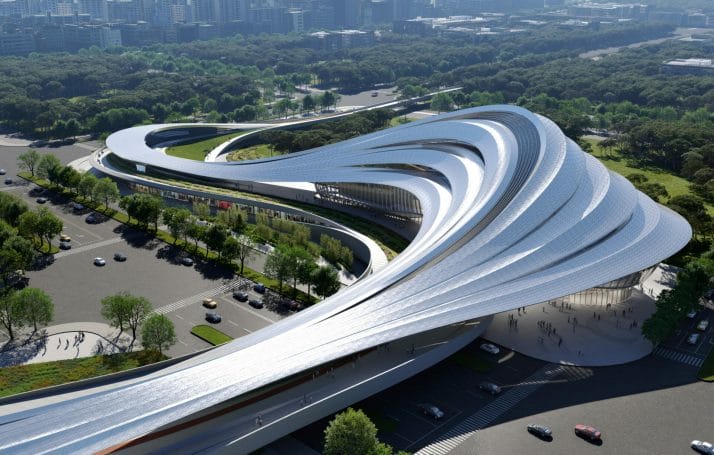 The intertwined interior and exterior cultural and recreational spaces creates a sequential flow of volumes, layers and surfaces that are connected with courtyards and landscapes. The multimedia library at the Jinghe New City Culture & Art Center caters to individual and collective research individually through its various public reading zones that are created with diffused skylights in a full-height atrium experienced from the terraces. The library will provide an immersive and enriching experience with an integrated approach towards learning through combined use of print publications and virtual reality technologies.
The southern side of the avenue houses the performing arts theater that can accommodate 450 people and cater to different types of events. The public areas like multi-function hall, galleries and studios are designed around the theater to provide the public ease of accessibility and interdisciplinary collaboration.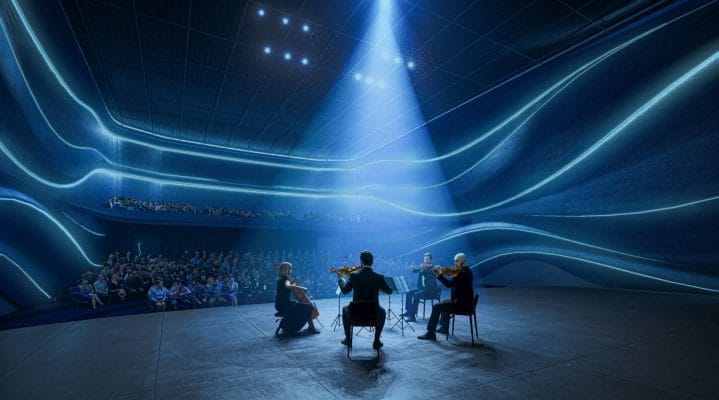 The city has a mild temperate climate and the daylight and air available in this climate is accurately utilized to the advantage of the design through solar irradiation analysis and responsive site planning by the team of Zaha Hadid Architects . The project site is equipped with photovoltaic panels for on-site power generation and rainwater collection techniques. The construction will use locally-produced materials as a priority along with high recycled content to achieve a 3-star certification in China's Green Building Program.