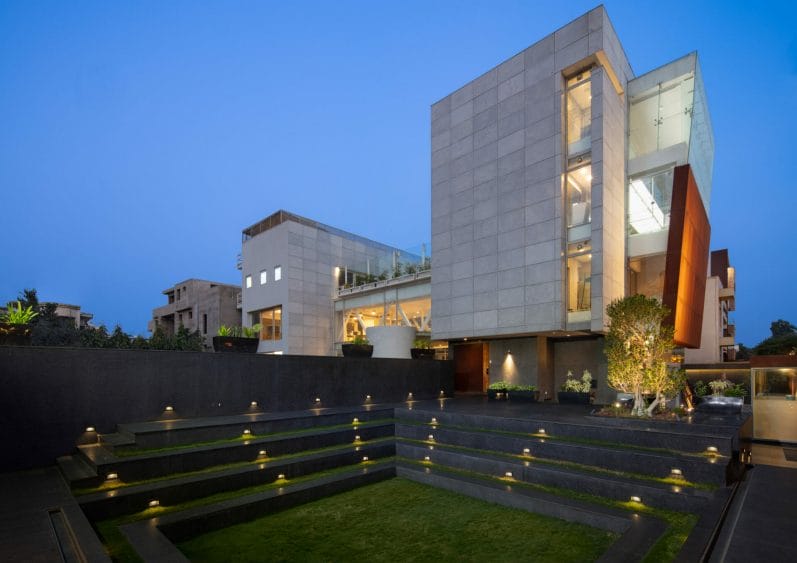 An amalgamation of luxury and urban contemporary, the Dawar House is a residential space in Agra designed by Studio Archohm, that redefines the evolving notions of luxury combined with contemporary architectural style in an urban context. The design has the essence of creating a space that acts as a repository for exemplary, extraordinary, and exclusive objects in space.
The front facade of the house is kept blank intentionally with grey panels of Ivanka concrete panels defining the edge and it is offset by the blank corten steel plane in the front. This concept conveys an intriguing notion about luxury that it is ultimate privacy. The front mass is a cuboidal block that is staggered into different planes to create a visual effect of weightlessness and by being lit through corner slits of glass.
The planning of the Dawar house is based on the protocol of relationships. The two blocks cater to individual completeness for each generation but also bring them together with lounge areas, interaction spaces, and a bridge for crossings. The double volumes along with the bridge are interwoven in the entire house and the glass walls act as visual connectors facilitating the free flow of space within the house and outdoors too.
The house is instilled with a sense of openness with natural light pouring in from all sides and views of the greens. The basement is designed for the patriarch for his workspace with a lavish bar and formal living and dining area. The main floor of the Dawar House has a guest unit and living spaces for the elderly on one block and another block houses the elevator, twin kitchens – one for regular use and the other for the occasional indulgence of family in gourmet cooking, and the entrance lobby.
The front block on the first floor houses the master bedroom and the other block houses a kid's room. The second floor is an integration of an open-air garden, a pool, a gym, a home theater, a gaming area, and simple spaces for one to sit and relax. The plan of the house is shaped in the form of 'I' and has a large open court on one side with a 40 ft high green wall, a fireplace, and a waterbody on it, and the other side has a sunken 'thicket-lookalike' court.
Fact Sheet
Project Name: Dawar House
Location: Agra, Uttar Pradesh
Built-up Area: 1503.22 sq mt
Firm Name: Studio Archohm
Design Team: Saurabh Gupta, Aditi Sharma, Cheena Malik, Nikita Rathore, Sandeep
Image Credits: Andre Fanthome