Colors play an important role in setting a tranquil and soothing ambience to the bedroom. Colors are induced in the bedroom via Indian textiles, prints and handmade furniture in soft, neutral shades of grays, white and beige coordinated to create a tranquil setting for relaxation. It's important to balance the muted shades with splashes of brightness to transform a bedroom from ordinary to memorable. Here are our picks for bedroom color— you'll surely love them to happily retire to, without a care in the world!
Charcoal grey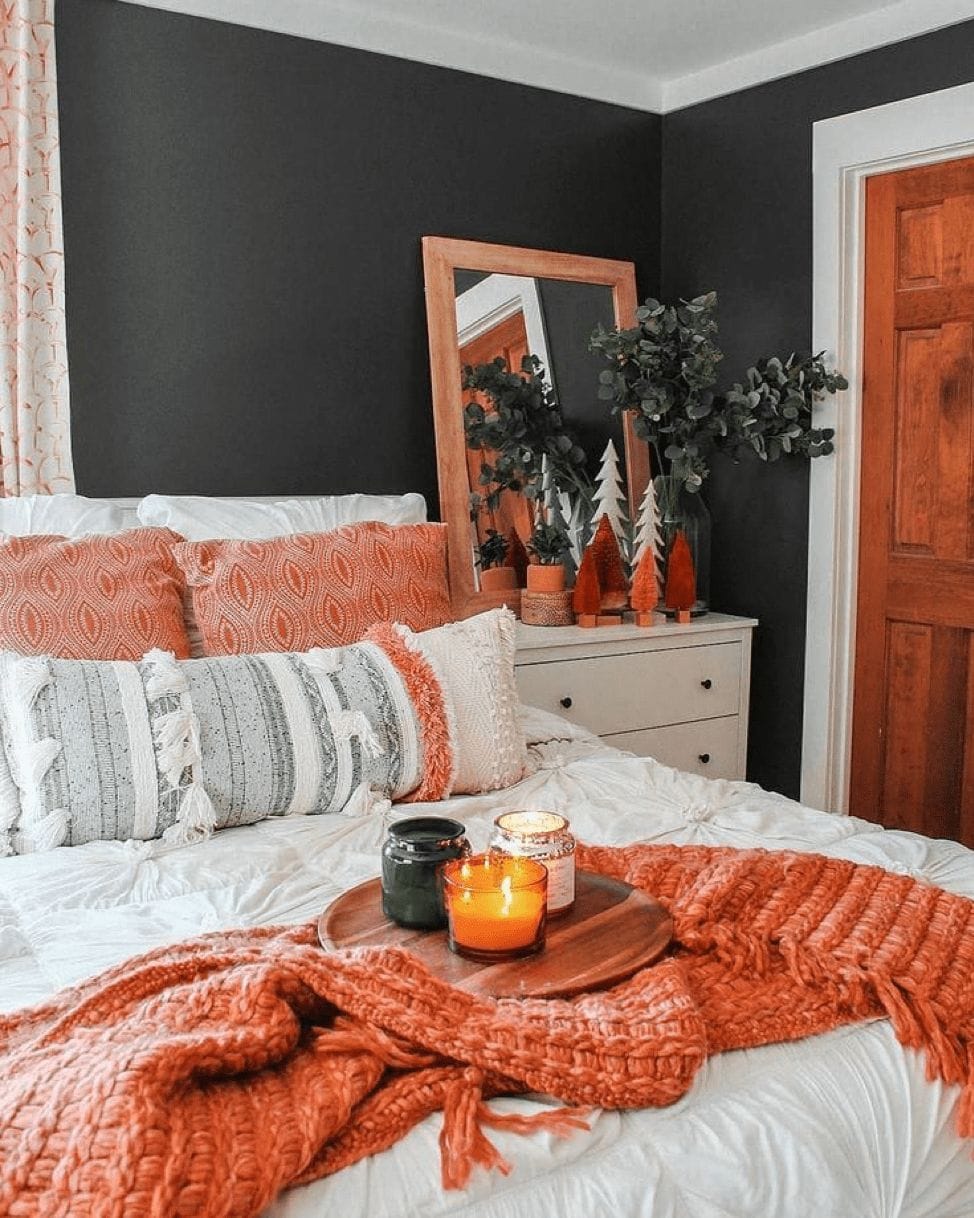 Nowadays, Grey color is being used in Indian bedrooms. However, the color can tend to be boring, but mixing shades and tints of a lighter shade on the walls infuses a bit of personality into the dull grey bedroom or by even a brighter tone in the upholstery. Rust, orange or white accessories and beddings can be subtly introduced for a splash of color without overpowering the space. Palest grey creates a rich, contrasting look which is harmonious. Another, color scheme is gray-blue which brings sophistication, adding bright blue cushions or pillows to match the hint of blue in the grey wall paint creates a charming space.
Pale green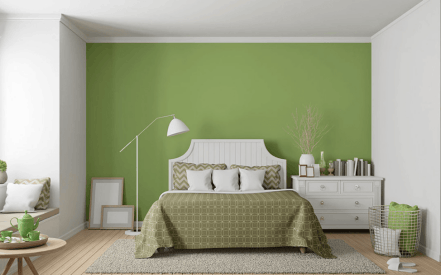 A happy color, light green brings a natural and tranquil feel to the bedroom especially in times of stress. Pairing it with deeper green or darker shade of brown or even white on the headboard, linen, curtains or bedside furniture adds a touch of cheerfulness and sophistication. Define straight lines in the room in black for giving the room dimension, while the textured carpet and throw on the bed in pastel green coordinates and soothes thanks to the tranquil green color.
Rich teal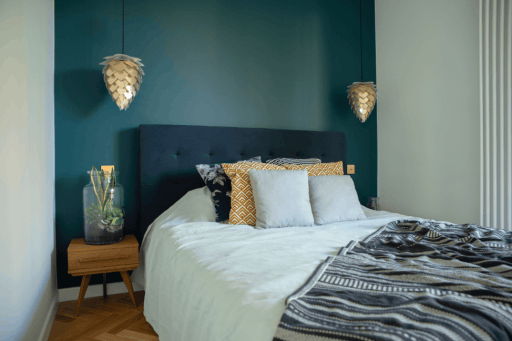 Elegant rich teal or forest green excludes a sense of calm for a good night sleep, creates a cozy, cocoon-like feel. Do not dress the bedroom walls in teal instead, go bi-color, painting some walls white and one teal. Involving teal with white will lend a feeling of tranquility as the textiles in your room, be it the bed-linen, bed spreads or other soft furnishings even drapes can be in a lighter subdued hue or white to create an atmosphere that is sure to promote a good night's sleep.
Playing with Blues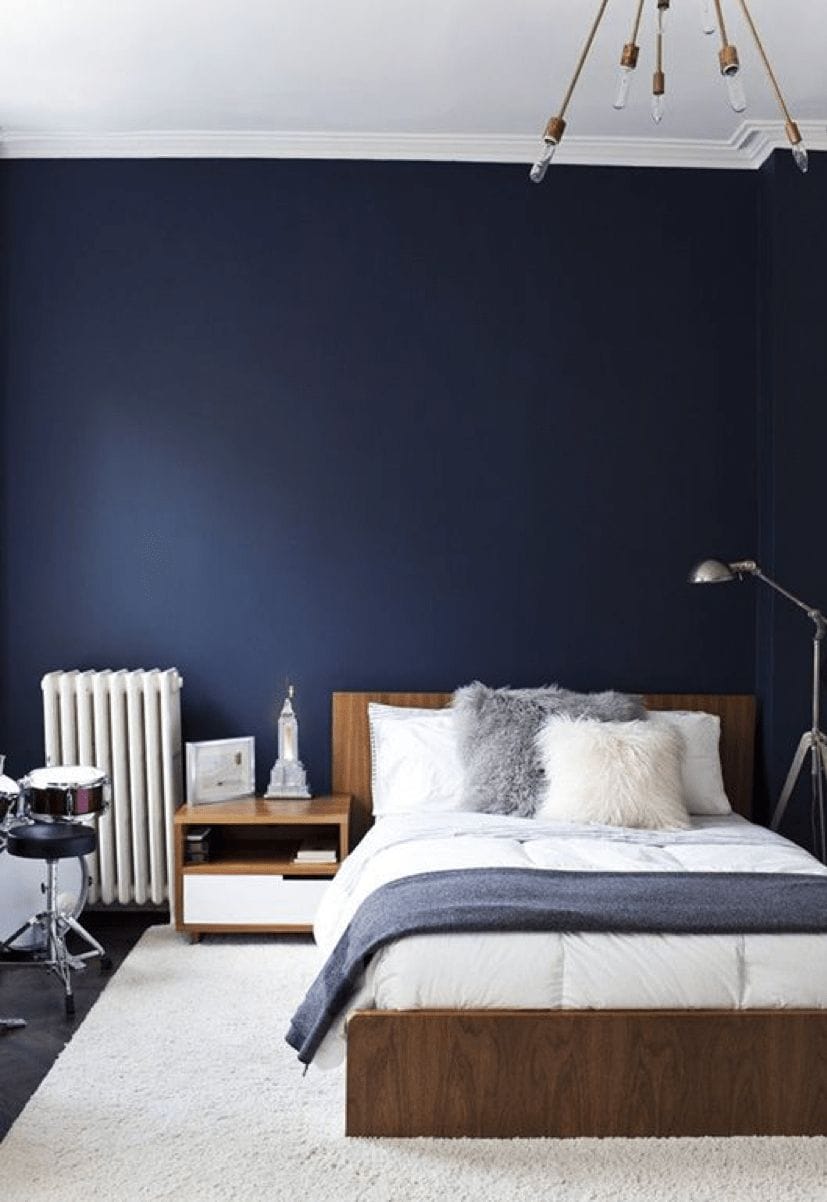 Blues can be blindly trusted for the bedroom and its warmer shade Indigo is rich and comforting, and appealing to Indians and perfect backdrop for rustic furniture. Fabrics like rattan and jute along with traditional prints of ikat and kantha look graceful. In fact, try regal navy or light pastel blue for a relaxing touch but this lighter blue version is cold and has to be paired with warmer shades of blue such as turquoise or cobalt blue or indigo in blinds, cushions fabric and accessories to correct the imbalance and uplift the mood in the bedroom.
Burgundy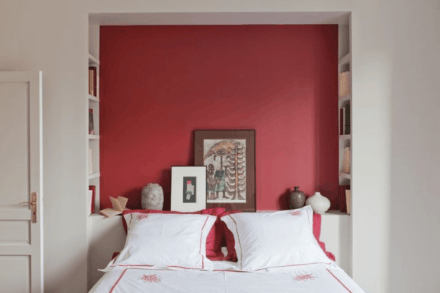 If you love a dramatic and intense bedroom, a fantastic color is burgundy or even wine for cozy vibes. One feature or focal wall can be burgundy while keeping the rest of the room can be neutral like white bedding, beiges, champagnes and grays combination. Choose dainty prints, stripes in white for reflective accents.
Amber yellow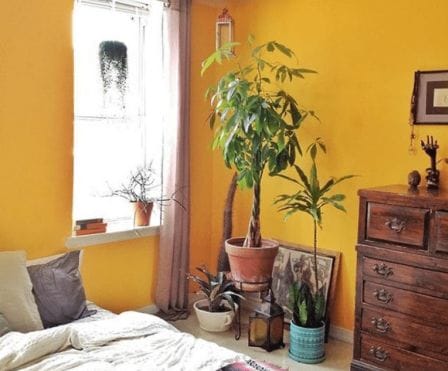 Awaken the senses and your mood in a warm and uplifting room. Amber yellows or even mellow yellow is sunny, positive, uplifting, bright, welcoming, mood-boosting shade. Pair it with natural textures of wood, Ikat prints, woven cushions, plants and terracotta accents for an amazing combination. This shade inspires clear thinking, contemporary finish for lazy compact bedroom.
All White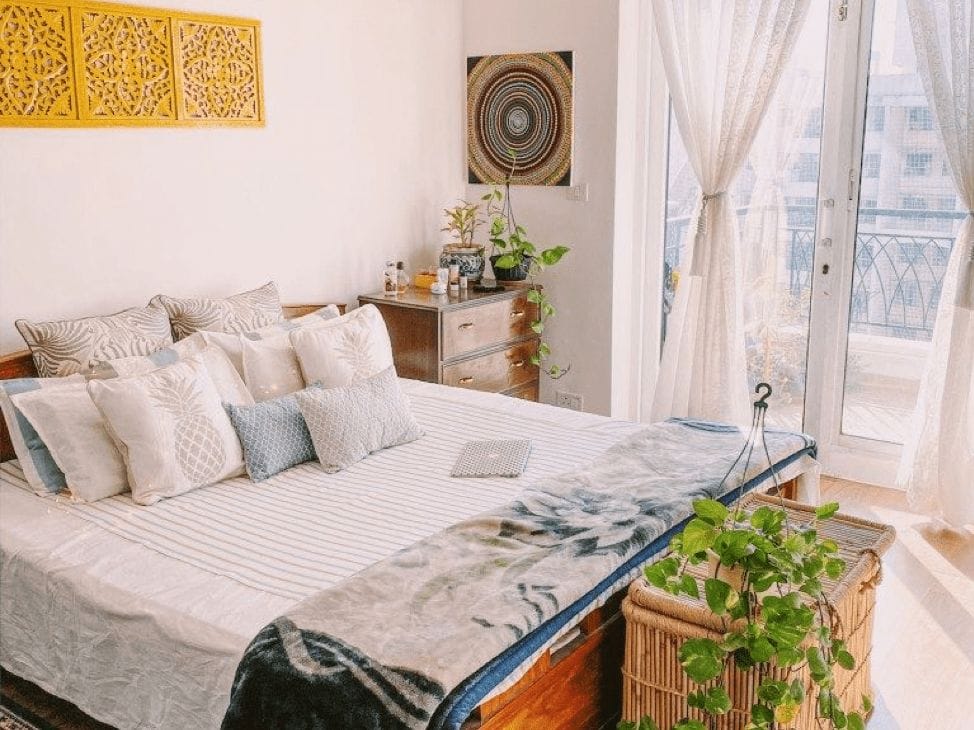 All white bedroom is simply classic, calming and sophisticated yet peaceful – all white bed linen, layered with pillows, cushions and throws and a natural wood floor, accessorized with tones of green and luscious printed carpet sparkles interest. Mix in different textiles and bed linen colors layering white to bring the bedroom a cozy, comfortably, stay-in-bed kind of vibe.
Rethink pink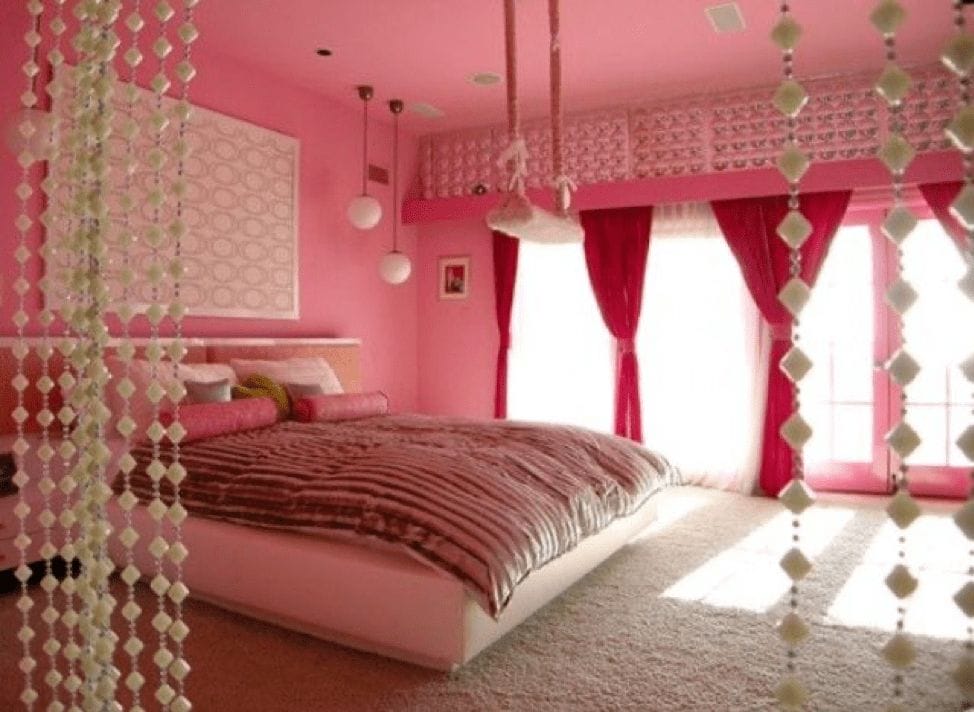 Bedroom in delicate pink is an elegant hue for romantic feel. You can give it a modern twist by teaming it with fresh white for the furniture and walls. Add pink with white for visual impact and balance color, refrain from bold pattern, but add subtle texture with bedspread and oversized headboard for a luxurious feel. Soft, soothing pink takes charge helping create a tranquil escape.
Warm brown tones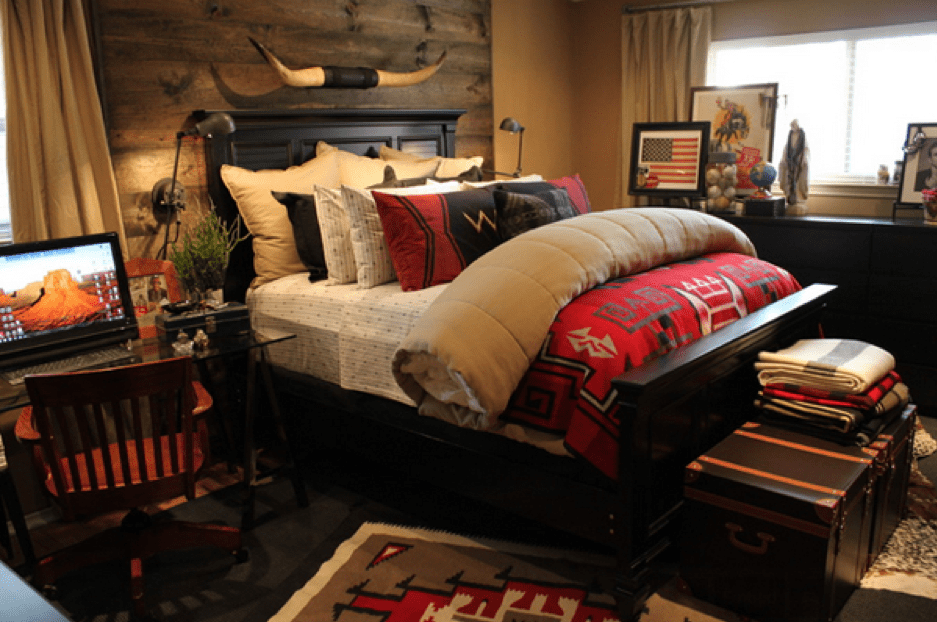 This chic Indian bedroom combines polished wood with natural linens, textured woollens, soft brown walls and wooden flooring for a contemporary feel. An oversized headboard made in walnut veneer anchor the scheme for a warm and rustic bedroom which has the bed overflowing with natural linen and tactile cushions so that it looks inviting and cozy. Wood finishes for bedroom furniture and accessories –browns work well naturally, welcoming and relaxing.
Image Credits to Respective Owners