Ar. Tripti Berariya of the firm Spaces11 has designed a weekend home built around the themes of contemporary, modern with clean lines and a minimalistic design. To achieve the desired aesthetic, she used only a selective color palette along with a restrained use of materials. A beautiful play of light can be seen through the house at different times of the day. Each room has its own characteristic, yet the overall look of the house is homogeneous. A narrow passage which leads to the living room on entering the house acts as a memory lane with family photos on its wall.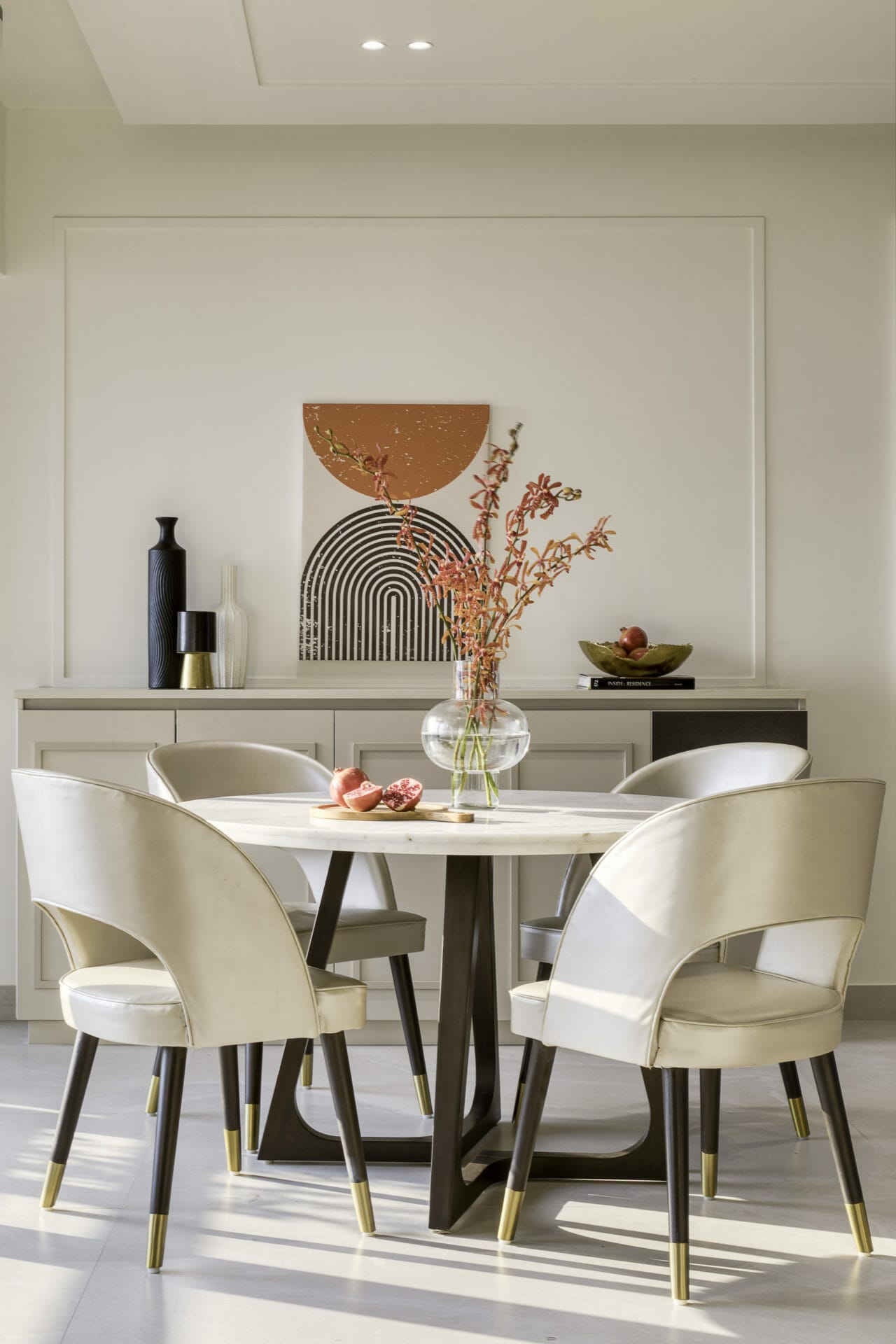 The living room is designed with rich suede fabrics, marble table tops, minimal furniture and neutral tones. The Contemporary sofa design coupled with accents in decor such as polished dark wood side table, decorative plants and Spanish brown full height curtains bring the room together. In stark contrast to the neutral sofa this bright saturated blue chair is modern, elegant and provides an enticing focal point for the space.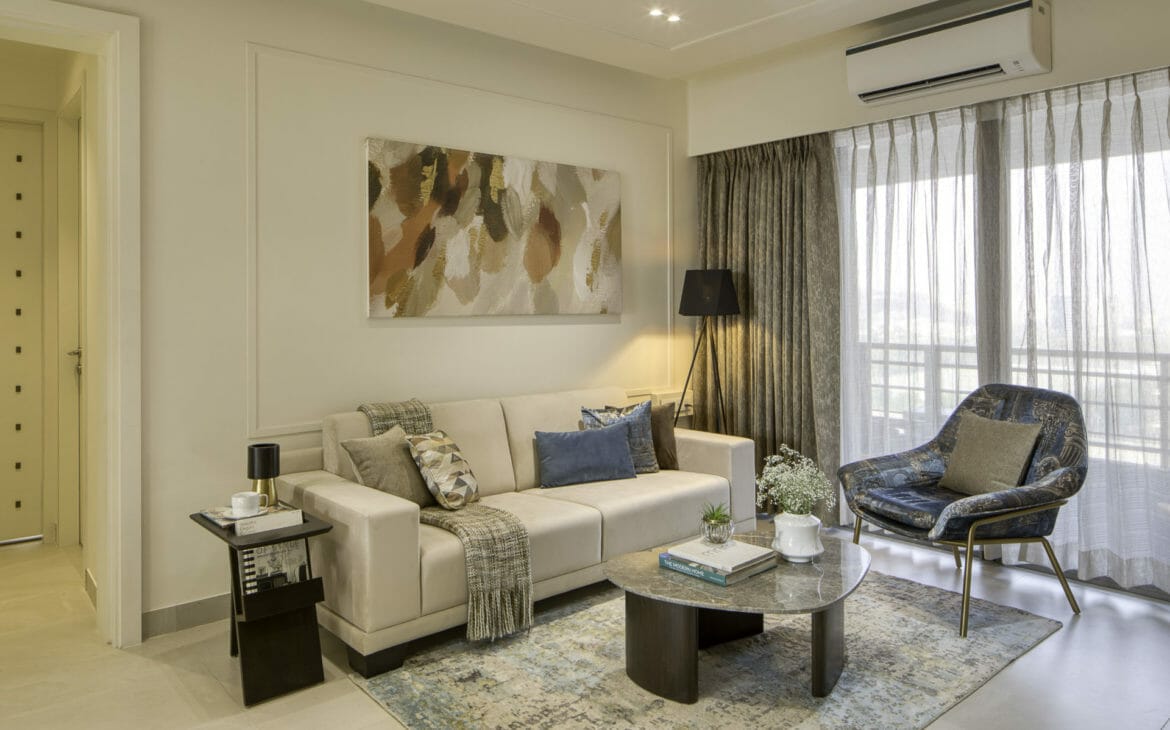 Brown wallpaper has been added to this beautifully designed room in order to give it a sense of radiance and extravagance. In order to make it more presentable and functional, the walls, flooring & ceiling have been kept muted and minimalist so as to avoid an overly crowded space.
For the kids' room, design scheme which is gender neutral was desired. Naturally, using white, yellow and wood would be a given. On entering the kids' space, the black and white dotted wallpaper catches sight and catches those who see it by surprise! Pops of bright yellow have been used in small proportions as its energizing, bright & genderblind. Besides the headboard is the window seat for them to enjoy time reading or spending time with friends without having to leave their room altogether!
The color scheme of the master bedroom is calm, with dusty rose pink being the dominant shade. The combination of this color with the addition of light dusty taupe (which lies underneath the rose hue) creates both a sense of sophistication and relaxation, which are two things that our clients were looking for when they came to us seeking help in redesigning their bedroom.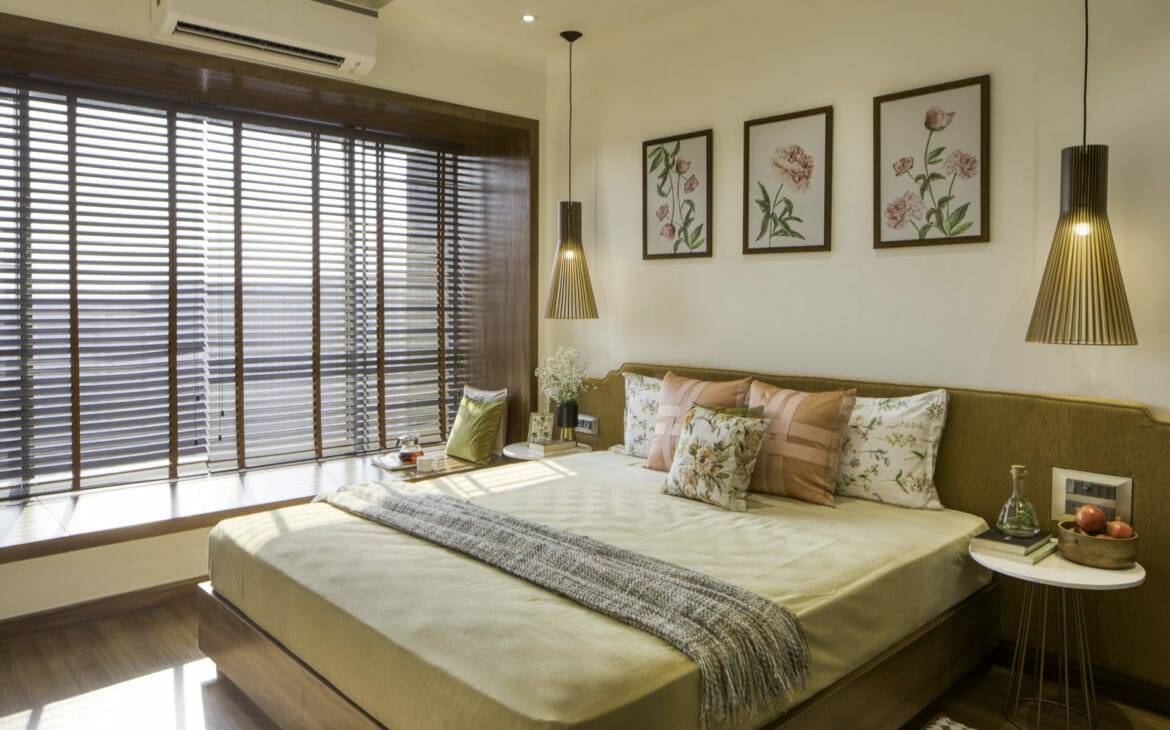 The yoga studio has been designed as an extension of the home, with a warm atmosphere that is both open and spacious. Natural materials like wooden flooring, khadi fabric headboard, marble table tops, bamboo lights & wooden louvers which gel seamlessly & bring harmony & uniqueness to the space.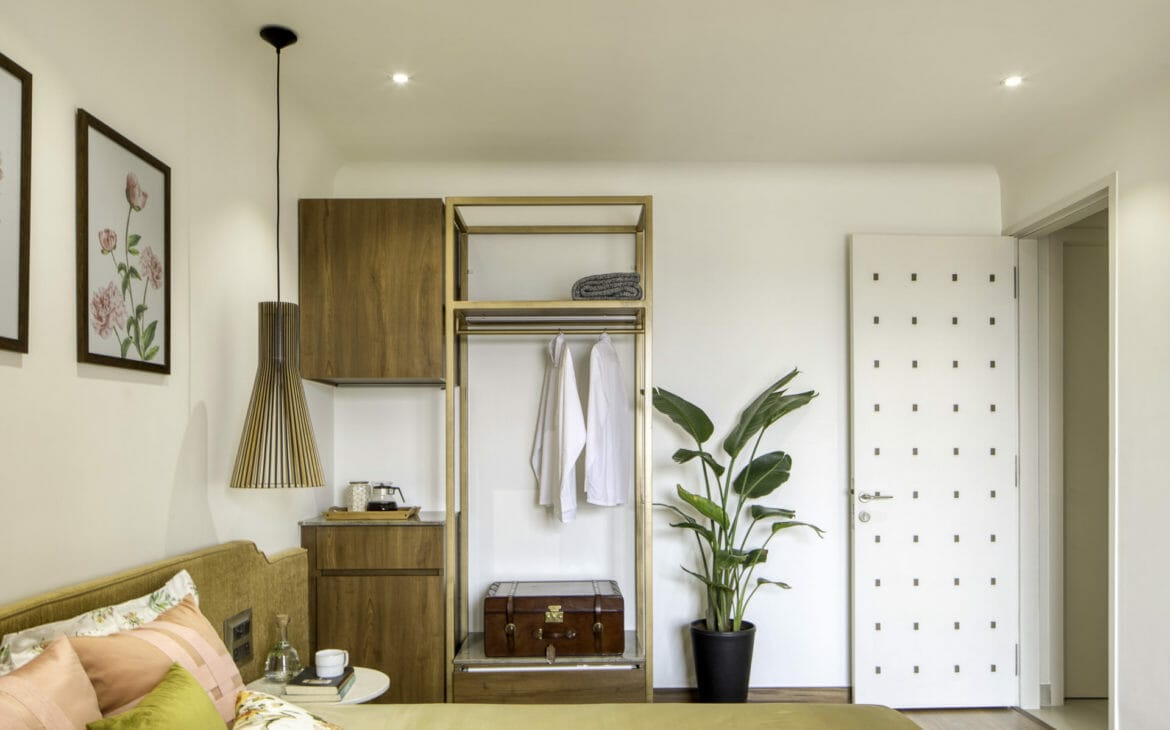 Walnut flooring blends seamlessly throughout the room, extending between the large window frames made out of wooden panelling. These two materials combine harmoniously to bridge the transition between indoors and out. Warm light enters from expansive windows, complementing the existing tones in this space as they blend together. Wooden louvres cut down on incoming light while also ensuring visual privacy. The window seat matches the background by creating a cosy area which doubles as a place for hanging out with family or friends when you're feeling tired or want to work privately.
Fact Sheet
Architect Firm Name: Spaces 11
Architect Name: Ar. Tripti Berariya
Contractors : Elemantra
Area: 1293 sq.ft.
Location: Ghatkopar, Mumbai.
Photographs: Umang Shah
Styling: Basil leaf