Let's meet women who have redefined aesthetics by unleashing their creative potential and turning their passion into carving a niche in the world of interior designing. They are truly an inspiration, women of grit and determination, to create unique brands which enhance the new age homes. Check them out as they show us how to redo and decorate our homes making our lives more elegant, stylish, classier and a little brighter.
Twinkle Khanna
The White Window, a lifestyle store was launched in 2002 by Twinkle Khanna, blending beautiful unique furniture pieces though minimalist in design. She effortlessly dons many hats in her life. Twinkle Khanna is known to be a perfectionist; a multi-tasking entrepreneur has made a mark for herself by exploring acting to writing to even interior designing. Though untrained, she is unafraid to experiment, as Twinkle firmly believes in design aesthetics which make an individual's space a cozy dwelling to live in. She has done the interiors of Salman Khan and Rani Mukerji's homes.
Gauri Khan
Design Cell a store launched by the multi-talented Gauri Khan in 2013, to showcases décor pieces and collectables from across the world, reflecting her design sensibility. She believes in bringing creative energies to the forefront, right from curated pieces to the flooring and more like art, sculptures, lighting antiques and accessories to make interiors reflect grandeur. Classy and royal define interior designs of Gauri Khan, who is also a film producer, celebrity wife. She has decorated the interiors of her heritage bungalow, Mannat, and other high-profile homes, including that of Ranbir Kapoor.
Sussanne Khan
Charcoal Project a unique design concept store project by Suzanne Khan was started in 2011 bringing the old world charm with elegance. Her interior boutique focuses on the simplicity of vintage styles with artsy pieces which is a hand-crafted furniture collection 'Sussanne Khan pret home', where interesting pieces using metal, wood, natural fibres, concrete and geometric patterns embellishments resemble a blend of the masculine and feminine She is educationally qualified interior designer has been designing homes from 1996. Her latest collection was a few pieces designed by fashion maestro Sandeep Khosla and Andrew Martin.
Mana Shetty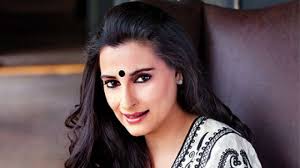 Mana Shetty's R HOUSE is an eclectic blend of luxury and high-end products – though simple in make, each piece imbibe intricacy and ardent craftsmanship. These include dining accessories to chic rugs, glass cascades to wonderful wooden furniture and more which are very minimal and simple yet intricate detailing on each every furniture piece. A house designed by Mana Shetty is no doubt a collectors delight.
Monica Khanna
A reputed interior designer having years of experience, she is the brain and hands behind designing two luxury trains- 'The Palace on Wheels' and 'The Royal Orient'. In the due course of her work she has won innumerable awards, accolades, and recognition, and an ardent believer that 'style is eternal, which needs to be celebrated.' Monica creates stunning concepts by infusing them with colors and textures and yet simple in spirits. Her curations can be checked at the famous 'The Delhi Design Store', where she showcases interior accessories, along with exquisite furniture.
Shabnam Gupta
A powerful lady from interior design and home architecture, she has designed artsy homes for many well-known names from Bollywood like Raveena Tandon to Rani Mukherjee, Kangana Ranaut to Parineeti Chopra. Interiors for the well-known The Bar Stock Exchange and the Intercontinental Hotel's restaurants, along with Sassy Spoon, and even for Smaaash and The Pepperfry Studio have been done by her. Besides this she runs two other companies- a retail venture on home decor and furnishings, Peacock Life, and her own interior designing firm- The Orange Lane. Her success goes to her flair of detailing which make her end product outstanding.
Parmeshwar Godrej
Parmeshwar Godrej is a name to reckon with having the tag of Godrej. She is a seasoned yet a celebrity designer as she only takes up a few selected projects. One of her ventures was the 3,401 sq ft apartment in Planet Godrej in Mahalakshmi, Mumbai, amongst the many others she did.
We hope you have been inspired by these women from the world of interior design, do write and share what you think about them.