It's 2022 and women are taking over the world by storm, in every field possible. Architecture too has been seeing many talented ladies who've gone on to make their mark in creative and innovative ways. While women in architecture, design and the construction industry are redefining cityscapes and redrawing skylines around the world, let's have a look at some of the tallest buildings designed by them.
While the tallest building in the world is undoubtedly the 2717 ft. high Burj Khalifa in Dubai, the tallest one designed or coordinated by a lady in the lead is duly credited to Jeanne Gang's St. Regis, standing at 1191 ft. tall in California. The supertall residential skyscraper is designed as a stack of straight and inverted pyramidal frustums, clad with alternate coloured glass giving it a wave-form.
Rightfully named 'The World's Most Influential Architect' by the Times Magazine in 2019, Gang has designed many more high-rise buildings adorning the American skylines including Aqua (859 ft.), MIRA (422 ft.), One Hundred (385 ft.), Solstice on the Park (299 ft.), and 40 Tenth Avenue (190 ft.).

Architect Malika Walele and a team of 11 women designers at the South African design firm Co-Arc International, led by its only female Director, Catherine Atkins, have together designed and built-up the largest skyscraper in Johannesburg. Currently, the second tallest building across Africa, 'The Leonardo' is a Dekton-clad, 745 ft. tall building in the city of Sandton, boasting 55 floors of mixed-use commercial space including a hotel, restaurants, boutiques, a podium terrace, and a sky-deck. In a country where only about one-fifth of the registered architects are women, it is quite a feat achieved by these ladies.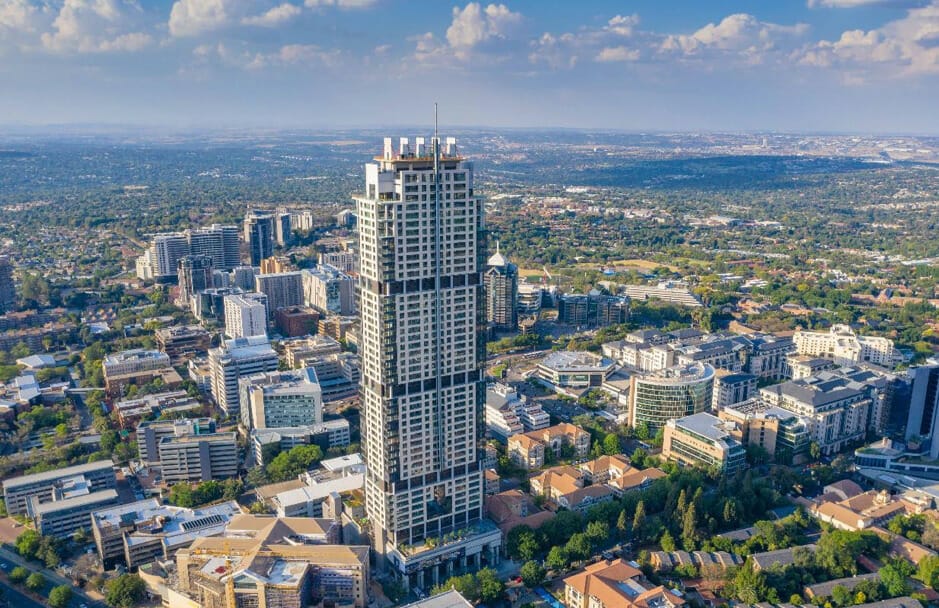 Alike most achievements of women in architecture, Dame Zaha Hadid has her signature all over this one too, being the lady with the most number of high-rise buildings to her name. Her tallest skyscraper is the 62-storied residential condominium, One Thousand Museum (709 ft.) in Miami, designed as a rectangular tower with a curving exoskeleton. Her second-highest, Leeza SOHO (679 ft.) in Beijing, is home to the world's tallest atrium, designed to twist at a 45o angle through its 636 ft. height. Alongside it are three more of her high rise marvels, the Wangjing SOHO Towers 1, 2, and 3 at 656 ft., 417 ft., & 387 ft. high, respectively. Some of her other notably tall buildings include Morpheus (504 ft.), the neo-futurist luxury hotel in Macau, Jockey Club Innovation Tower (249 ft.) in Hong Kong, and Heydar Aliyev Center (243 ft.) in Baku.
The first-ever high-rise building to be designed by a woman was the 18-story high Terrace Plaza Hotel (272 ft.) in Cincinnati, built in 1948. The lady behind erecting that masterpiece, Natalie de Blois, is an architect to be celebrated for probably being the only woman to have designed a skyscraper or even high-rise buildings back in the 1950s and 60s. Having skyscrapers like the Equitable Building (457 ft.) in Chicago and Lever House (307 ft.) in New York to her credit, the tallest building she designed in her career is the 708 ft. tall Union Carbide Building, New York, which was demolished last year. Most of these glass and aluminium-clad rectangular towers make fine examples of international design and modernist architecture, especially due to the use of curtain walls.
Having spent more than two decades at Skidmore, Owings & Merrill (SOM) – currently, the second-largest developer of skyscrapers in the world, and a company entirely run by women in the lead – she's been the lead designer on many significant projects which were then credited to men. That is probably what lead her to co-found a non-profit organization aimed at improving the status of women in architecture in 1974, called 'Chicago Women in Architecture'.

India, one of the few countries with a close balance between the sexes in the profession, has also contributed to the list of the tallest buildings designed by women. Sonali Rastogi, Founding Partner at Morphogenesis lead the design team of Paras Trinity – a mixed-use building, standing 174 ft. tall in Gurugram, Haryana. The 14-floored commercial complex hosts a multitude of spaces including retail units, medical facilities, food outlets, and office spaces, surrounded by ample green areas. A visionary in her field, Rastogi has always made it a point to have a majority of women in her design teams, across their offices in Mumbai, Bengaluru, and New Delhi.