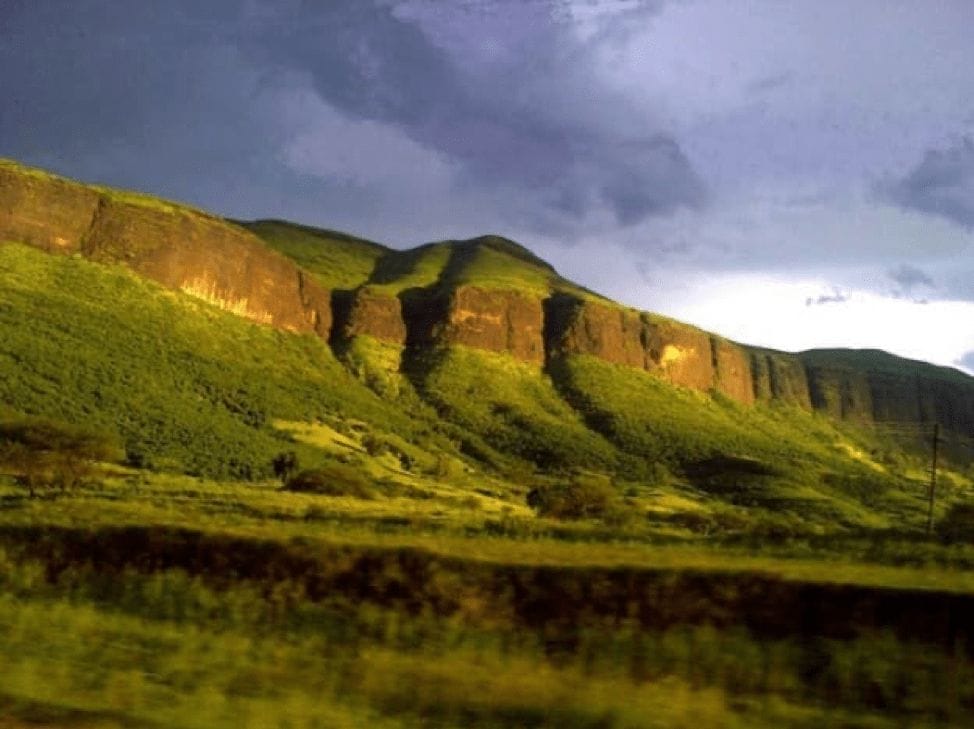 Igatpuri is a beautiful hill station nestled between the lush greenery of Western Ghats, on NH3 Mumbai-Agra highway, in the district of Nashik in Maharashtra – just 130 km north of Mumbai. This is a favored weekend getaways for those seeking peace and spirituality. Igatpuri attracts nature lovers, hiker, rock climbers and trekkers with its pleasant climate, quaint old forts, waterfalls and majestic mountains. Monsoon enhances the beauty of Igatpuri, the dense forests become greener, and waterfalls get alive with gushing water, mist and lush greenery.
SIGHTSEEING IN IGATPURI
Once in Igatpuri visit Vipassana International Academy for Vipassana the ancient technique of meditation. Famous tourist spots are the Ratangad forts and Tringalwadi Fort, Amruteshwar and Ghatandevi temples and best time to visit is from June to September and November to March.
VIPASSANA INTERNATIONAL ACADEMY
Vipassana International Academy on the Mumbai-Agra Highway, is the world largest meditation center, 136 km from Mumbai and 45 km from Nashik. This academy was established by S N Goenka in 1976. Free food, accommodation, and the ancient technique of meditation technique, Vipassana are provided to all. This is a 10-day meditation course for which people come from all over the world for which daily trains, buses operate from Mumbai, Pune and Nasik. This place is also called Dhammagiri, based on the hills of Dhamma.
Timings: 9.30 pm – 4.30 pm
Location: Dhamma Giri
VAITARNA DAM
Vaitarna dam or the Upper Vaitarnna dam was constructed in 1950 across the Vaitarna River. This is a famous tourist attraction as it is first gravity and earth-filled dam of its kind. The dam is the chief source of water and electricity for major parts of Mumbai. The best time to visit is in the months of June to mid-September during rains for a stunning view of the dense forest, quaint lagoon near the dam and the Western Ghats.
Timings: 9:00 am – 4:00 pm
Location: 28 km from Igatpuri Railway Station.
BHATSA RIVER VALLEY
Bhatsa River Valley is quite popular among tourists as hills in the picturesque valley provides an ideal trekking trail which is not difficult to walk on. This is situated at the end of Thal Ghat, on the plains of river Bhatsa in Igatpuri region, a wonderful location covered with thick with greenery, lustrous foliage and misty hills has the river flowing through it. Rejuvenate your body and mind by a visit during the June to September the monsoon season. Also view interesting rock formations created by the river flowing, plus visit Ghatandevi Mandir a temple dedicated to the goddess of the Ghats. The valley lies near the Camel valley and both the valleys can be visited on the same day.
Timings: All day.
Location: Located just before entering Igatpuri and lies in the basin of Bhatsa River
GHATANDEVI TEMPLE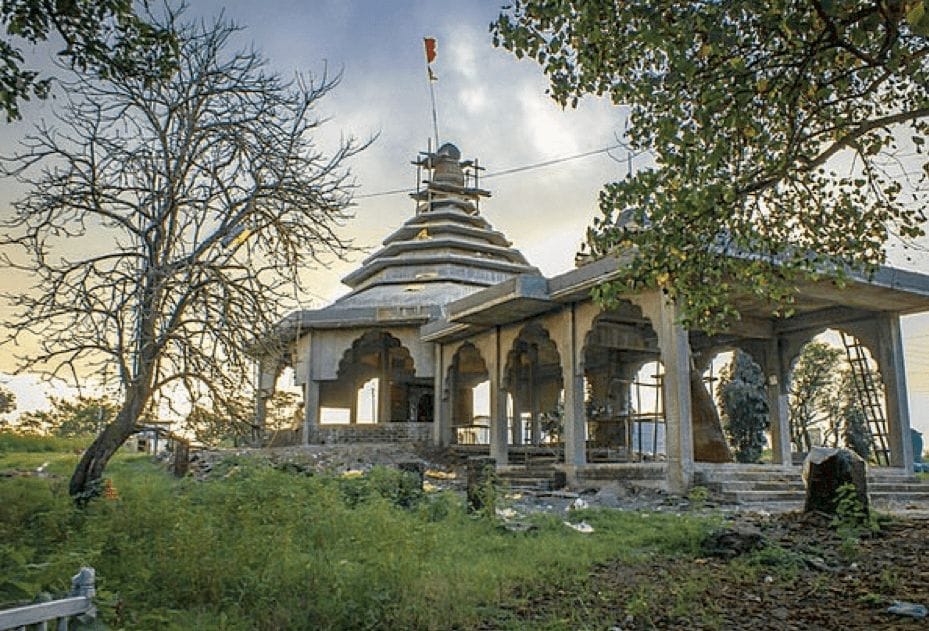 Ghatandevi Mandir is a temple dedicated to Ghatan Devi – the protector of of Ghats. The temple is located in a gorgeous valley surrounded by three majestic peaks of Harihar, Durvar Utvad and Trimak. It has a peacefully serene environment, away from the noise, pollution and hustle and bustle of the city. You can also visit the Tringalwadi Fort on the same day as it is behind the temple.
Timings: 6 am to 6 pm
Location: Awal Khed.
TRINGALWADI FORT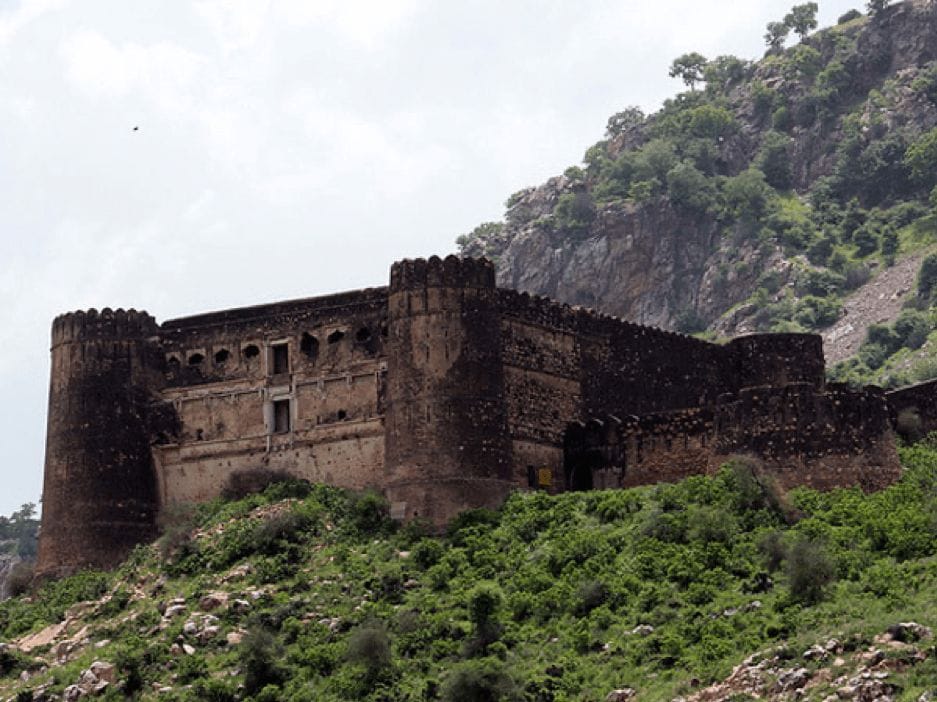 The Tringalwadi Fort believed to have been constructed in the 10th century, is an architectural marvel located at an elevation of about 3000 ft amidst the Sahayadri hill range. The top of the Tringalwadi fort looks similar to a turban. Mughals took over the fort in the year 1688. Today the fort is in ruins but it is worth a visit as the top of the fort offers a sweeping view of the surrounding region, the beautiful Kulang and Kalsubai mountain ranges. Monsoon is the best time to go for a trek to Tringalwadi Fort and to reach the fort you will have to walk to the Tringalwadi Lake via a narrow pathway. The climb to the top of the fort is easy and takes about 1.5 hours one side. Village Tringalwadi is the base village for this trek, which is about 3 kilometers from the fort. Locate at the foothills of the fort are the Pandav leni caves, having a statue of Gautam Buddha inside.
Timings: 6 am to 6 pm
Location: 10 km from Igatpuri, 54 km from Trimbakeshwar and 50 km from Nashik
KALSUBAI PEAK
At a height of 1646 meters, Kalsubai is famous as the highest peak mentioned in the Maharashtra and this mountain lies in the Sahyadri range, and falls under Kalsubai Harishchandragad wildlife sanctuary with breathtaking views. There may be some spots where it may be difficult for the normal person to climb.
Timings: All day.
Location: 32 kilometers from Igatpuri.
CAMEL VALLEY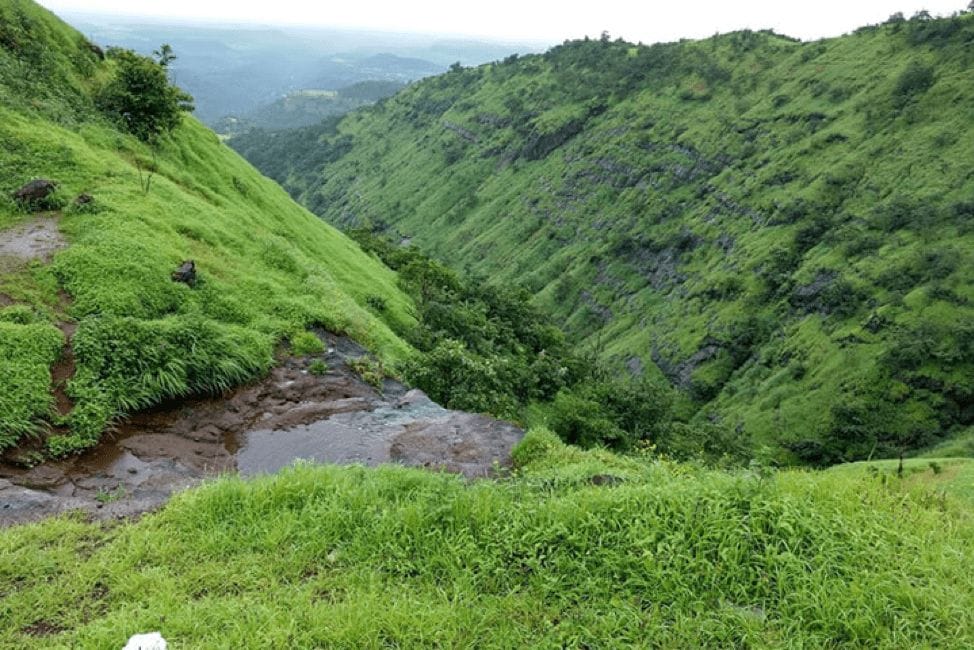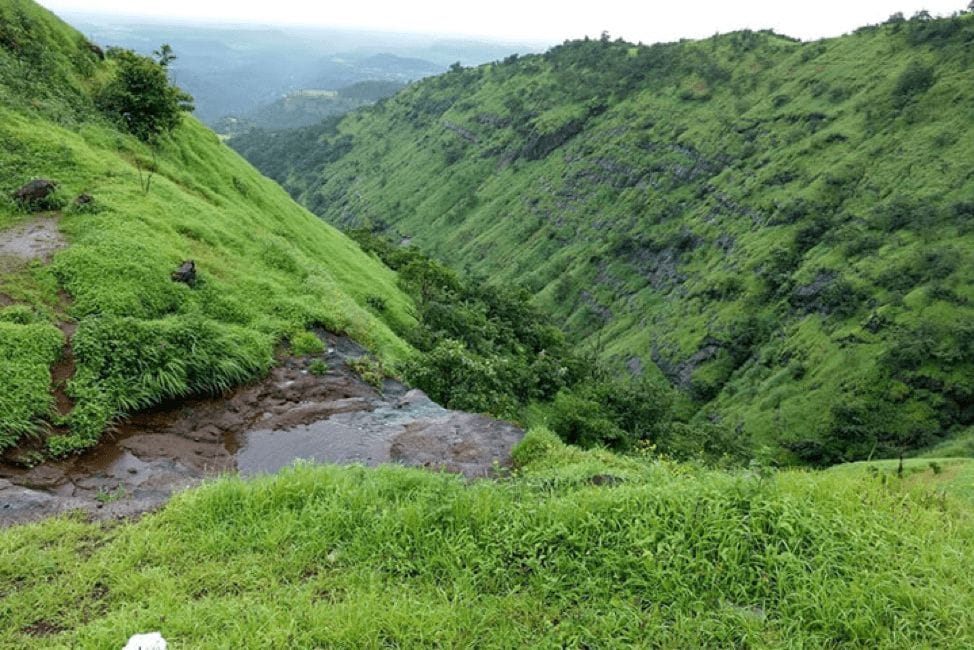 Located just about 4 km from Igatpuri, this is a perfect spot for nature lovers and photographers to be visited during monsoons when the valley turns greener, blankets if clouds cover it plus a roaring waterfall gushes down from 1000 ft height. Soak in the natural beauty, relax and rejuvenate. While here you can also indulge in adventure sports like river crossing and river rafting. The Camel Valley lies a few kilometers ahead of Bhatsa river valley.
Timings: All day
Location: 4 km from the main Igatpuri town.
VIHIGAON WATERFALL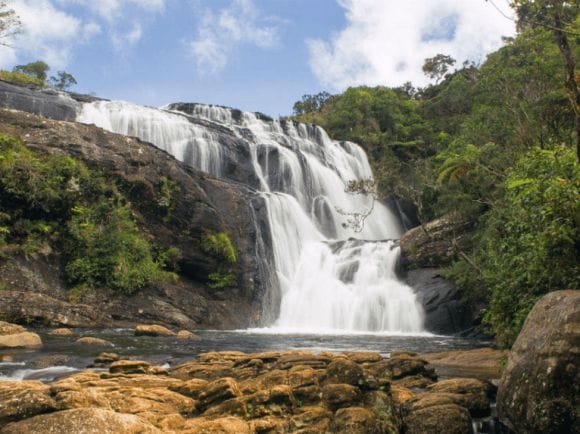 Located 58 kms from Nashik, Vihigaon Waterfall is a mesmerizing waterfall falling over 1,000 feet with pool and lush green terrains. The waterfall is safe but for daring minds, take the opportunity for water rappelling and explore places near Nashik. The best time to visit is during the monsoon season.
Timings: All day
Location: 54 km from Nashik
AMRUTESHWAR TEMPLE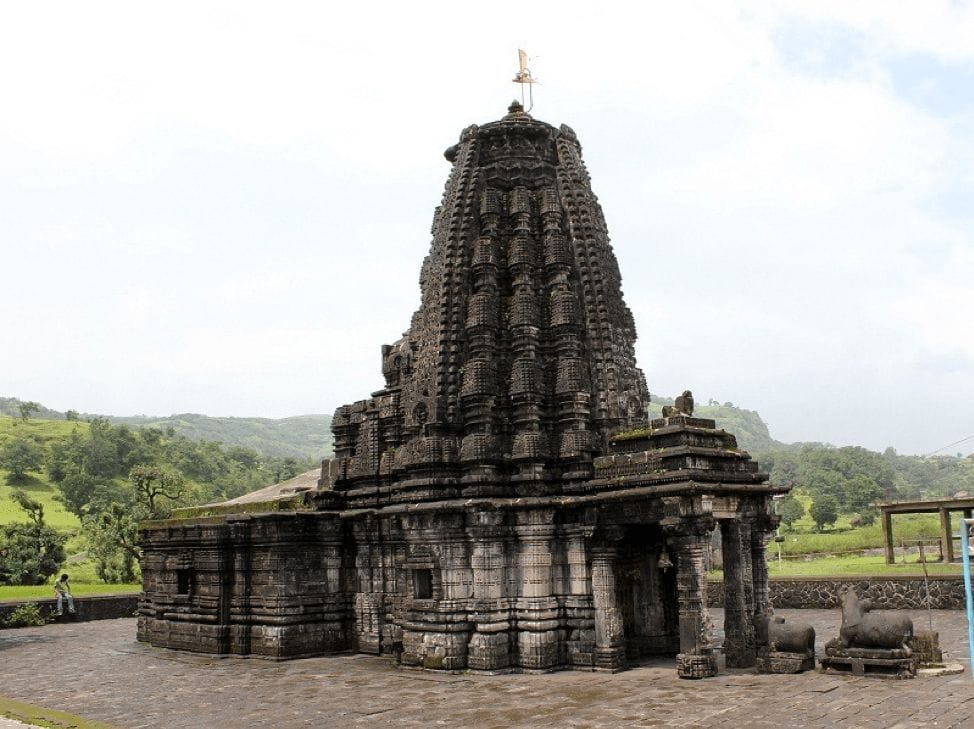 The stone carved Amruteshwar temple is a Shiva temple, having Hemadpanti style of architecture, is famous for delicate carvings. The temple has beautiful black and red rock carvings on the main shrine, impressive and lovely mural decorate the ceiling and walls of the temple while the pillars are decorated by beautifully carved statues and flowers. This temple was built by the rulers of Shilahara dynasty in 9th century AD and is one of 12 Shiva temples built by King Jhanj. Today is maintained by the Archaeological Survey of India having Mount Kalsubai in the backdrop. This is a must visit temple for people interested in history and nature.
Timings: All day.
Location: Situated on the banks of holy river Pravara, you can reach the temple by boat across the Arthur Lake or travel by road to the temple.
AVANDHA FORT
It is not a good option for families as trekking to the Avandha Fort is difficult. The fort lies in the Sahyadri mountain range and stands at a height of about 4,300 feet. From the top of this fort, you can see other forts like Patta fort, Aad Fort, and Mhasoba hill.
Timings: All day.
Location: The fort situated in Aundhewadi village between Nasik and Ahmadnagar.
BEST PLACES TO STAY IN IGATPURI
It is recommended to rent a villa or a cottage in Igatpuri, other options are resorts and budget hotels or to camp. Check the following places to stay in Igatpuri:-
Rain Forest Resort is one of the best hotel offering villas and luxury rooms with modern amenities to unwind and relax.
Manas Resort offers warm and cozy rooms outfitted with modern amenities and offers a spectacular view of the valley.
Dewdrops Boutique Retreat is between the mountain ranges and velvety green paddy fields, is about two hours' drive from Mumbai.
Mystic Valley Spa Resort in the beautiful cliff highlands of Camel Valley, is the best place for a spa holiday.
BEST PLACES TO EAT IN IGATPURI
There are a few multi-cuisine restaurants in Igatpuri like Zaika Family Restaurant speciality being special missal pav; at Greenland must try their pav bhaji; Manas resort has an open air multi-cuisine restaurant and pure-vegetarian restaurant; Shagun Resort offers pure vegetarian buffet and a multicuisine restaurant; at Swad Sagar bite into traditional food cooked in special spices and rotis with pure ghee; while Madhushala offers authentic Maharashtrian sea food preparation.
Picture Credits to Respective Owners