Ar. João Tiago Aguiar of João Tiago Aguiar, Arquitectos took an old office and transformed it into a 2-bedroom apartment with 2 ensuite bedrooms. The architect reduced the number of rooms to enlarge the spaces.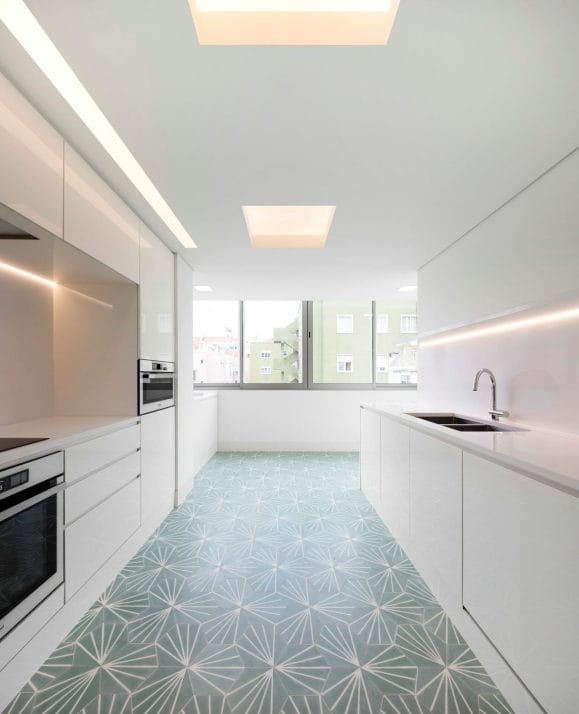 From the original construction, only the bathroom and an unrecognizable kitchen where only the chimney was preserved. The intervention strategy involved changing the layout of the apartment by introducing changes in distribution of spaces to match a concept of use.
The master bedroom has its own bathroom attached, which used to be in the kitchen area. Since this room is now dedicated to food preparation, the dining room has been attached to it so that all family members can meet there for dinner.
The dining room that once occupied the kitchen area of the apartment was transformed into a kitchenette. In doing so, a space to host dinners with family and friends was conjoined with the food preparation area.
In the kitchen, a handmade tile in dark-green colour can be seen giving a touch of elegance and distinction to one of the most requested places in a home. One of the main features of this modern home is that it is designed in sections and one section in particular is where functions can be found. Making up this functionality are a kitchen pantry, and refrigerator, bathroom, closet, bookcase and reading area, stationary kitchen linens, and etcetera.
Because the apartment has large prominent beams and this adds so much to the look of the place and is built into the original construction, designers concealed these beams with design patterning to give a clean and modern look. To make sure they looked striking while still working well with the apartments other decorations, they used squared pyramid ceilings which lead up to lightboxes which worked together with chandeliers to add a touch of glamour to the apartment without making it seem overdone
Every piece of furniture in the house was specially crafted and specifically designed for its particular purpose, with the final result being a carefully crafted home that was built with all of the necessary furniture and fixtures. Although the original entrance was restored, the service entrance was kept and is still used today.
The project's design is a new and striking environment that brings back the modernity envisioned by its designers. Its minimalist look embodies distinct expressive elements, which give better fluidity to its daily use.
Fact Sheet:
Project location: Lisbon, Portugal
Architects: João Tiago Aguiar
Firm name: João Tiago Aguiar, arquitectos
Construction Area: 150m2
Photograph credits: FG+SG – Architecture Photograph