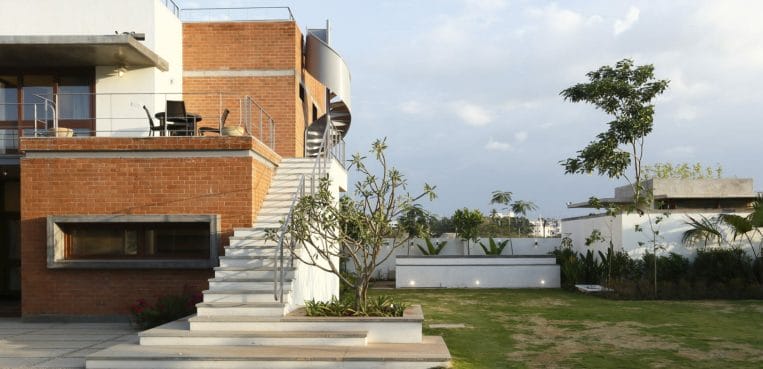 The weekend home is a residential space in a gated community Epsilon Layout in Bengaluru with a built-up area of 650sqm. It is a 4-bedroom residence with a simple layout of rooms around a courtyard. The central open space is beautified with a kind and a huge shade tree that enhances the aura of the surrounding spaces. The concept of the house is to locate the areas around a central core space that creates a connection with the landscape.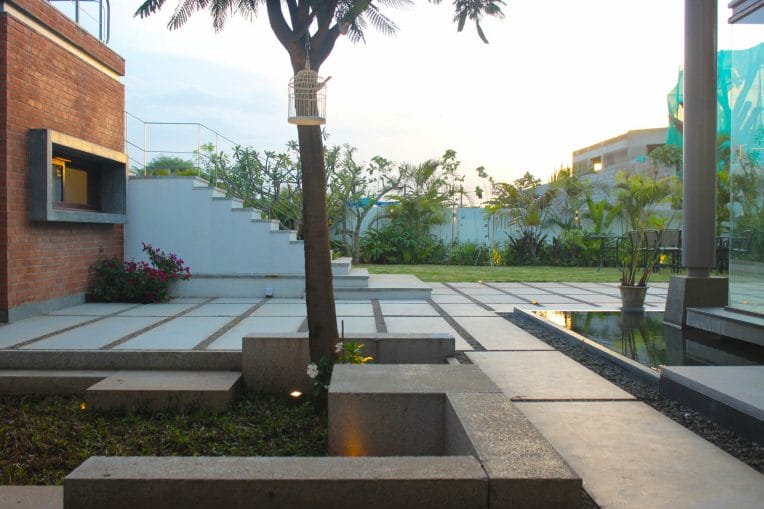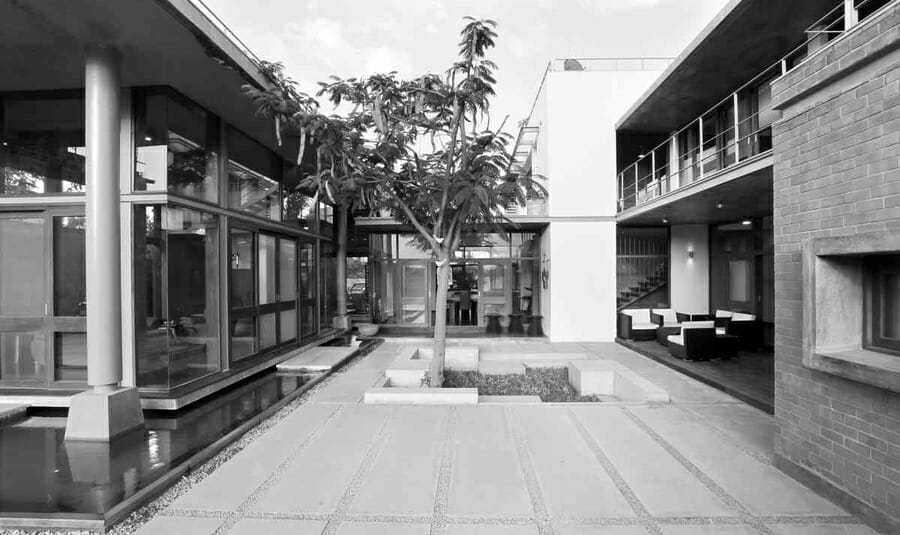 The design of the Weekend Home suits well for social gatherings of any scale with a lawn area connected to the indoors and the central court. The upper-level terraces are connected with an external staircase keeping the individual spots secluded and yet connected to the central courtyard. Conscious planning separates the personal and social spaces of the house.
The living area of the design is designed as an individual entity made with a 15' high glass box sandwiched between two concrete slabs. It is the public area of the house exuding more welcoming vibes than other public spaces of the design. Each space in the weekend home has privacy as a major governing factor with options of accessing open areas from anywhere due to the provision of terraces and balconies at various levels.
The master bedroom is equipped with a small private garden on the rear side with a more public court. The west side is used to locate the toilets and utility areas to eliminate the impact of harsh sunlight. The design uses a cooling technique of using filler slabs as insulation. The techniques involve the concrete roofs with hollow clay blocks that keep the indoors cooler. The materials used for construction are locally sourced stone, brick, exposed concrete, timber, and glass to create textures and warm colors.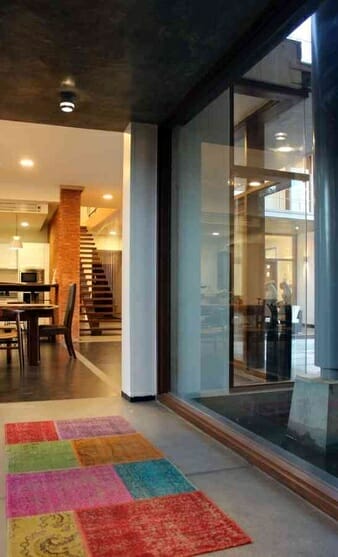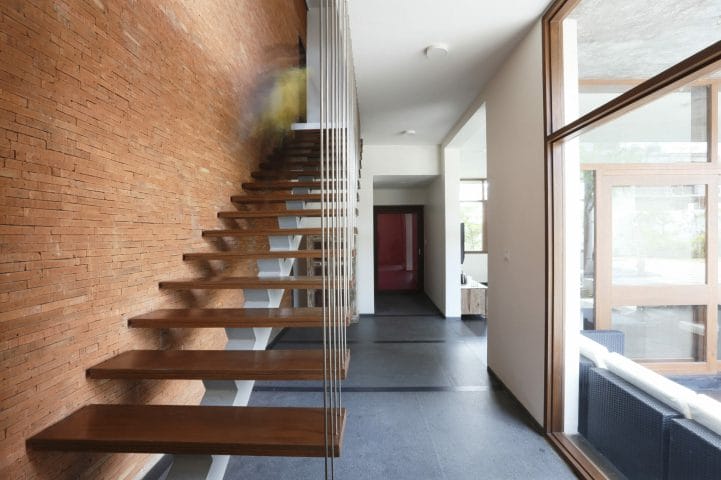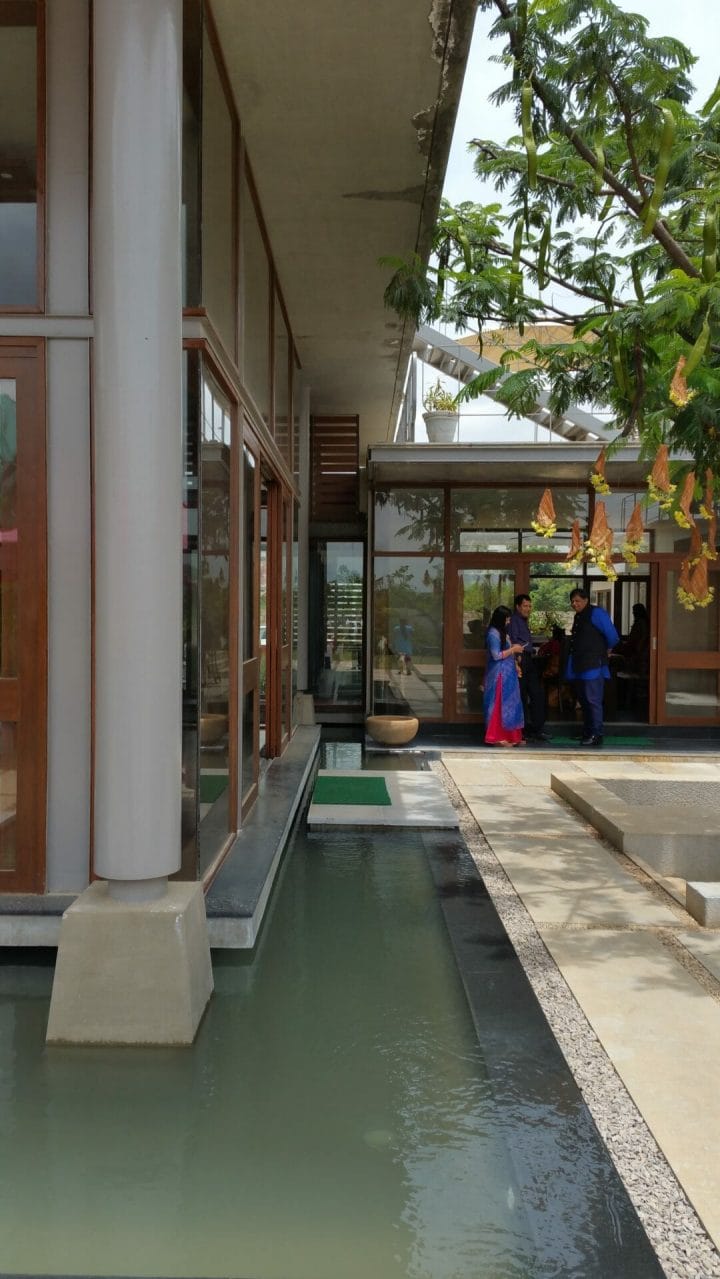 The weekend home is aimed to encourage the concept of outdoor living by taking advantage of the temperate climate of the region. The peak summer months are dealt with the deep overhangs over the glazing to prevent the sun from entering the interiors and the remaining work of cooling is executed by the surrounding water body.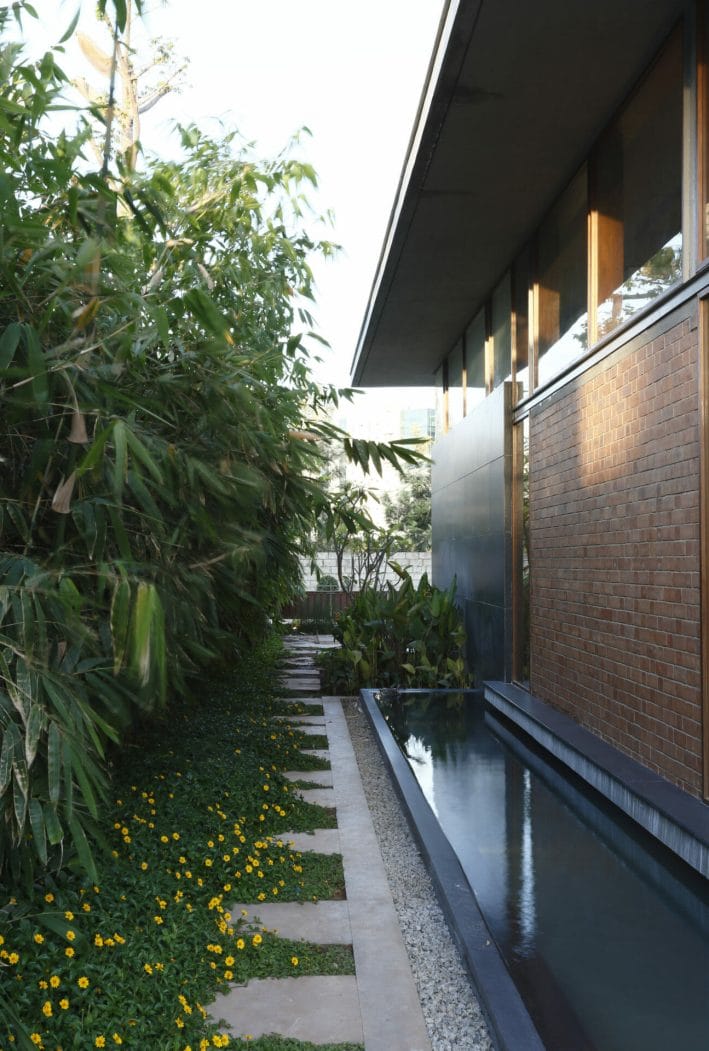 Fact Sheet
Project name: The Weekend Home
Location: Bengaluru, Karnataka
Firm Name: Studio Motley
Design Team: Kajal Gupta, Ruchi Shah, Anand K R, Selina Abraham
Total Built- up Area: 650sqm
Image Credits: Archana Venson and Anand Kurudi