A new processing center for New York City's curbside metal, glass, and plastic recyclables is being undertaken by Sims Municipal Recycling and the City of New York at a waterfront pier in Sunset Park. The design was influenced by its programmatic use as a recycling center, which inspired reuse throughout.
Every day, the city of New York generates 11,000 tons of garbage. Waste containers, bags and trucks are a ubiquitous part of the urban landscape. These facts have important economic implications as well as bearing on quality of life.
Walking through the Sunset Park Material Recovery Facility, located along the Gowanus Canal in Brooklyn, one notices an organization of space that is both functional and intentional. Organized around operational requirements while also providing courtyards and hierarchical volumes that lend a walkable, urban scale to the place.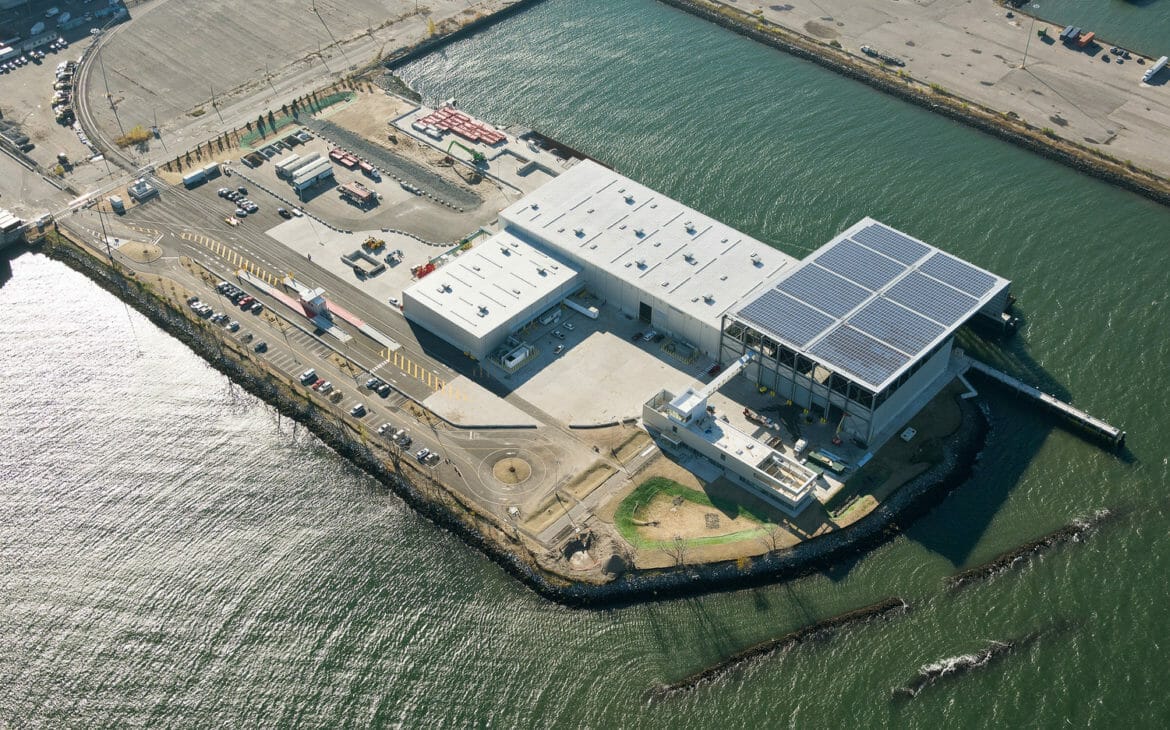 The facility's three main buildings are steel structures with a high recycled content. The Tipping Facility, where the majority of inbound material arrives via barge, houses two Material Handler cranes, two Material Processor Conveyors, and two Intralox Conveyors. The Material Processing Building contains a Recycling Operator workstation, which processes recycled blue plastic bottles into a high-density cube form. Finally, the Warehouse is where crated bales are received and stored until they are shipped out by truck or freight rail.
Marking a shift in the layout and design of the pier, the Recycling Education Center draws attention to its function with a dramatic gesture. The building is located on the northern end of the pier and contains both a cafeteria for Sims staff and administrative offices for Sims employees. The building is flanked by landscaped grounds with bioswales and prisms to capture rainwater, providing occupants access to a verdant waterfront in good weather.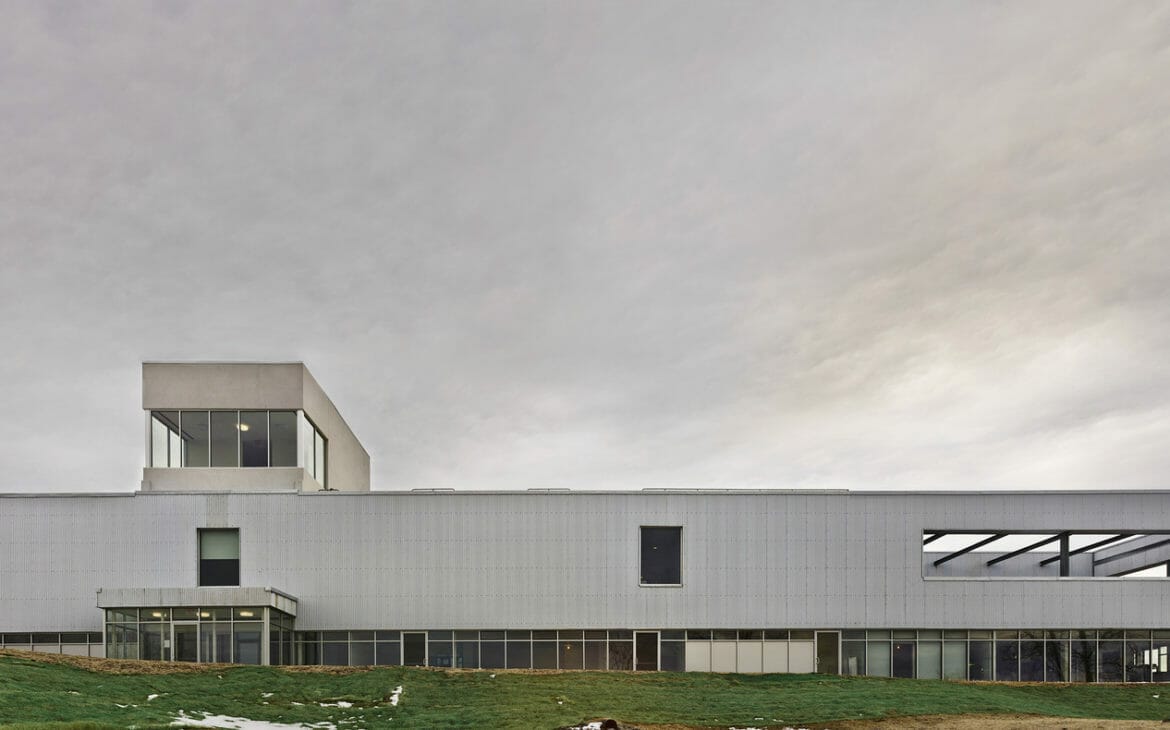 Walls of windows and a second-floor terrace offer stunning views of the Manhattan skyline and a glimpse of the Statue of Liberty in the distance. The center will also host conservation-themed exhibitions designed by the multidisciplinary studio Whirlwind Creative, and educational events for schoolchildren and adults. When the architecture of the city's infrastructure becomes more humane and considerate, the composition of a city's spirit changes.
The team worked with Parks Department landscape designer Mark Vaccaro to develop green spaces, including a placeholder for future expansion on the east side of the property. The anodized finish of the aluminum cladding breaks down the mass of the industrial buildings, while its uniformity creates visual calm. The human experience is foremost; in the noisy space, visual calm creates order. For the tipping building, Selldorf flipped elements inside out, revealing delicate tendons of structural cross-bracing between trunk-like steel columns.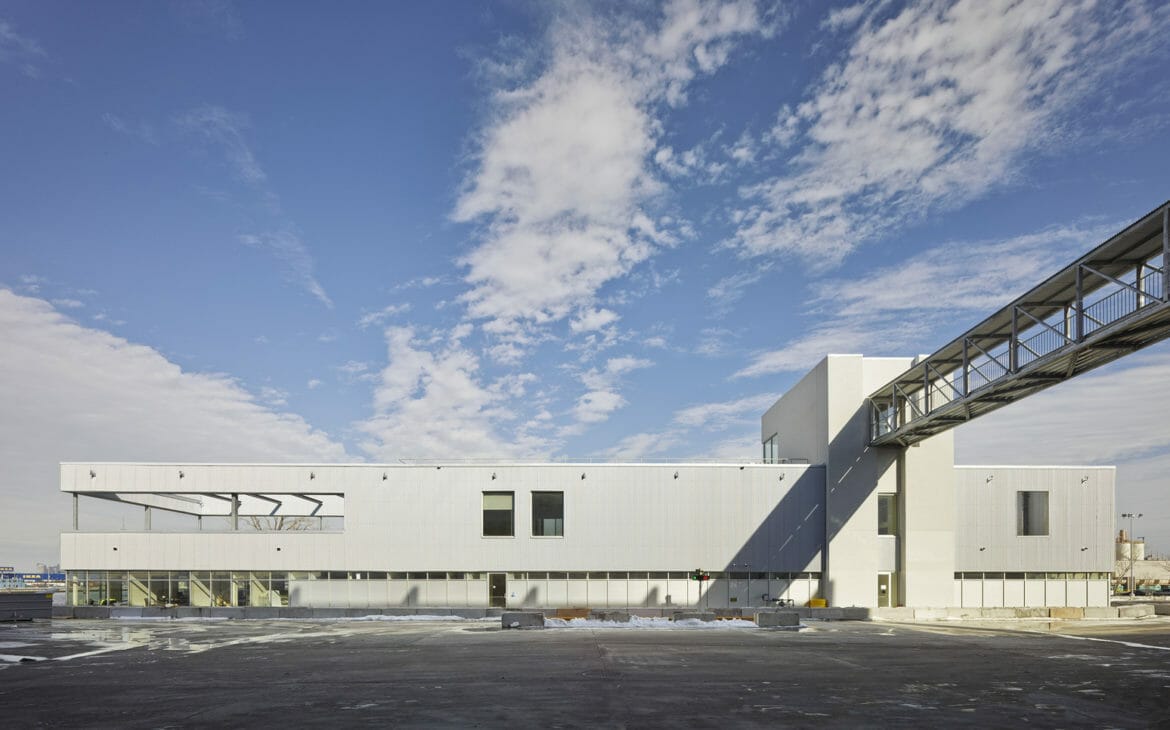 The gesture is simple, yet produces a deliberate effect. Because the building is designed using only the bare minimum materials, the architectural wastage is carefully considered.