The Works Interior's meticulously designed Gaurang Store with a sense of history and art, as well as a deep appreciation for the region's architectural culture.The design team Devika & Raj Khosla created Gaurang Shah's second retail store to elevate the brand experience of this progressive fashion house that is establishing new standards in the craft revival movement.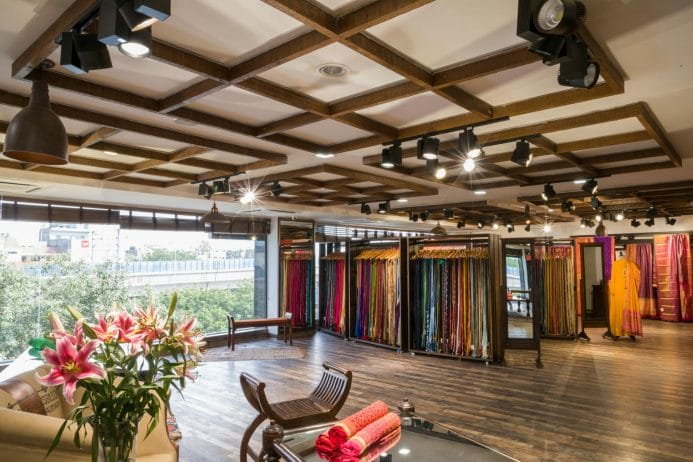 Minimal environmental impact and heritage craftsmanship are a priority for design connoisseurs.
The 2000-square-foot Gaurang store in Mumbai's Parel district opts for an open plan. Modular display units and furniture placement facilitate a free flow of movement and vision, and the design vocabulary borrows significantly from the brand's identity. Eco-conscious techniques focus on apparel: artisanal textiles made into heirloom pieces, which are promoted alongside recycled vintage furniture.
The space is anchored by warm wooden floors, heirloom wooden furniture pieces and white ceilings. Wooden logs with mounted spotlights add a flare of charisma to the ceiling and change the ambience altogether.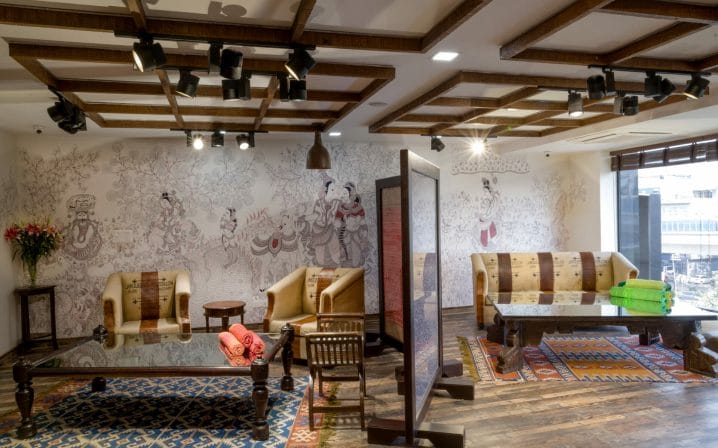 The Gaurang store, a set of pre-owned, wooden heirloom furniture pieces, welcomes shoppers into a cozy personal setting. Highlighting these are the glorious hand-painted walls with kalamkari artwork on them. The walls have portrayals of the natural habitat that include forests, animals, birds and scenes from the Mahabharata.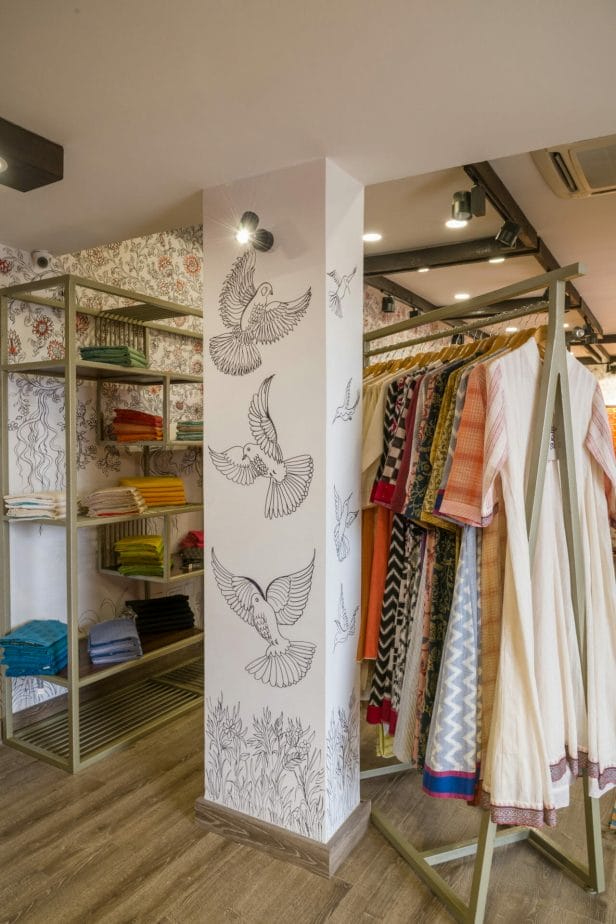 The furniture in the store has been refurbished from heirloom pieces, such as traditional wooden charpais. Mirrors have been attached to some charpais to create tables for the waiting area, the wheels of a cycle have been used as the legs of another table. Wooden frames in the mirrors have carved floral designs, and cloth display fixtures are made of oak wood. Sofas by the entrance have printed brown upholstery with rivets along the edges, and another group of sofas has ethnic motifs created by upholstery.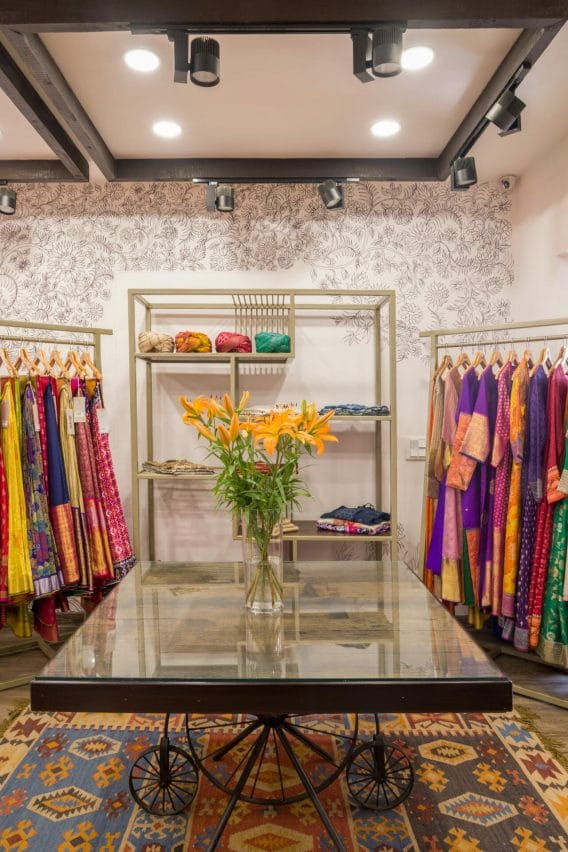 The store is decorated with heirloom fabrics that highlight the cultural context and history tied together with the design intent while acting as a subtle metaphor of time. In addition, beautiful hand-woven rugs from FabIndia in vibrant Indian colors and contemporary patterns bind the layout together. All the furniture pieces, the tables, the partitions, the display units and the sofas have been sourced from Adhbuta and reused in the new store.
Fact file:
Name of Project: GAURANG
Location: Defence Colony, New Delhi
Design Team: Devika & Raj Khosla
Site Area : 2000 sq.ft.
Photographer: Amit Mehra