The Vidyashankara Temple at Sringeri — a beautiful temple having magnificent architecture bearing resemblance to an old chariot was built in 1338 AD, in the memory of Guru Vidyashankara by Vidyaranya who headed the Sringeri Sharada peetha. Adi Shankara one of the original Advaitha mathas established the site himself.
The temple built entirely out of carved stone blends both the Dravidian style of architecture with thr traditional Hoysala (Chalukya) style. This temple has a range of special features that no other temple or the places of worship has making it out standing.
The temple stands on a richly sculpted high plinth or platform, which can be used for circumambulation (pradakshina) commanding a magnificent view of the hills from its six doorways. It is more or less a rectangle with apsidal east-west ends.
Lord Shiva also known as Shankara is the prime deity of worship with the main shrine has a Shiva Linga over the Samadhi of Sri Vidyashankara and it is known as Vidya Shankara Linga. The Shivalinga is used here to worship the deity. The other shrines include the idols of Lord Brahma, Lord Vishnu, and Goddess Durga at The Vidyashankara Temple.
Garbhagriha
On the western side is the Garbhagriha, with Vidya Ganapati on one side and Durga on the other side of the entrance. This Garbhagriha is topped by a majestic square vimana which rises magnificently with sikhara, mahapadama and stupi. Sloping channeled slabs cover the rest of the roof.
On the other three sides of the Garbhagriha features the Dashavatara (ten avataras or incarnations of Lord Vishnu), Brahma, and Maheshwara with their consorts. The temples niches are adorned with a number of sculptures from Hindu mythology. The outer curved wall features elaborate relief sculptures of various scenes from the Puranas, with animals like lions, elephants and horses all around the bottom of the walls of the temple. From the corners of the central hall chains of stone rings hang which is a common feature of the Vijayanagar period.
The marvelous Zodiacal Pillars of Vidyashankara Temple
In the eastern half of the temple is the mandapa with 12 zodiacal pillars (called raashi-stambhas), huge monoliths on which are carved the twelve signs of the zodiac. These pillars are constructed in such an ingenious way that the first rays from the rising sun fall on each pillar in the chronological order of the twelve months of the Hindu calendar. Moreover, inside the temple, on the floor, there is an elevated circle with converging lines which captures the shadows cast by each pillar when the sunlight falls on the Zodiac pillars.
Each column is topped by a Yali with a rolling stone ball in its mouth.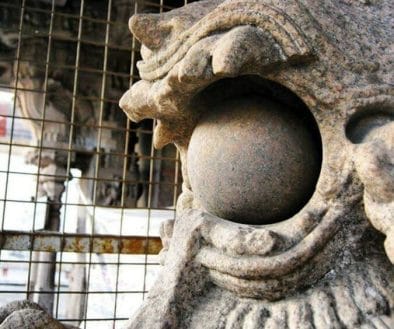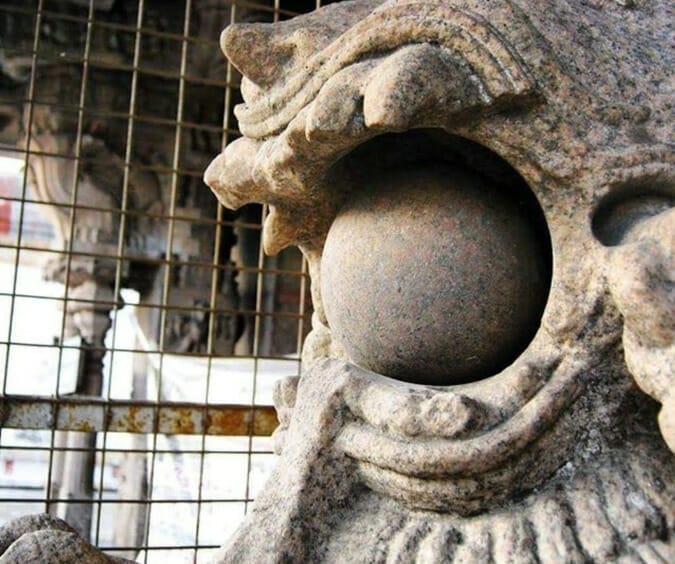 There are five shrines here while the central ceiling is intricately and exquisitely carved with lotus and pecking parrots.
How to Get to Vidyashankara Temple
Sringeri, an important pilgrimage spot, is connected by bus routes to most places. Buses and trains can be taken from the nearby city of Mangalore to reach Sringeri.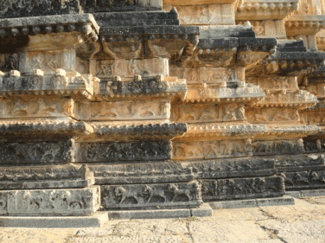 Images Credit to respective owners