Thapar Institute is a unique experiment in exploring shape and form for creating a functional campus design. The architecture is of solid geometric forms, evocative of natural geography – extending nature to form rocky heights and shaded valleys. This is a contemporary concept founded on a sense of place, sensible to the traditions of Indian architecture. It is founded on strong sustainability and environmental concerns in a monsoon climate; it is built simply, using local labour and materials; the provision of cooling and shade limit solar gain, the podium with pools makes a local microclimate; Nature runs through it, from the existing trees retained, to the new landscape planted on the roofs through which light is filtered.The innovative new buildings of Thapar Institute represent a modern, international 21st century young India, with a strong contemporary architecture and evolution of typologies which accommodate both the intense climate and the intricate rhythms of academic life.
The architecture consists of solid geometric forms in monochrome. The façade consists of alternating solid and penetrable screens giving filtered sunlight. The project exemplifies strong environmental concerns, with the provision of shaded walkways, and references to Indian design typologies of walled gardens. An arrangement of 8 storied towers provides housing for 1700 students with common rooms and social spaces.
The Institute's brief included a master plan for the campus and several key buildings within it that included two sets of student residences, sports centre, and learning centre inclusive of library, lecture theatres, computer science building. Each block is a clipped rectangle on a plan with a courtyard indent. Leading from the entrance within each block, a sequence of double-height common rooms are interlinked across the section. Outward-facing bedrooms have screened balconies.
The building acts as an engine to education with a city for students, a destination for conversation; it mediates timeless form and offers complex spatial adventures. Each in a tall red Agra stone volume, with white marble detail, the facades mediated using louvred stone screens like traditional Jaali screens.The Student residences are conceived as one anchor of the overall masterplan, linked to the learning centre by a shaded walkway which connects the main teaching buildings of the campus. Looking at traditional buildings where shade and privacy are created with jali screens around verandahs or by cutting down into the ground, we made an artificial geography by creating a podium level linking our towers, under which all kinds of social exchange could take place.
The first phase of student accommodation for Thapar University delivers space for 1200 students in 4 towers (3 further towers under construction) around a new public space on the campus in Patiala. The L-Shaped towers are linked by an elevated garden podium which shades the public spaces and pavilions beneath from the intense heat of the Indian sun. Each of the towers contains generous double height and interlocking social spaces on all floors while all bedrooms have access to a private sun-screened balcony.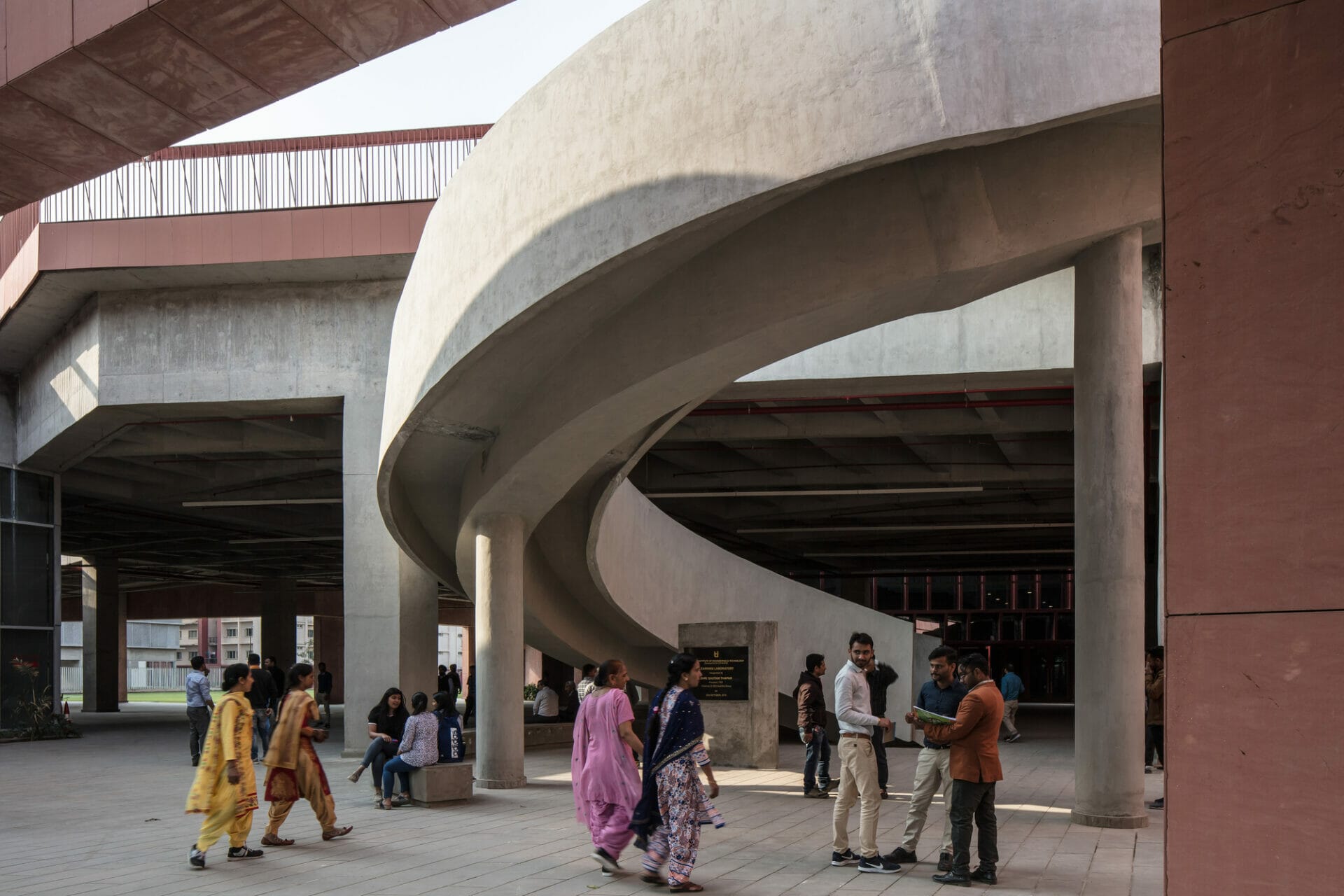 In order to create a specific sense of place for students to live together, on a range of scales from the individual to the community. Using GRC (glass reinforced concrete, locally manufactured – and translating the red ochre soil of the Punjab into a filigree of red GRC screens, a unitary massing is created which lets light through to balconies and allows the massive concrete structures to read clearly from the social spaces to create a strong background rhythm to daily life and patterns.
Fact Sheet:
Typology: Institutional Building
Name of Project:Thapar Institute
Location: Patiala, Punjab, India
Principal Architect: Ar. Sonali Bhagwati, Ar. ​​Sohrab Dalal in association with McCullough Mulvin Architects
Design Team: Design Plus Architects
Area (sq m): 30809
Completion Date: 2019
Photography Credits: Christian Richters