A temporary installation, Temple of Agape, was commissioned by the Southbank Centre for their summer "Festival of love". An ancient Greek theme of love was portrayed at the festival where The Temple of Agape is a celebration of the love of humanity. The festival shows love in all of its forms. The depiction was narrated through various performances, workshops and installations. The seven ancient themes included Agape, Storge, Pragma, Philia, Philautia, Eros & Ludos. The finale weekend was inspired by the Agape – love for humanity.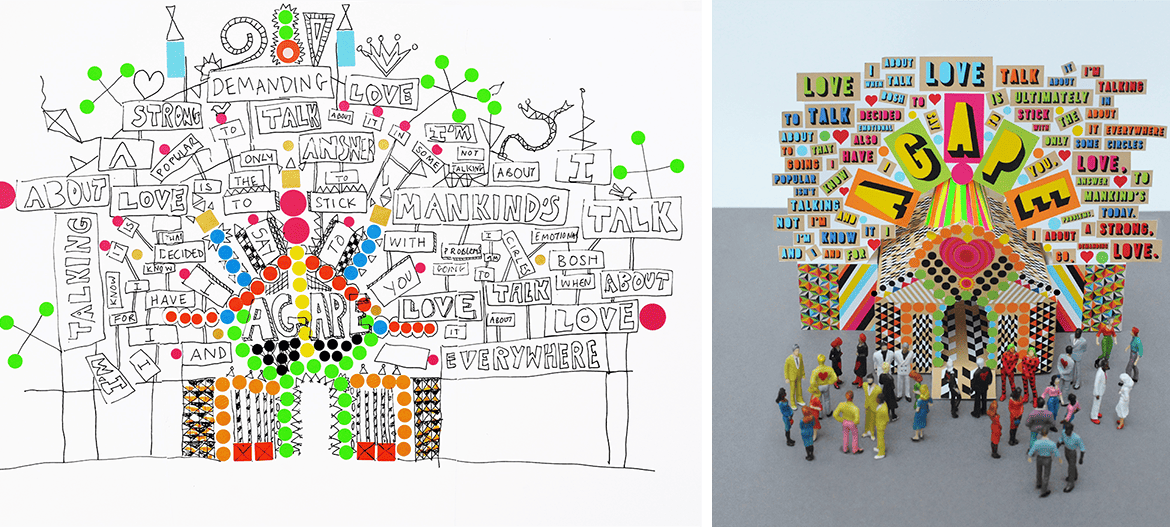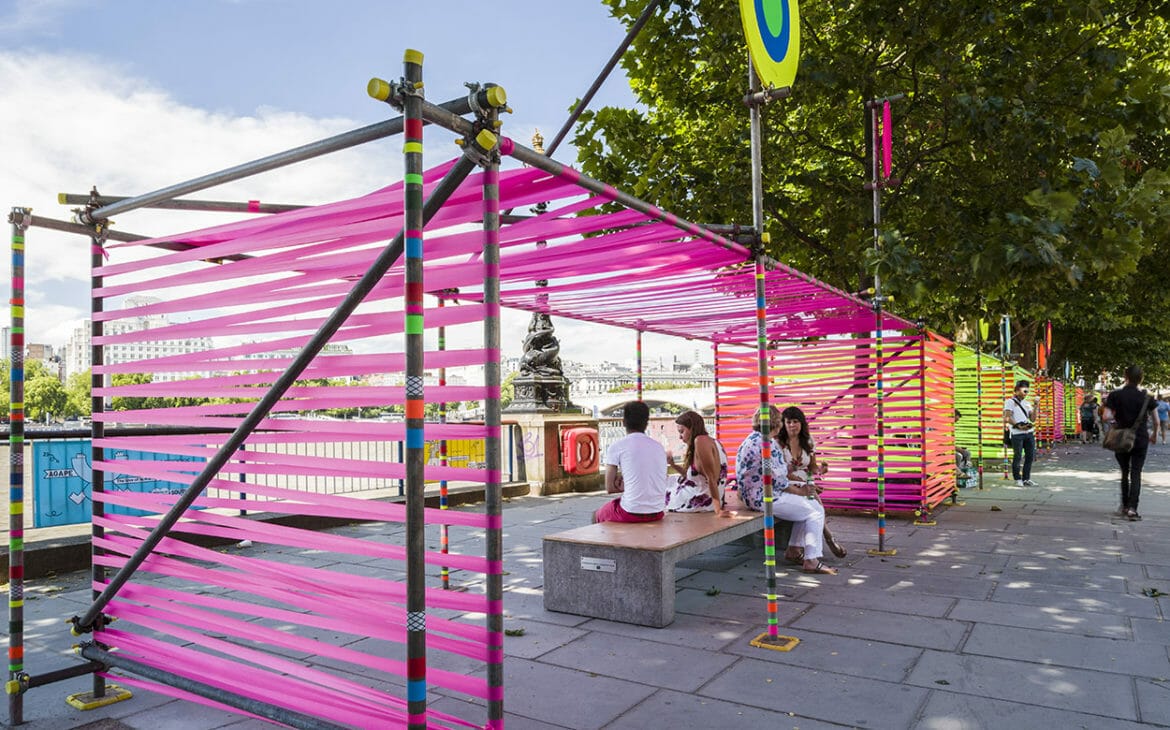 Back in 2014 when the LGBTQ rights came in to action and same sex marriage became legal, all the couples, gay or not were invited on the stage of Royal Festival Hall to renew their vows regardless of their marriage. The installation Temple of Agape is a depiction of words by Martin Luther King "I have decided to stick with Love". Therefore the artists were told to include the words into the Temple in whichever manner they could put.
"We have travelled widely and experienced many types of places, building a Temple of Love felt right, making a place for joy and noise as well as quiet contemplation." says Morag. The temple was developed from a sketch Morag made in train.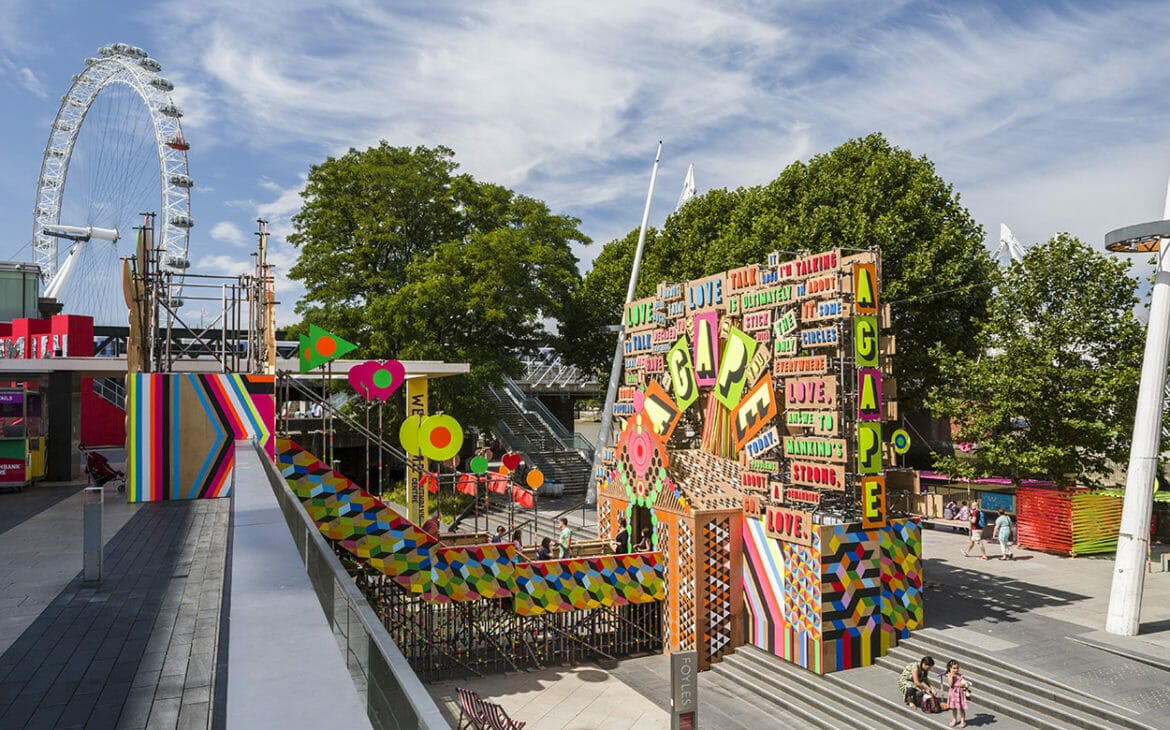 The 60m neon ribboned canopied benches at the entrance marks the beginning of the Agape procession. The visitors can go through the temple or sit and stop in the dappled lit temple. The flight at the entrance of stairs is decorated with signs of a joyful parade and banners. The installation of 'Temple of Agape' creates a chance for the visitors to experience varied views and a new entrance to the Royal Festival Hall balcony for the time being of the fest.
The Temple structure is like a peacock with the Martin Luther King quote in large words as an expression of power of love. The heart beneath is calm and has flecks of light to express complex emotions. It exemplifies as a place that anything can be transformed with love within the inner self.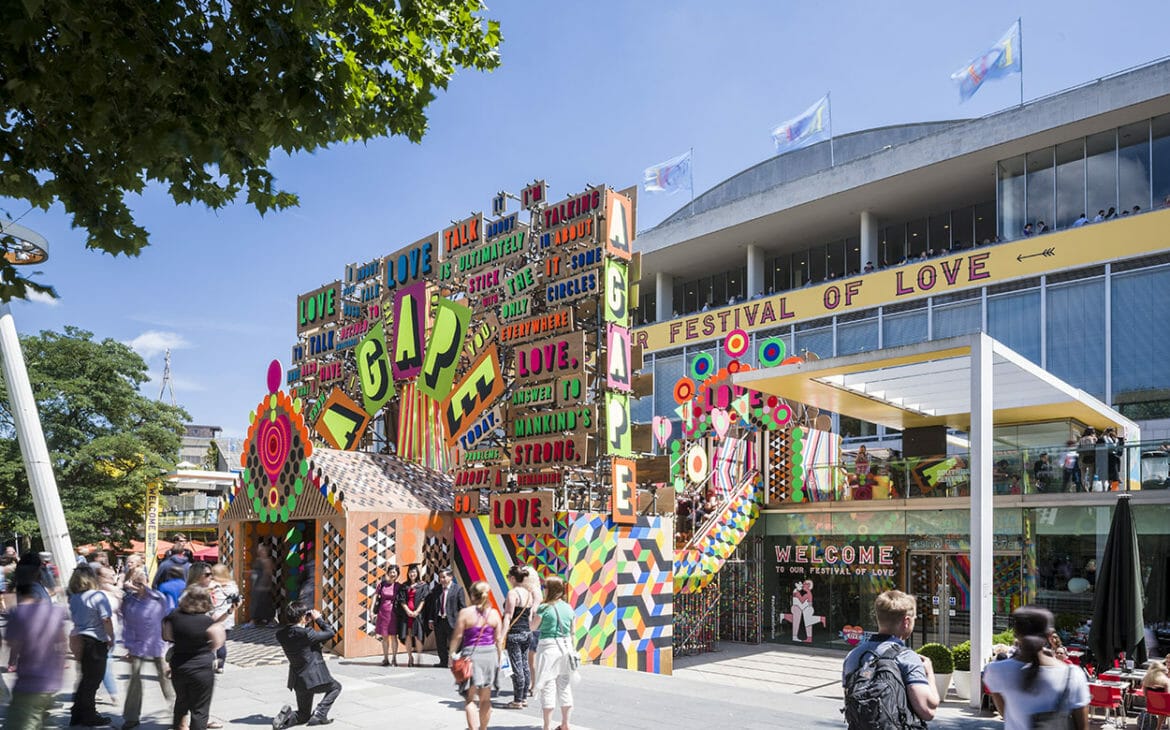 The Temple of Agape is about 8m in height and 10.5 wide, constructed from a scaffold structure that supports words and cladding with exterior ply that has been hand painted exclusively. On a count of about 300 wooden panels of varying sizes were painted in Morag's Studio in a time frame of three weeks by the help of some great volunteers.
Morag states "Working on the project has reinforced for us that love in all its guises is not simple. At the same time, when you are in love, it can be the purest and simplest place to be".