With a cheerful blend of colours, patterns, and lux touches that make an instant impression, this home is aptly titled, Modern Pop designed by Interior Designer Ritu Gupta &. Vivek Gupta of Pramod Group.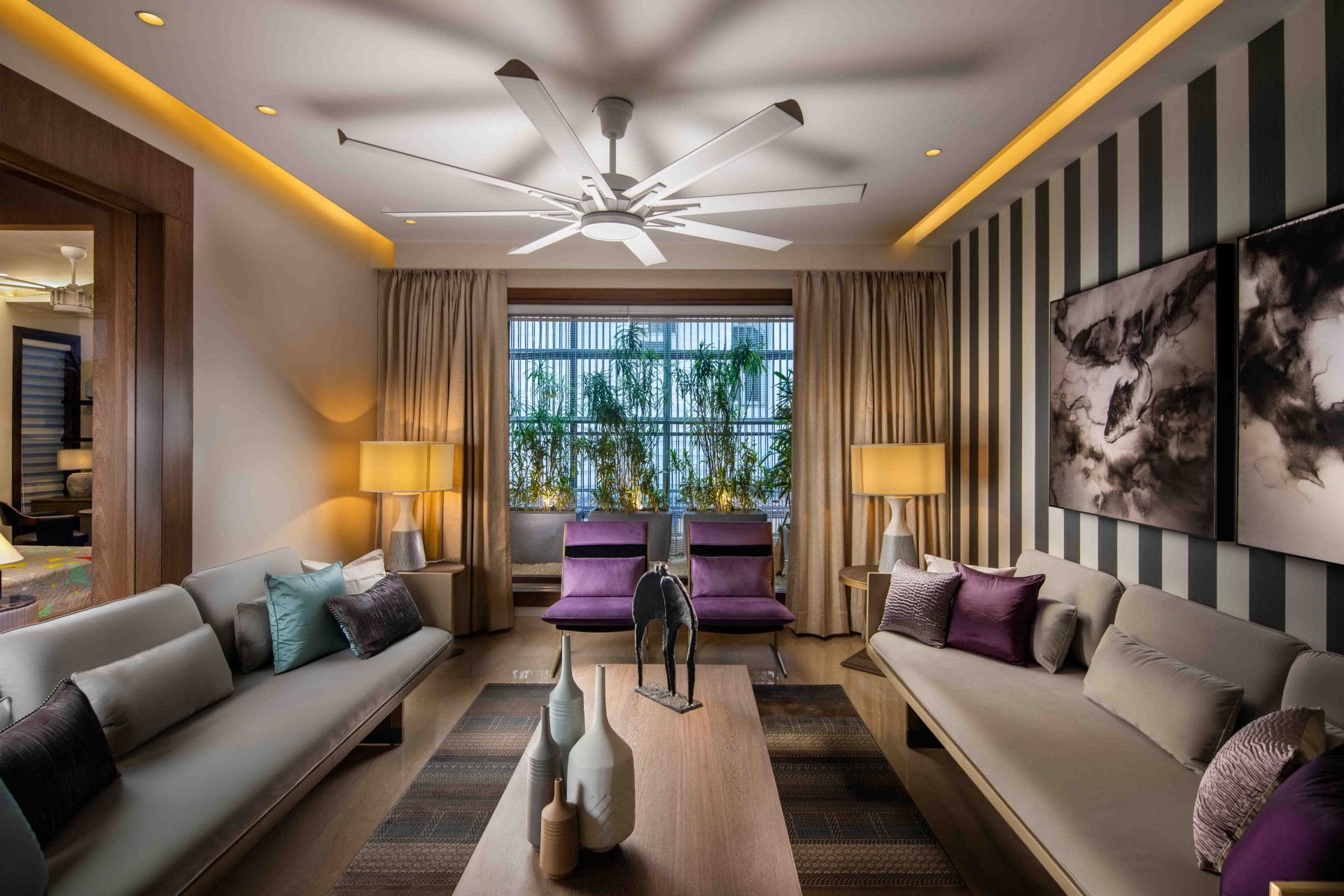 With its clean-lined furniture, subdued palette, and geometric accessories, the project looks luxurious. In the living room, a bold black and white striped wallpaper make a striking statement, even as modern artworks break their starkness. Seating in neutral shades is peppered with cushions in jewel tones, which, coupled with the aubergine accent chairs add a pop of brightness. Thoughtfully selected contemporary accessories bring sophistication. A careful balancing of forms and shapes, tones and textures ensure a harmonious environment.
The dining room too is a joyful and inviting place with upholstered chairs in yellow, and vibrant artworks. Wallpaper in a subtle print adds elegance to space, and the wooden ceiling imparts a sense of richness and coziness.
Perfectly orchestrated lighting all through the home enhances the mood and beauty of each design feature. The bedrooms are furnished with fully padded beds with perfectly stitched headboards that create a luxurious look. Mostly done up in a muted palette with bed linen and cushions, they add a burst of colours that spell comfort and calmness. Well-planned wardrobes, study nooks, and personalized decor make them self-contained spaces for each individual occupying them.
The project "Modern Pop" offers a sustainable lifestyle with enough natural light and greenery inside, energy-saving systems like VRV AC, and a water-harvesting unit.
Fact File:
Designer name: Ms. Ritu Gupta & Mr. Vivek Gupta
Firm Name: Pramod Group 
Location: New Delhi
Size: 310 sq yards