Ar. Vijay Mistry and Ar. Nidhi Mehta, Promoter of Studio Dream Creative has recently designed a 3BHK apartment for the retired couple who wants their house aesthetically pleasing a well-designed abode. Keeping this in mind, the designer designed the house and utilize every inch of the limited space and give it a luxurious feel.
The design concept was based to combine classic and contemporary design styles, by incorporating symmetrical compositions, tasteful décor, and a neutral color palette. The furniture has been customized and crafted in well-chosen laminates. The use of mirrors, wallpapers, cutworks, and tailored upholstery has been done to achieve an elegant and luxurious look.
The main entrance design has been kept simple yet welcoming with a Vighnaharta cut out which identifies the personality of the homeowner.
The foyer space has been thoughtfully utilized by creating a full-height storage space with a shoe unit and display niches that stand humbly without giving a stark cabinet feel.
The Living room design displays a balance of colors with its customized furniture and wallpapers. To hide columns on the edges of the room, a paneling frame with cutwork art was done that adds richness to space. The TV unit has been kept minimal with little display shelves and storage drawers.
The Pooja area is well designed. Space has been divided by the dining space and staged a mandir on the wall, flanked by windows on either side. It has been provided with shutters with cutwork, to let the light penetrate to the dining area and give it a more classical look.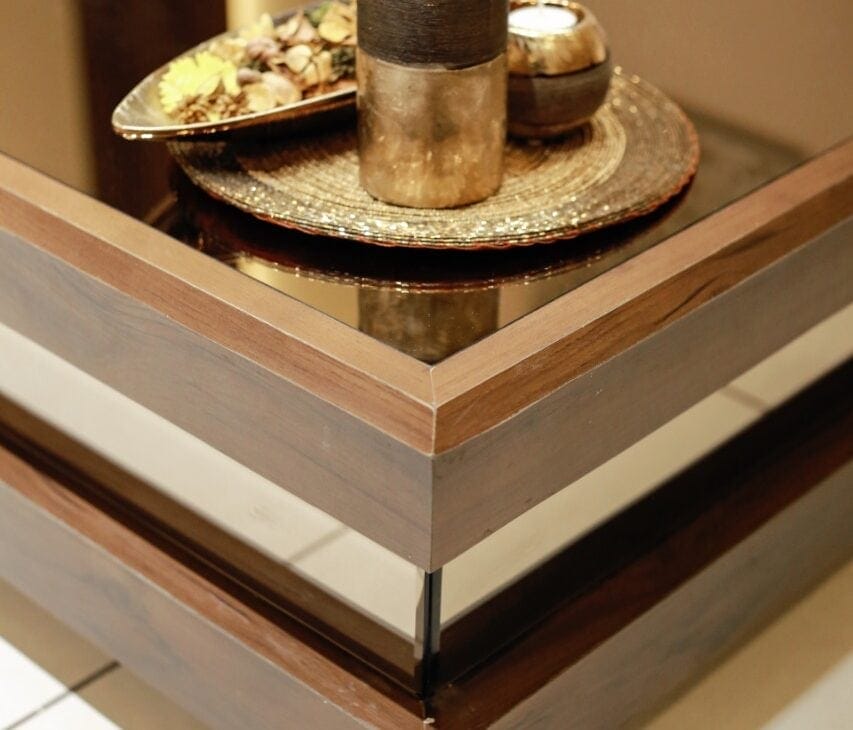 The Dining area and the Mandir become the highlight of the house. The beautiful play of light and shadow through the Jaali of mandir doors with carefully detailed out Dining table, bench sitting and crockery unit give it a luxurious feel.
To balance the visual heaviness of the Dining table with its stone top, clad mirrors on opposite sides of the bottom structure has been used. The mirrors with the ribbing detail enhanced the elegance of the furniture.
The master bedroom houses a bed, a wardrobe, and a study cum dressing area with minimal and crisp details. The use of a mirror here breaks the boldness of the laminates and gives it a more spacious look.
The other Master bedroom is designed using minimal details in laminates and metal patti. The TV unit has been designed keeping in the mind the usage and functionality. The Guest bedroom, owing to its rare usage, houses a comfortable sofa cum bed with a wardrobe.
Fact File:

Firm Name: Studio Dream Creative
Architect Name: Vijay Mistry and Nidhi Mehta
Typology: Residential Interiors
Size: 1008 sq.ft.
Location: Atladra, Vadodara, Gujarat
Photography: Tejas Shah