With an existing school building in Mahilpur, disst- Hoshiarpur ( Punjab),  a modern school was set among the rural farming village setup which has children coming from all segments of the background. The challenge was to design a space with the purpose and exterior outlook to have a significant landmark from far distance and create a non seen architecture. The limitation was the possibility of available working teams and resources.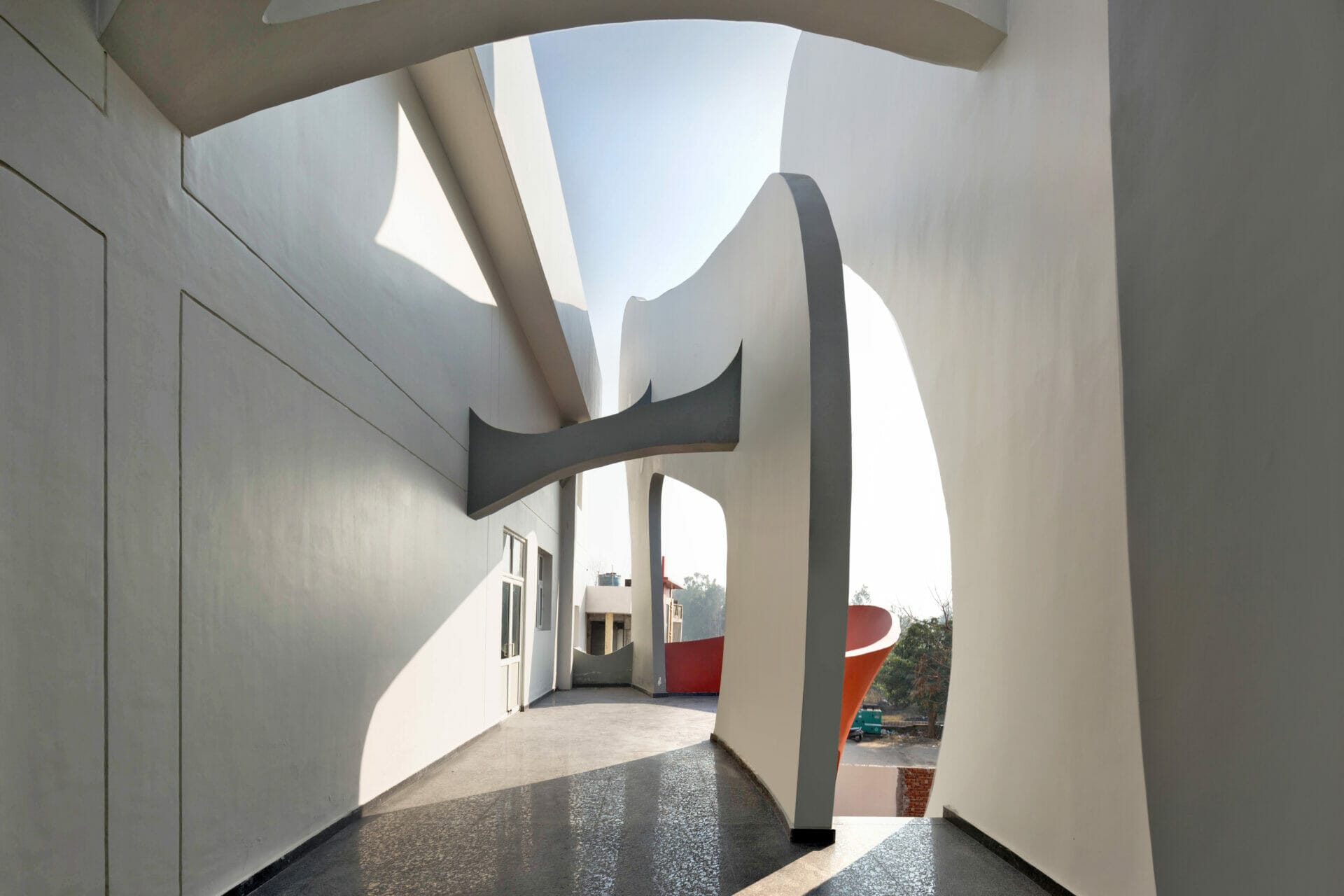 Understanding the given constraints, the design journey travelled through various possible iterations, finally landed into a very fluidic design language by trying to translate the deep thought process behind the project initiation.
In order to create a multi dimensional experience to the students, A new 400 seater multi purpose auditorium in the new building was proposed to make more dimension of interschools international and national events which makes it one of a kind in the entire district. The auditorium designed in a way to seat ample with walls and rest of the parameters considering the acoustics for various functions was created so that it would invite gathering and functions on a larger scale to bring the school on a wider platform. To celebrate big and small occasions with the comfort of some personal space, small pockets have been designed at various levels and floors, which keeps you connected to the purpose and the building while offering you space to ponder and stroll to each typology of the user of the space. This inhouse auditorium and informal pocket spaces the building complies to the sustainability standards and has an innovative design approach that elevates the overall project.
The tomato red highlights are added as a design element and as a bright stop to curvaceous walls as they play with light and shade, bringing the skies inside. Bringing the element of sky and air closer to the inmates, a space was designed around which, the urge to work, learn and play is effortless and inborn. Design Primarily has been made to create an "invitation" South-west facing structure invites grace from the Sun God in full bloom ; a blessing in winters , can be swaltering during the summers . So to this end, the walls have been shaped in curves and arches to have the heat play peek a boo and allow the students inside an interrupted study.
To keep it cool, walls have been raised from one side with diffused lights mounted . This way promises many needle holes to cover up for the natural shortcomings. The heat gain from south – west facade was primarily handled with a more opaque design that has a partly covered terrace allowing a serene beauty ensuring a whirlpool of fresh air and which can be used as a multi-functioning area, waiting lounge or an open spread for creative activities for students.
Typology: Institutional Building
Name of Project: Doaba Public School
Location: Mahilpur Distt – Hoshiarpur (Punjab) India.
Principal Architect: Ar.Badrinath kaleru and Ar.Prerna kaleru
Design Team: Sanchit Dhiman, Nancy Mittal, Anusha Sharma, Abhimanyu Sharma, Pragya Sing, Rahul Ghosh
Site Area (sq ft & sq m): 1740.94 SQM
Built-Up Area (sq ft & sq m): 41800 sq.m
Completion Date: 2021
Photography Credits: Ar.Purnesh Dev Nikhanj.