Apart from connecting two floors, stairways introduce magnificent volumes and a sculptural character into spaces, thus becoming eye-catching architectural elements. A carefully planned lighting scheme can simply turn them into astonishing design marvels. Of course, good illumination is also required from the safety point of view – a good range of guiding lights take care of this. But a meticulously designed layered lighting plan will allow you to make an impactful impression.
Based on its design, architecture and style, there are many ways to illuminate a stairway. The straight stairway is the traditional style that literally goes up in one straight line; curved stairway is where the stairs take a winding route up without a landing; U-shaped stairway is where two sets of stairs run parallelly with a landing in between; in L-shaped stairway, the stairs take a 90 degree turn after a landing; the bifurcated­ stairway offers a grand look with its symmetric structure – a sweeping set of stairs go up and separate into two sets of stairs on either sides from a landing; the spiral stairway stays true to its name with the steps winding up around a pole or a central point.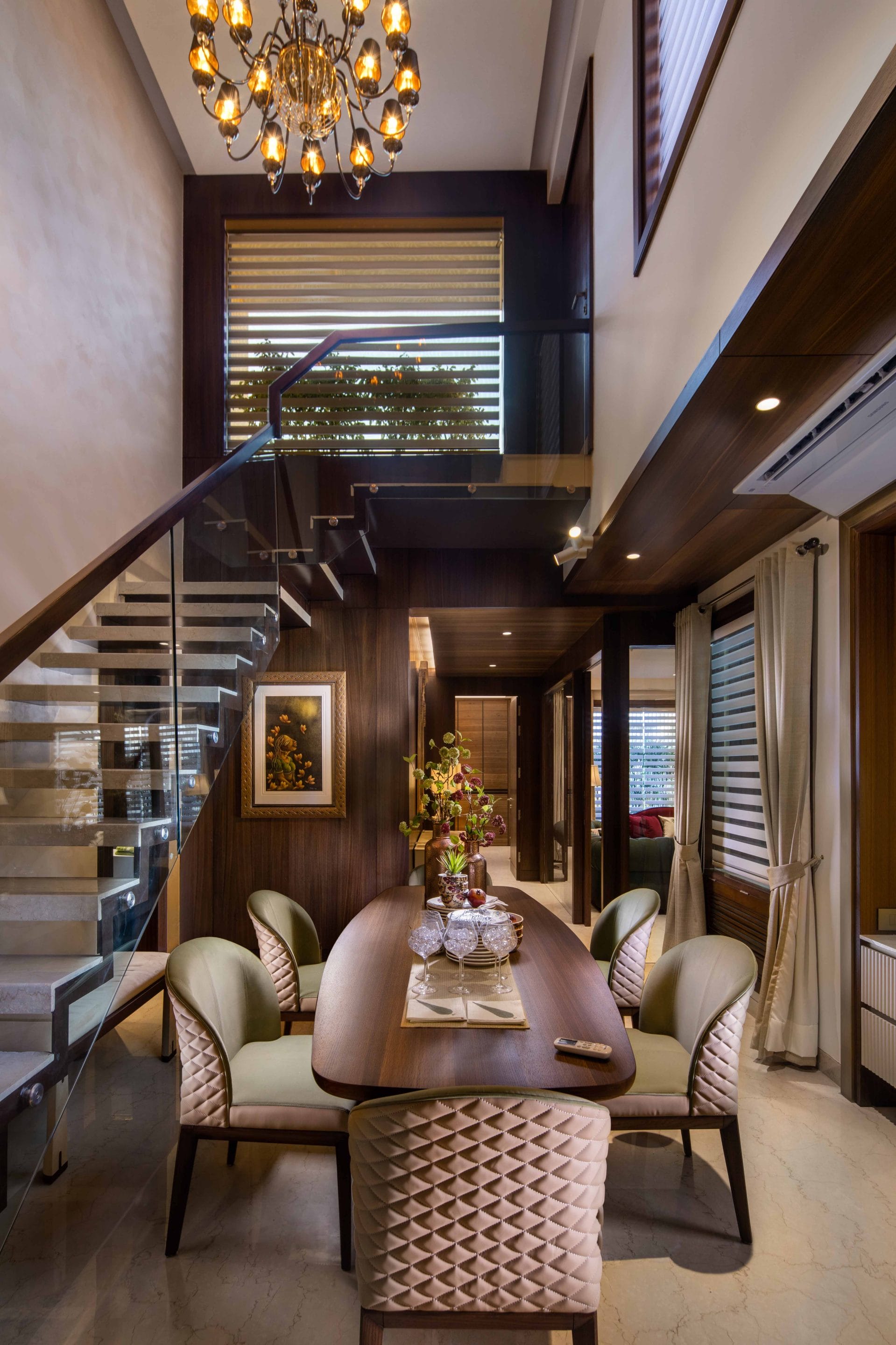 Each of these styles allows us to get creative with the lighting scheme. Most modern stairways use open-riser steps that stand in relief like sculptures, to be decorated with a multitude of lighting options. Localised ambient light should also complement the lighting scheme around the stairway for a cohesive appeal.
The following pointers help you jazz up the most mundane of them.
Chandeliers
It may seem like an obvious choice, but a chandelier is still the most attractive part of the ambient lighting plan for a stairway. Also, where contemporary stairways are conceived to introduce atriums within the home leading to double-height spaces, an exaggerated chandelier does not only light up the entire volume, it can make a splendorous impact. You could go for modern cascading suspension that stairways, curved and U-shaped stairways too offer opportunities to hang a magnificent light from the ceiling between the treads.
Wall sconces
Traditionally, wall sconces have been the go-to option to both decorate the space as well as to light up the steps. From the classical to contemporary, from crystal ones to the metallic, from chunky ones to the sleek, there are many beautiful styles of wall sconces available today.
Wall recessed lights
They are not only the best guiding lights, but are also apt for adding a wow factor to any stairway. Installed at low levels on the wall, they can cast a magical wash-over effect on the steps. They offer many selections of shapes and sizes for you to make a suitable choice. Available in semi-glare or glare-free options, the LED lights are easy on the eyes.
Grazer lights
For a dramatic spectacle on the adjacent wall, grazer lights that cast the light upwards or downwards are ideal. You could create a playful orchestration of light and shadows on the wall that can be treated like a feature wall with cladding or a gallery of photographs or paintings for maximum effect.
LED light strips
Over the past few years, LED light strips have transformed the way we light up interiors. This gleaming beam of light is very versatile and can be used to achieve the desired effect – either inlaid or fixed under the surface to provide hidden lighting, or installed directly on the surface, leading to a mesmerising look. Place it under the steps of the open-riser stairs for a dramatic effect.
Contour LED light strips can also be used along the corner of the steps and the wall, on both sides of the stairway. Or can be fixed along the wall at a height to create a railing effect. Alternatively, place them under the railing for a playful look. Coming as they are in a number of colours, LED light strips allow you to add vibrancy and fun to your stairway lighting plan, while also highlighting the steps.