Acoustics is an integral part of space design and its consideration creates a comfortable atmosphere for the inhabitants. Acoustics is a field that deals with soundproofing in any space and infiltrates all sorts of distortions. Each space as per its function, spatial arrangement, and design concept require different acoustic treatment.
The Switzerland-based brand Impact acoustics is a company that is creating acoustic sustainable products that not only enhance the decor of any area but are also saving the environment. The products created by the brand create solutions that are not only soundproofing your space but also provide options that cater to saving space and ensuring privacy. They provide ample color, size, and design variables in all the products to blend with any interior and amp up the place.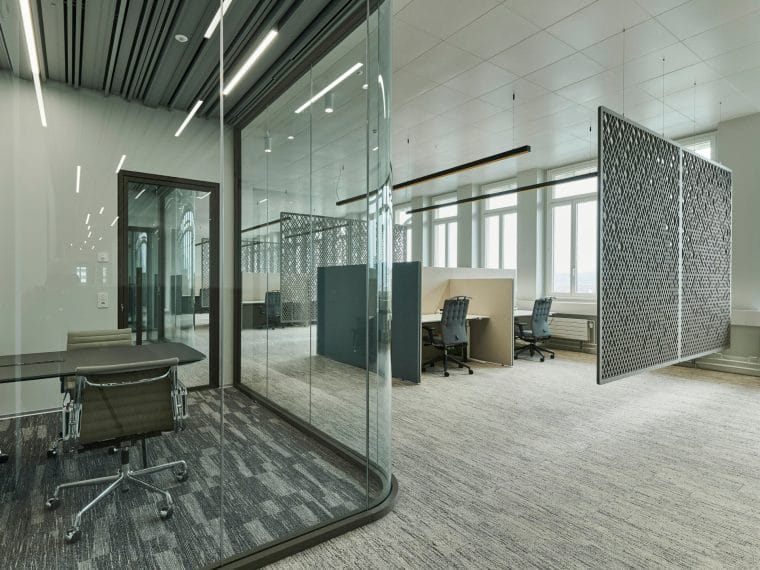 Here are the three product options by Impact Acoustics that can save you some space and provide privacy along with soundproofing your spaces.
1 Chatpod
Chatpod is the future of workplace design which is an office booth on the market manufactured from recycled materials such as PET bottles, Sawdust, Post-consumer cardboard, and rubber which makes it a sustainable option. It is an apt setting for a private small meeting or phone calls. The production at the company is supported by local foundations and handicapped professionals. The interior of Chatpod provides soundproofing and the exterior cladding reduces ambient noise. The material used for construction facilitates easy cleaning and disinfection. It can be customized as per the requirements of the client and has five different size variations, seven configurations, and 28 color options.
2 Room Dividers
Room partitioning can be considered a monotonous and acoustic-only solution. But room dividers used in various projects show how spaces division with the addition of different colors and characters can craft an attractive design. Room dividers can create flexible spaces which can be increased or decreased in size with movable divider options along with saving space and ensuring privacy. These acoustic partitions come with a wide variety of options which can create partial or full visual barriers.
3 Desk dividers
Desk dividers or acoustic partitions for desks are a significant element that should be included in any office, especially in open-plan offices. These dividers facilitate the organization of space and ensure a bit of privacy for the employee. The design of these desk dividers can be created with required perforations and sizes which complement the interior of the space. It is a lightweight product available in a variety of color options which makes it an effective choice for projects where saving spaces is also a necessity in the design brief.
Image Credits: Impact Acoustics