SIS Queenstown stands out with its unique blend of classical European architecture and abundant greenery, establishing a captivating identity for the township. Located in Guduvanchery, near Chennai, this residential enclave harmoniously combines the principles of comfortable living and luxuriousness designed by Creative Architects & Interiors. Comprising 424 well-designed housing units, along with a wide range of amenities and conveniences, this project sets a new standard for urban living in the emerging suburban community.
Occupying a sprawling 5.4-acre expanse, SIS Queenstown encompasses five seven-storied towers thoughtfully arranged around a magnificent central courtyard. Within one of these towers, along the main road, thirteen daily convenience shops, including an ATM and a department store, have been incorporated to cater to both residents and locals. This addition was a direct response to the client's request to create a commercial complex at the entrance, recognizing its potential. The podium level of the project offers an array of amenities such as a swimming pool, children's play area, and indoor and outdoor sports areas. Moving upwards, each tower features multiple configurations of 1, 2, and 3 BHK units meticulously designed to deliver a premium and opulent living experience. Furthermore, the building footprint and structural grids of the towers have been optimized to provide ample parking space on the stilt floor, eliminating the need for a basement.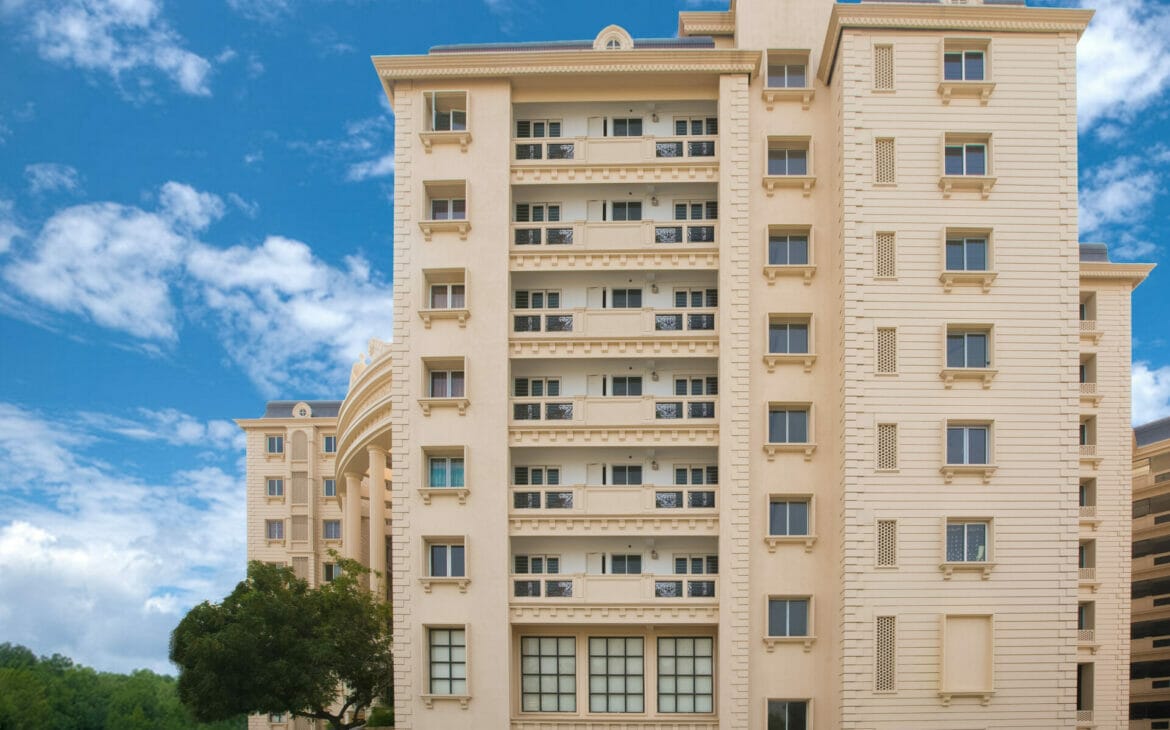 To ensure accessibility and safety, vehicular and pedestrian pathways, as well as public and private areas, are carefully segregated within the expansive mixed-use project. The design incorporates a vehicle-free zone around the central courtyard, with driveways along the outer perimeter. Pedestrian-friendly walkways connect the towers to amenities and shops. Each tower has two entrances, distinguishing different areas and enhancing safety. The township has two entry and exit points to prevent congestion.
The people-first approach prioritizes residents' well-being, creating a comfortable micro-climate. Energy efficiency and sustainability are achieved through active and passive design strategies. The towers' spatial planning keeps the central courtyard shaded, while landscaped gardens mitigate the heat island effect. Each unit maximizes natural light and ventilation. Compact layouts optimize space utilization without compromising comfort and well-being.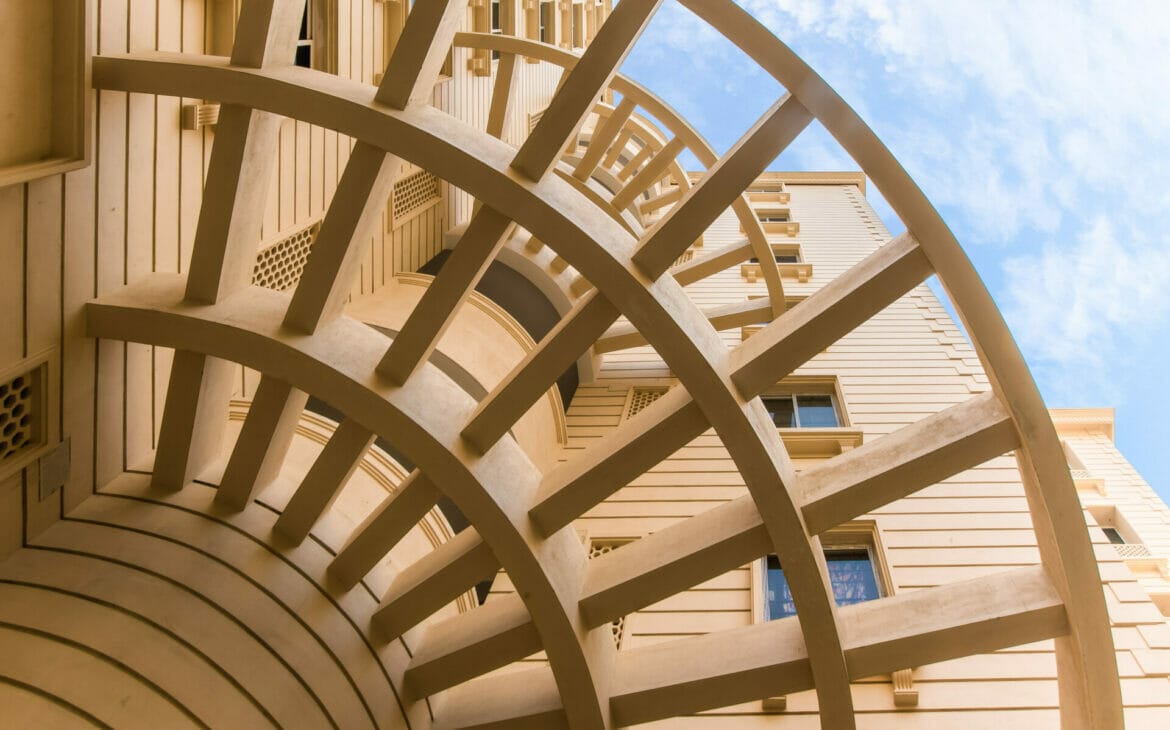 Deviating from conventional, monotonous corridors, the design of the township incorporates lightwells to ensure well-lit and vibrant passageways. To minimize heat gain, double walls, thermal buffer cavities, and carefully planned shading devices are implemented. Thoughtfully selected building materials such as polycarbonate roofing, porotherm bricks, over-deck insulation, and high-reflective tiles on the terraces further contribute to reducing indoor temperatures. Water management is approached sustainably with the inclusion of hydropneumatic chutes and low-volume flush tanks to effectively reduce water consumption.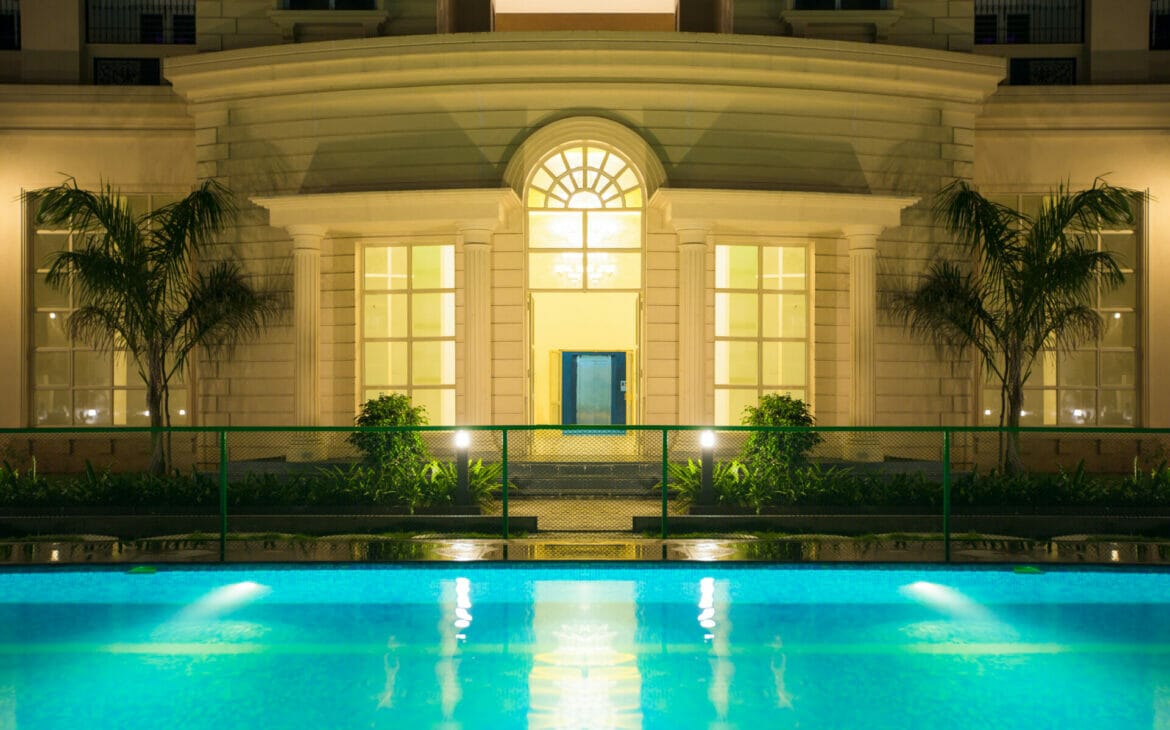 In addition to providing a comfortable environment, the design seamlessly blends luxury into the fabric of the township by incorporating European architectural elements and creating lush open spaces. The integration of elaborate and ornate details with contemporary materials throughout the project ensures a truly luxurious experience for its residents. Grand porte-cochere, elegant entrance lobbies, intricate Roman arches, majestic colonnades, and symmetrical elevations define the project, adding to its premium ambiance. Moreover, intricately-detailed screens serve a dual purpose, functioning as 'jaalis' that gracefully conceal service and air-conditioning shafts.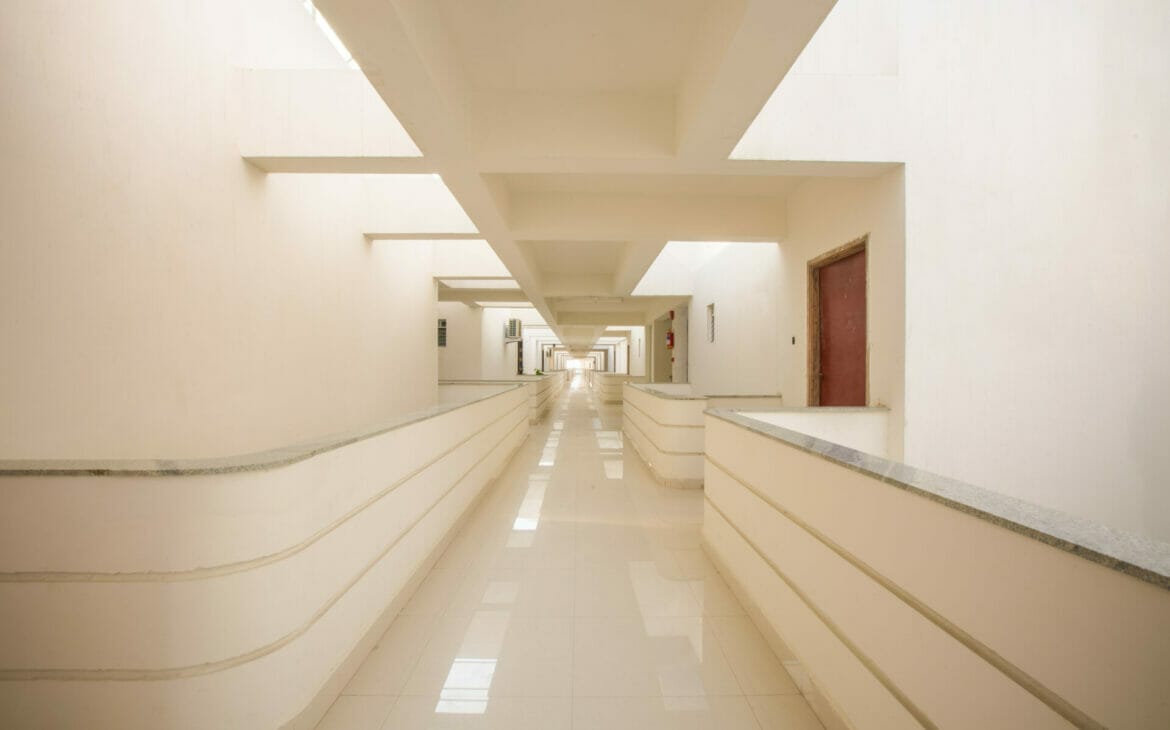 Envisioned as a serene and peaceful township, SIS Queenstown is meticulously designed to offer luxury, comfort, and convenience under one roof. Drawing inspiration from classical European architecture, the project takes a sustainable approach to elevate the urban living experience, encapsulating the best of both worlds.
Fact Sheet:
Name of Project: SIS QUEENSTOWN
Location: Chennai
Principal Architect: Ar. Varsha Jain
Design Team: Ar. Prabhu, Ar. Ranjana, Dr. Nawaz, Dr. Pradeep,
3D Visualizer : Dhanasekar.
Site Area (acre): 5.46 acres
Photographer : SIS Team, CAI Team
Product Library:
ACP / Glass / Concrete: SIS concrete plant
Sanitary ware / Fittings:  R A K / Jaquar
Flooring:  Asian Tile                    
Lighting : GM Surface light / Inventaa
Paint : ASIAN Paints
Elevator : JOHNSON