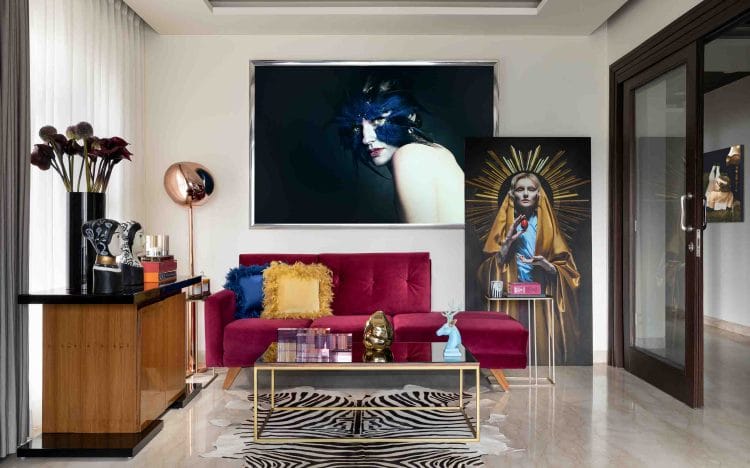 Set amidst the serene residential lanes of Green park, the latest by sanjyt syngh is a three-side open second-floor apartment design. The 2400 sq ft area is a mix of vibrant colors and art pieces, as specifically demanded by the client. Following the trend of not repeating concepts, the designer has ensured a different setting and uniqueness for this space as well.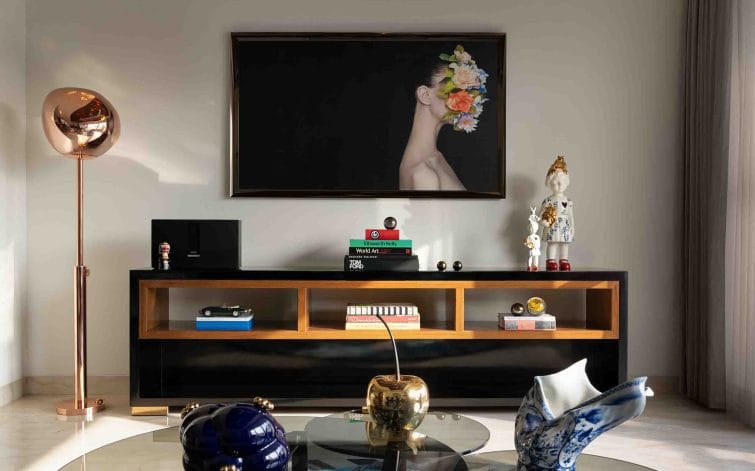 The apartment includes a living room, a dining room, 2 bedrooms, a tv room, kitchen, 4 toilets, and a gym area – which was an additional element asked by the client due to their busy schedules and all the areas are densely sunlit and ventilated. As briefed by the client, the personal spaces and formal spaces are kept separate and each space has its different vibe.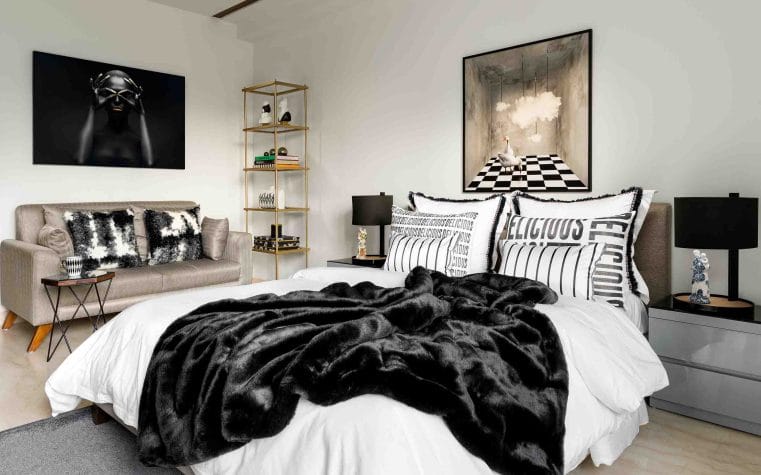 Art is an important element of the space as in all of the designers' projects, it is indeed playing a prominent role in curating the concept of this space as well. The wall art is sourced from the in-house artist at Sanjyt Syngh's office and other than that it is the personal work of the client. Every area is combined with different elements and colors to create an impactful look but to draw a line where it can turn into a nursery kid room.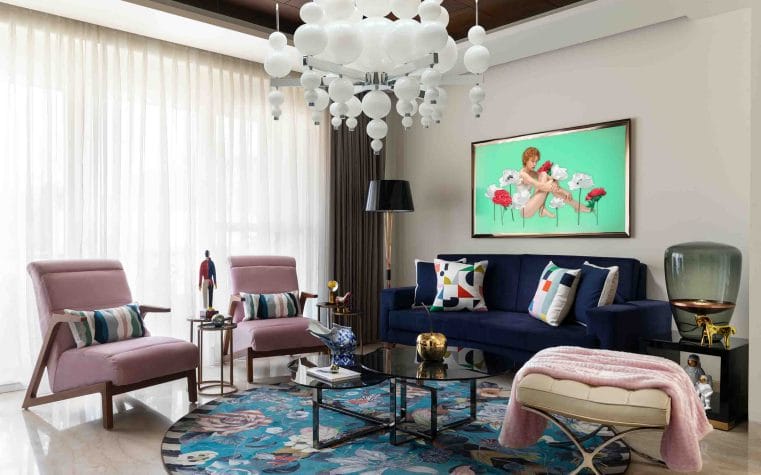 The tv room has a yellow cabinet that is curated to have a tinge of bright color and blending it with the Jaipur rugs and soft furnishings by the designer. Few of the furniture pieces are also designed by Sanjyt Syngh and the rest is the modern furniture sourced according to the usage and spatial concept.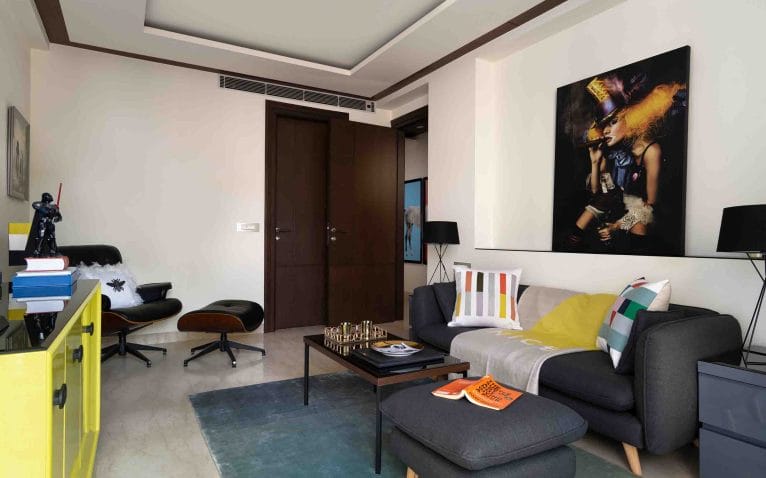 The living area has a maximum number of colorful effects as the couple working in the corporate space wanted a bright and lively space that is unique to its being and attracts the presence of individuals. The Master bedroom is the serene corner of the house with a soothing pink cabinet designed by Sanjyt Syngh and a neutral color palette.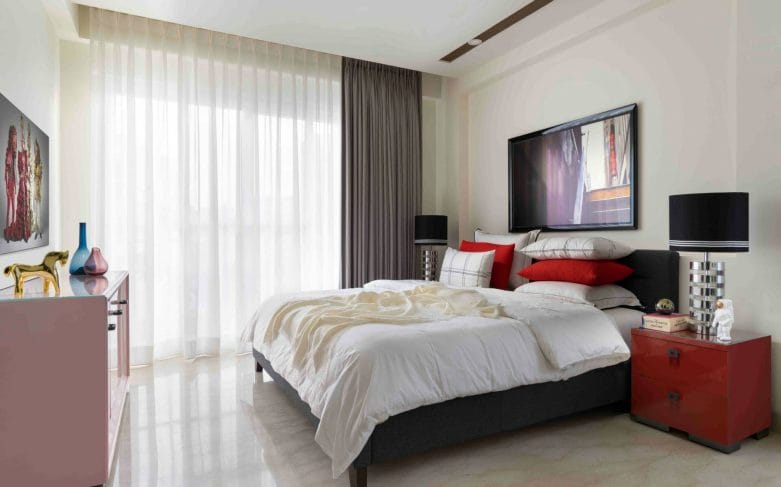 The dining room sculpture is by Shailesh Ojha and the floor is graced with Botticino Classic flooring. The intent was to highlight the art pieces so the walls are kept plain with neutral color tones and the ceiling has a mix of POP and wooden ceiling depending on the design concept.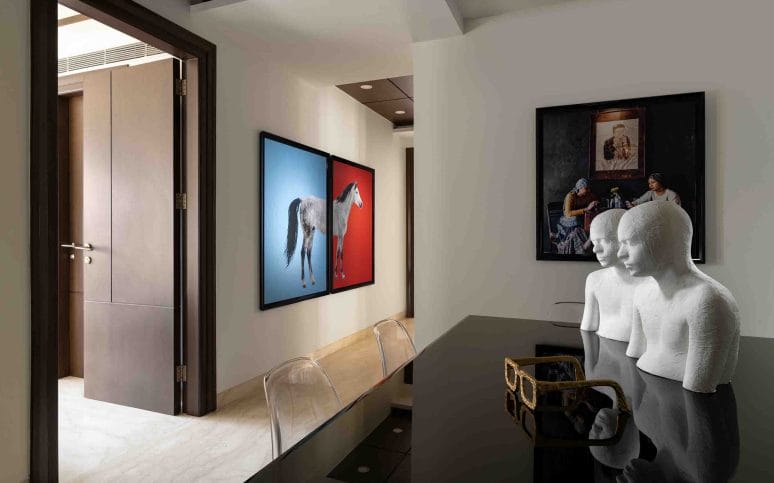 The interior design of the apartment is a statement curation with neutral shades, vibrant furniture, traditional rugs, fancy light fixtures, and art and sculptures being the focal point of the project.
Fact Sheet
Project Name: Green Park Residence
Project Location: Green Park
Interior Designer – Sanjyt Syngh
Rooms: Living Room, Dining Room, 2 bedrooms, TV Room, Gym, Kitchen, 4 toilets
Decor Type: Eclectic mixed with a bit of Parisian Chic
Photography : Deepak Agarwal