The Rs 30 crore luxurious apartment of cricketer Rohit Sharma is spread over 6,000-square foot area on the 29th floor of the 53rd-storey Ahuja Towers in Worli, Mumbai, providing a breathtaking view of the Arabian Sea. Well this explains the Rs 30 crore price tag for this apartment located in the skyscraper which is the 4th tallest apartment in India and the 3rd tallest in Mumbai. At the helm of Ahuja Towers architectural design and engineering service is the Singapore-based P&T Group (Palmer & Turner) while the New York-based interior architectural design firm Wilson Associates sees to the interior design.
Rohit Sharma's minimalistic and classy apartment in earthy neutral hues to beige and charcoal grays is spread over the entire floor. The floor to ceiling height of 13 feet gives the house a sense of space, plenty of light and fresh air plus a 270 º view of the Bandra-Worli sea link, which makes it a stunning to live in. Another plus, is that the apartment is just a two-minute drive away from the sea link making it a huge boon for Rohit as per his lifestyle, training and travelling requirements.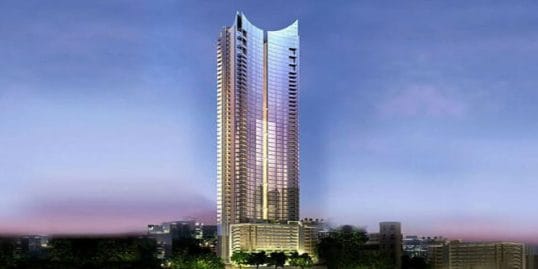 A nameplate with a meaning
A customized marble nameplate with meaning mentions not just the hitman's name but also his wife Ritika Sajdeh and daughter Samaira's name.
An earth-toned living room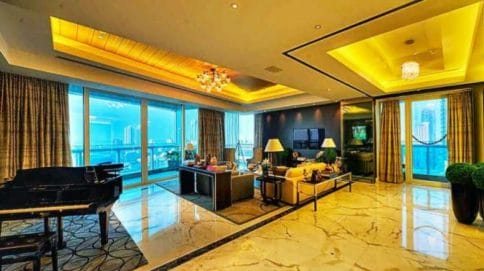 The living room has a floor to ceiling has a height of 13 feet which makes it open, airy and vibrant. The living room has an attached balcony giving the visitors a chance to soak up the amazing views. There is a grand piano in the living room adding a touch of grandeur and class featuring a beige colored L-shaped couch with super-comfy and luxurious rugs.
A minimalistic multi-purpose balcony
The balcony has been turned into a cool al fresco area, permitting residents to enjoy wide open vistas of the Arabian Sea — the view from the 29th floor of Ahuja Towers, Worli is breathtaking. This balcony is made entirely of timber wood from the walls to the floorings, has grey cane furniture set, a wood-paneled covering towards the ceiling, and charcoal grey marble walls with distressed patterns spelling all things minimal and classy. The balcony also offers ample space for Sharma's quarantine workouts and fitness regime as seen on his instagram. This area is also used as a playground for Samaira with a large playpen. The balcony also has a glass ledge which provides an uninterrupted view of the Mumbai skyline, as well as the sea.
Cascading water wall
Rohit Sharma's house is no doubt but a paradise on earth, the epitome of luxury, and really an architectural marvel of modern time with the cascading water wall which looks out of this world with a spectacular touch.
Smart home
The ultimate is the smart technological touch where-in each and every corner of the house can be operated with remote controls and switches, as this is a smart house with the automation designed in a way that both Rohit and his wife can control the entire apartment's lighting, gadgets, temperature, and entertainment options through voice command and touch panel systems. His house has a resplendent entertainment area to spend quality time with his family, a well-stocked wine cellar for his extravagant parties, a yoga area, a mini-theater to enjoy movies, a Jacuzzi, a spa, and so much more.
A classic minimalistic white bedroom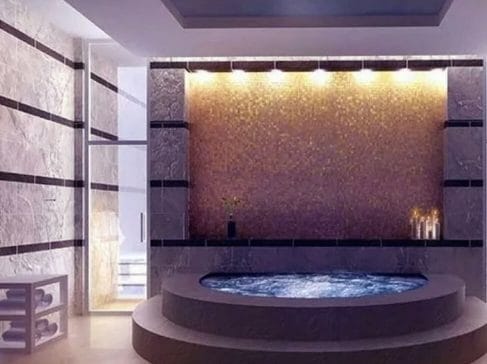 The master bedroom isn't beige or earthy hues but utter minimalistic in nature. It has light wooden panels complemented by glossy white furniture, snowy white fittings with circular silver handles on the chest of drawers or on cupboards. In total the apartment has three bedrooms, master bedroom, a kid's bedroom and a guest bedroom. The 4th bedroom has been converted into a business/meeting room, because Rohit likes his privacy and believes in keeping his personal and professional lives separate. This room has been specially delegated for holding business meetings and meeting clients.
The house also has a wonderfully decorated corner for creative work, where the legendary player prefers to study at his leisure, a private library can also be found in his house as he and his wife spend a lot of time reading.
Rohit Sharma's keen sense of style and eye for clothes reflects in a walk-in wardrobe.
Dining area that exudes royalty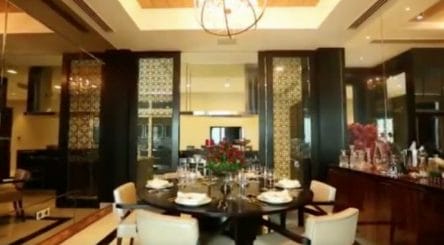 And his love for beige continues in the dining area which is located next to the balcony. The dining space is royally spacious, with glossy, creamy marble floors where in one corner is a sleek, six-seater dining table surrounded by ivory-hued chairs set against a paneled-mirror textured wall, featuring strips of wood and mosaic-style mirror work panels in shades of copper which catches sunlight from the balcony adding the perfect glint to the area.
Modern kitchen
Rohit Sharma and Ritika Sajdeh's kitchen space is minimalistic featuring futuristic light fixtures and sleek wooden cabinets. An espresso machine holds a place of pride professing Rohit's love for morning espresso shot or caffeine fix. Some quirky pieces from Sharma's tableware collection including a cheery yellow mug and a turquoise embroidered ceramic bowl can be spotted in the kitchen.
TV room
Recently Rohit Sharma shared footage of clips of him watching Friends with the family in his cozy television room a den exuding luxe vibes with an L-shaped beige couch wrapped around a geometric centre table, and facing a massive television set surrounded by cream textured walls, plush grey carpet on the floor.
Samaira's nursery
Rohit love for charcoal greys and soothing beige accents spils all over but Samaira's belongings adds pop colors to every corner. Samaira's wooden baby cot came with Winnie the Pooh sheets and a jungle-themed blanket, and a cute flamingo cushion.
Beautiful sun-kissed vibrant outdoors
Rohit's residential complex is surrounded by greens, beautiful sun-kissed outdoor area with stunning skyline views making it a perfect place to relax and unwind.
Image Credits: To Respective Owners