Ar. João Tiago Aguiar, known for his exquisite practice has yet manifested his work by designing an office located in Lisbon center, which was transformed into a T2 typology apartment with plenty of natural lighting. The Air Shaft and apartment located on the top floor of the building allow the designer to rearrange the entire interior layout. The number of interior rooms was reduced to make the space more fluid and suitable for modern life.
The east façade has a balcony and terrace that extends along to its full length. The master suite with a walking closet and a bedroom were placed in this area and a new bathroom for the suite was also designed. The social area and the kitchen were placed at the back to benefit from the already existing large terrace where a barbecue was designed. Open-air space emerges as a natural extension of the interior social area, which has become more wide, versatile, and favored.
The hallway makes the connection between the entrance and the social and private areas. The ceiling with its large light circle highlights and revives both spaces in the hall and the living room.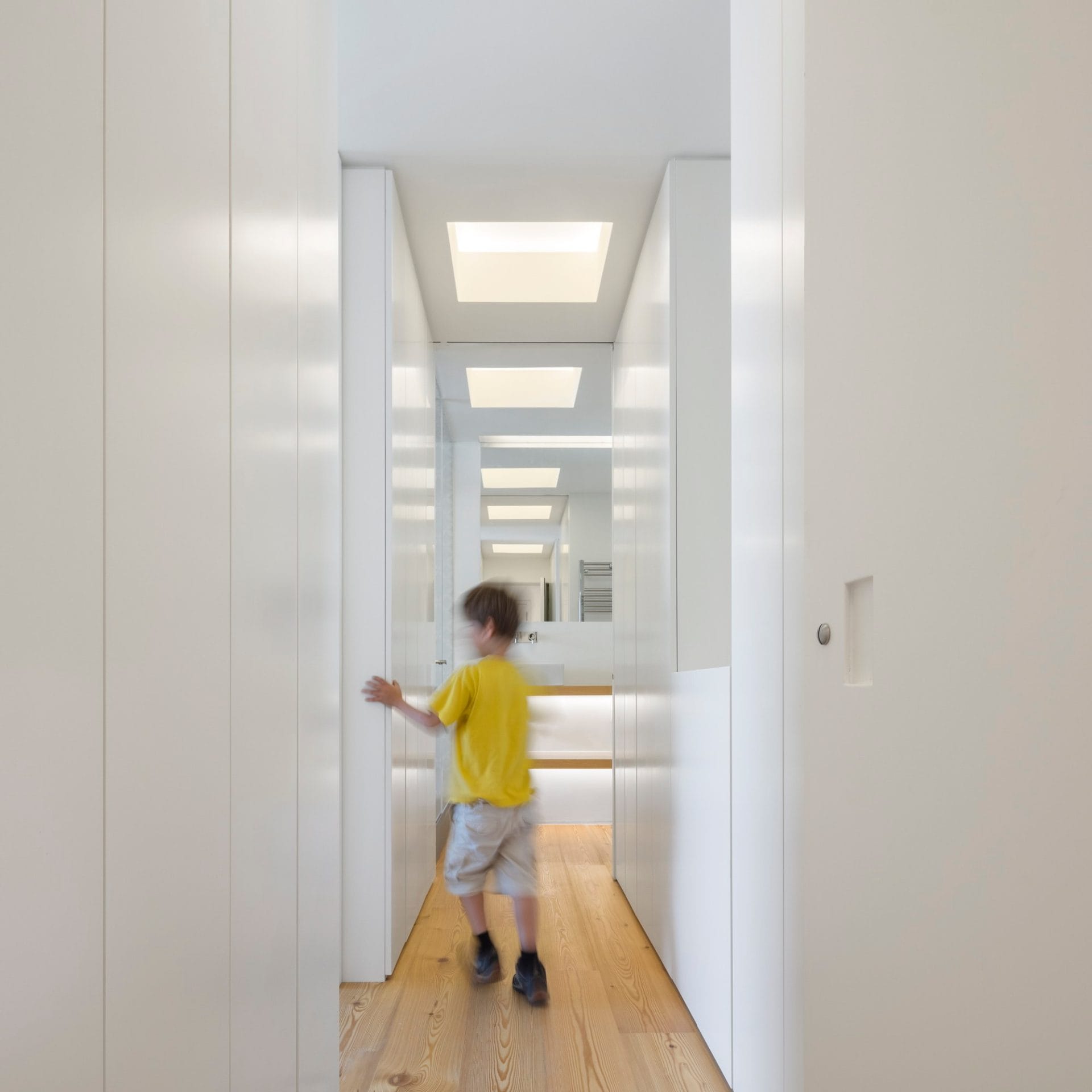 All the existing mosaic flooring has been replaced by wood flooring except in the social and bedroom support bathroom, which was cladded with micro-cement. The same material is also used both in the kitchen, open to the living room and in the barbecue. Hydraulic mosaic is exclusively used in the shower of the suite's bathroom. The customized bookcase is designed to accommodate the fireplace and TV.
Fact Sheet
Project Name: RFV Apartment
Architect Name: João Tiago Aguiar
Firm name: João Tiago Aguiar, arquitectos
Project team: Rúben Mateus, Susana Luís, João Nery Morais, André Silva, Maria Sousa Otto, Rita Lemos.
Project Location: Lisbon, Portugal
Construction Area: 180m2
Photograph credits: FG+SG – Architecture Photograph