Rajasthan is a land of rich culture and history. It has its own unique identity be it in terms of food, attire, or architecture. The haveli architecture or the homes inspired by the lifestyle of maharajas are a treat to step into. These built-forms exude colors, richness, royalty, and grandeur intertwined together. 
Now, if reading about the Rajasthani home excites you to add a touch to yours as well, here are some ideas that can be executed to achieve a Rajasthani Home Decor.
1 Majestic Color for the starters
If you close your eyes and imagine a Rajasthani dwelling, one element that pops right up is Color. Color plays an integral role in Rajasthani Home Decor and its lifestyle. Every interior element incorporated has some splash of vibrant or royal colors. Yellows, pinks, and oranges are the predominantly used colors and darker royal tones are the majestic colors. To achieve a similar vibe to your space a lot of colors is a mandate on the list.
2 Do a Furniture Make-over
To achieve the exact vibe of a place the look should not be compromised and Furniture is an element that binds the place together. To get into a Rajasthani Home Decor, the furniture can be replaced with traditional Rajasthani pieces. The Rajasthani furniture is crafted majorly with wood and has ornate detailing. It is about the low bedding for seating and more mattresses. The royal-looking chairs, arm-chairs, chest of drawers, and diwans can be included which induce a Haveli vibe to the space. Another major element that can impact the whole setting is a swing. It can be of wood or metal but should be intricately decorated with cultural motifs and patterns.
3 Go for Stone and some more Stone
Rajasthan is well-known for the variety of stones available and used in the architecture field. Stones such as Jodhpur Sandstone, Kota Stone, and Jaisalmer Sandstone are a few choices amongst many to include in your interiors for wall cladding or flooring. Handcrafted artwork and sculptures made of stone can also be used as an interior element for an apt Rajasthani Home Decor.
4 Turn the fabrics and furnishings Rajasthani
The Rajasthani fabrics are referred to as treasure troves; for the detailing, color quotient, and aesthetics that it has. The leheriya and Bandhej are the famous fabrics from Rajasthani culture. These fabrics can be hand loomed in several ways and incorporated for a Rajasthani Home Decor. Be it Bedsheets, table runners, cushion covers, or sofa covers; the addition of these will certainly add to the design factor of the space and accentuate your interiors.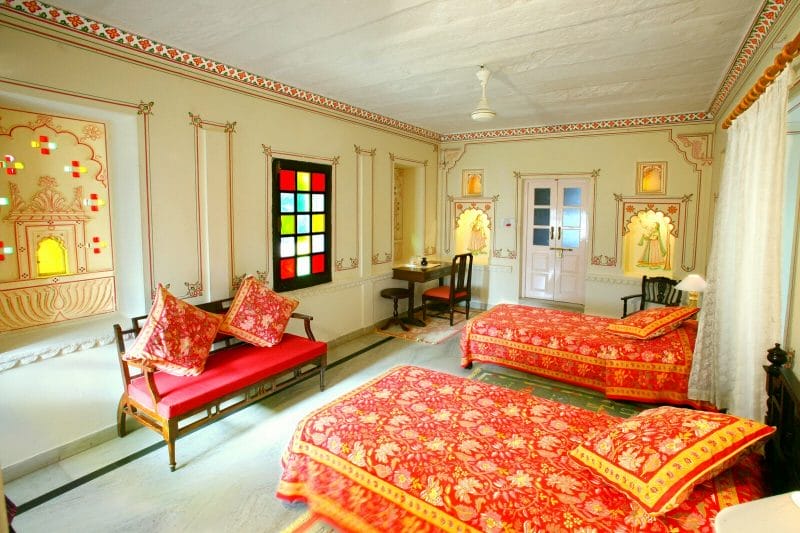 5 Let the printing be Block this time
Block printing is a traditional handicraft that is unique to Rajasthani Home Decor and can accelerate the beauty quotient of a space. It can be used anywhere in the house, be it for upholstery, drapes, or as a wall finish, with attention to detail. It can be used to narrate beautiful stories or depict scenes on walls. Block printing is a traditional art and is appreciated by people all over the world to add that enticing Rajasthani touch to your interiors.