Disha Bhavsar and Shivani Ajmera Co-founders of Quirk Studio designed a gateway home in the Juhu suburb of Mumbai for a Gujarati family, whose son is settled in the city. Taking a minimalistic approach, the large residence is designed in a contemporary style that fits for a bachelor as well as for the entire family as and when they visit.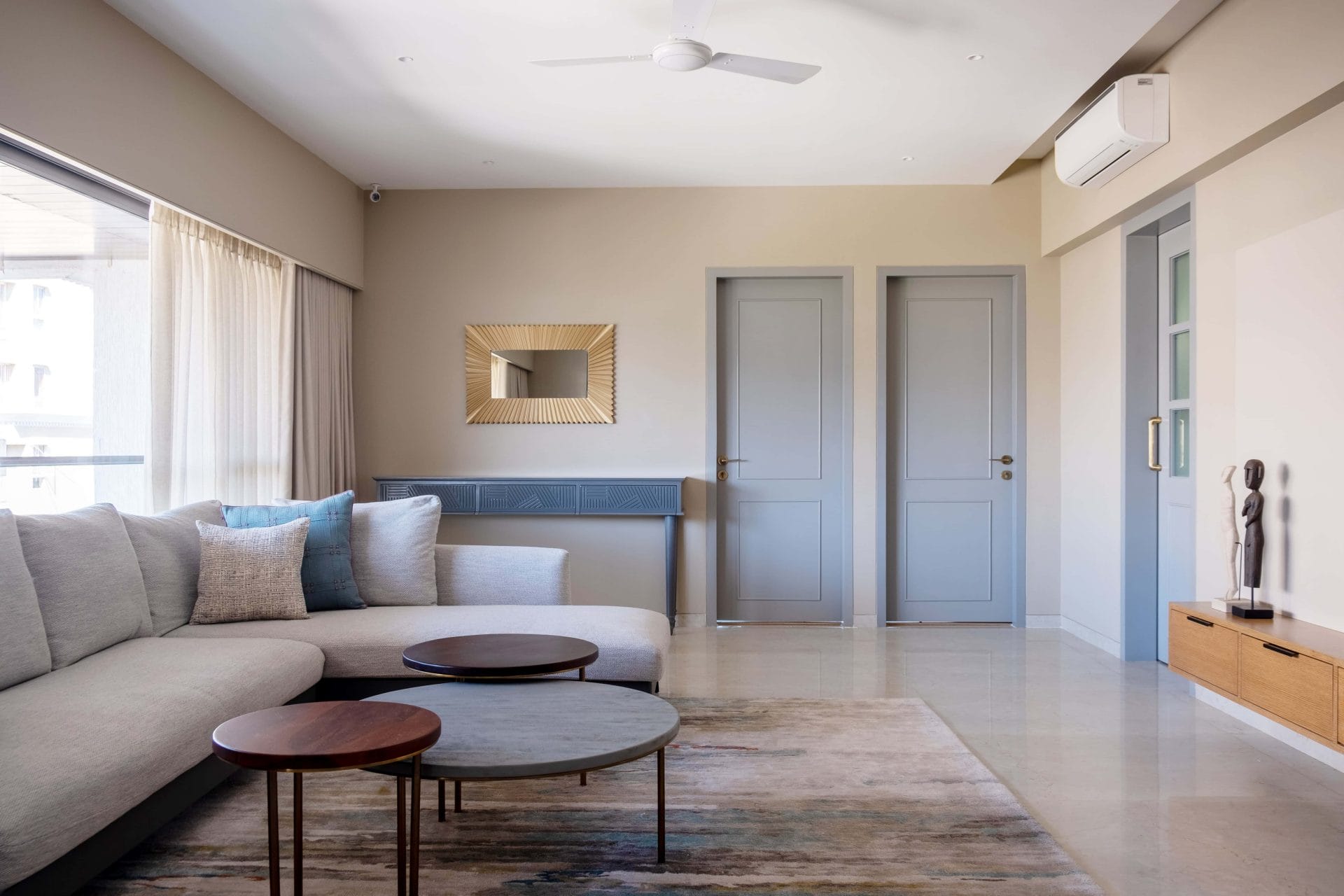 Based on the Vaastu principles, the entire home is designed, where the façade is panelled with mirrors, and plants are added to space. A shade of blue & green is incorporated into the house to give a nature feel. To have the natural light in the house, large casement windows have been installed throughout the house.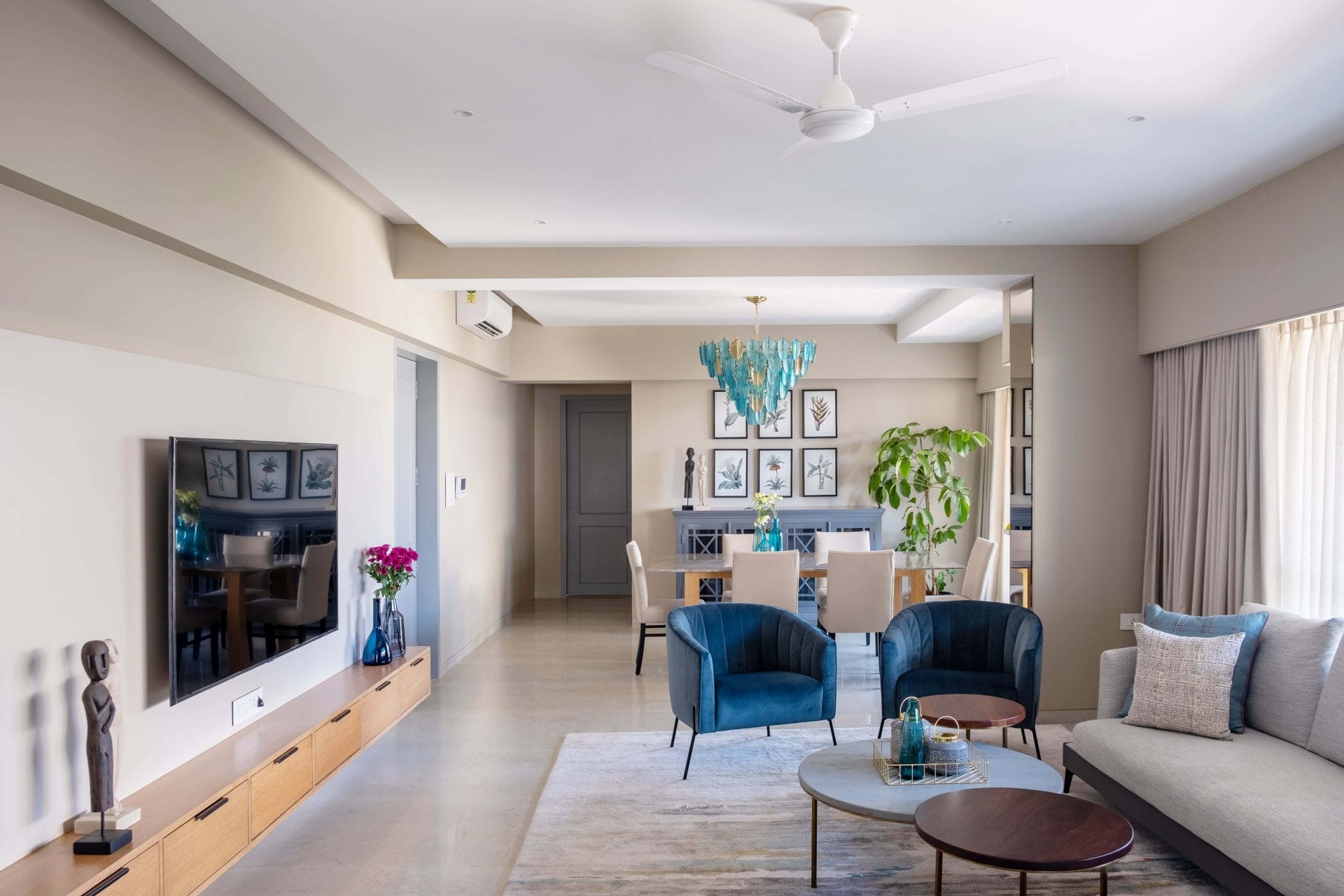 Designed creatively, the house opens into a spacious living room that transit into the dining area. The abstract rug is paired with a minimalistic grey sofa to give the most luxurious look to the room. Similarly, the teal blue upholstered armchair brings a sense of serenity and zen-like aesthetic to space.
The main attraction of the dining space is the ornate chandelier that is dominated by aqua and gold colored leaves, which adds character to the open space. Customized sideboard & floral wall-art with botanical prints are added to bring liveliness to the area.
The kitchen is connected with the dining and living area by a sliding door, designed with simplicity, using simple back-painted glass with rose gold cabinet handles.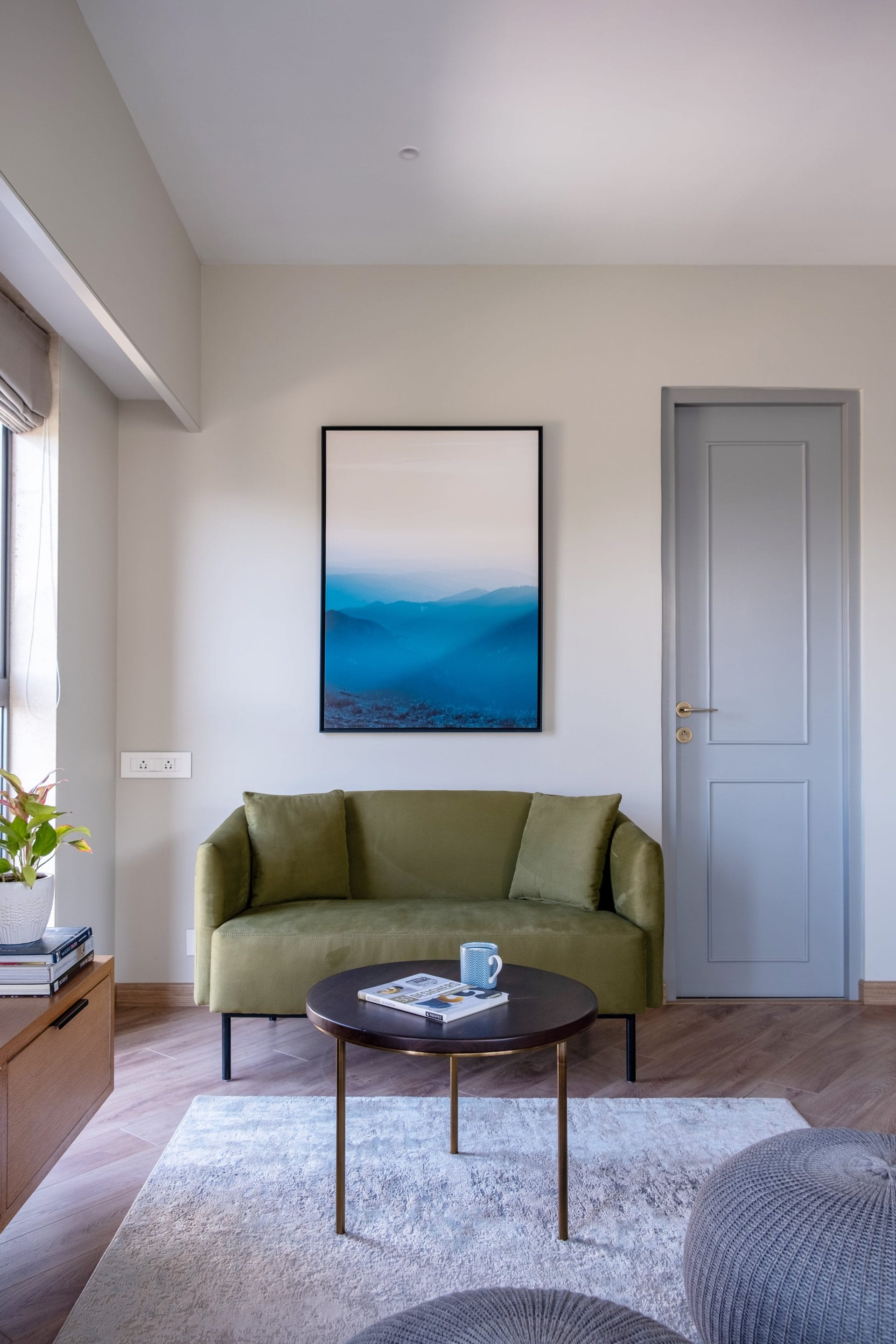 Two rooms were merged to create a larger Master room that radiates opulence, modernity, and comfort with its plush grey interiors. Diagonal oak flooring is used to amplify the cozy environment while adding colour and warmth to the bedroom. To make the room a clutter-free area, a hidden walk-in closet within its paneling has been designed.
The other room in contrast to the Master Suite is more gracious and congenial. With Bright interiors, the room has white rattan furniture, oak flooring, making the bedroom a comfortable and restful environment.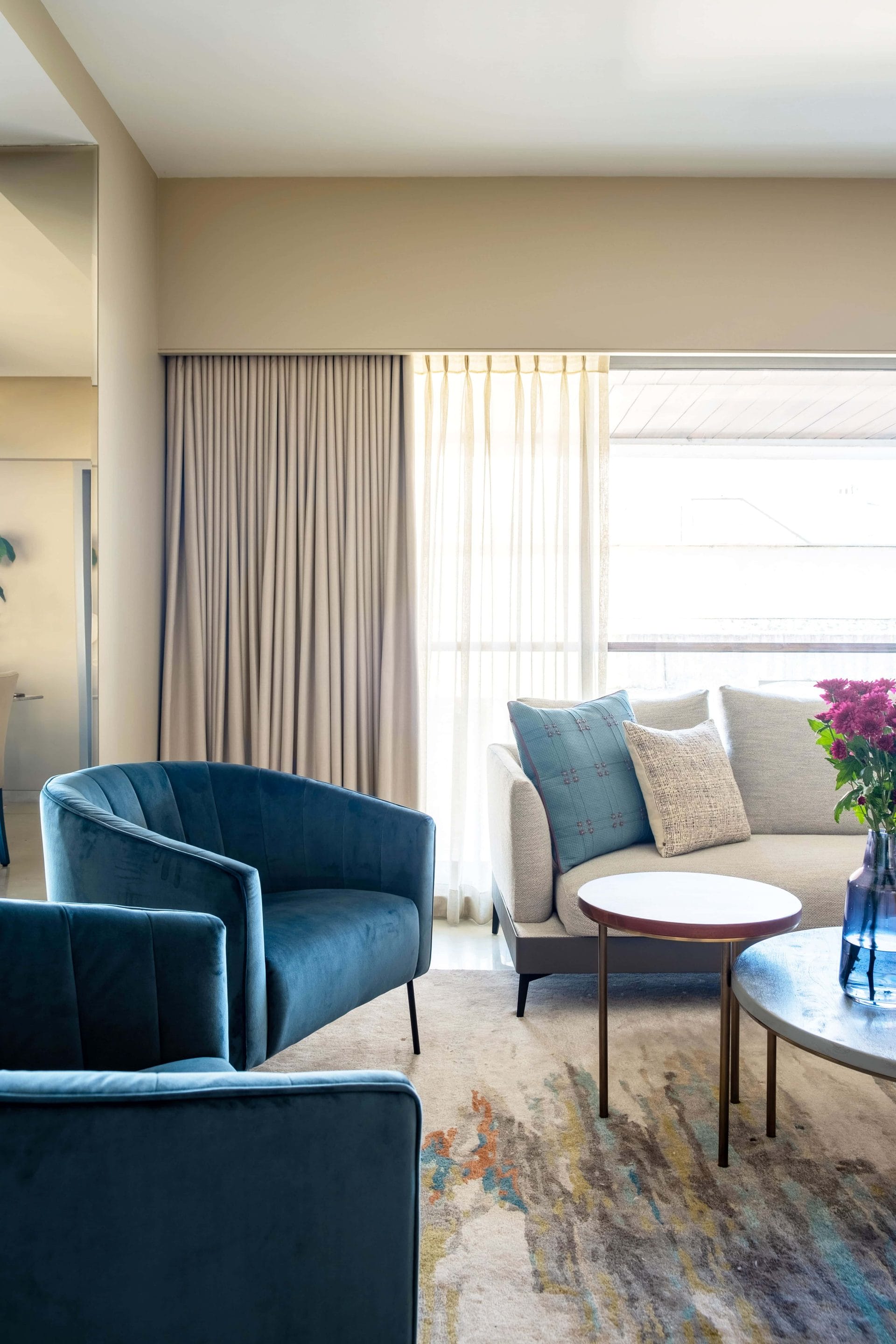 Subtle interiors are applied to the guest room, wherein the furniture is repurposed and paired with neutral tones. Cherry blossom wallpaper in the shade of grey and white adds a dynamic play to continue the nature-based theme.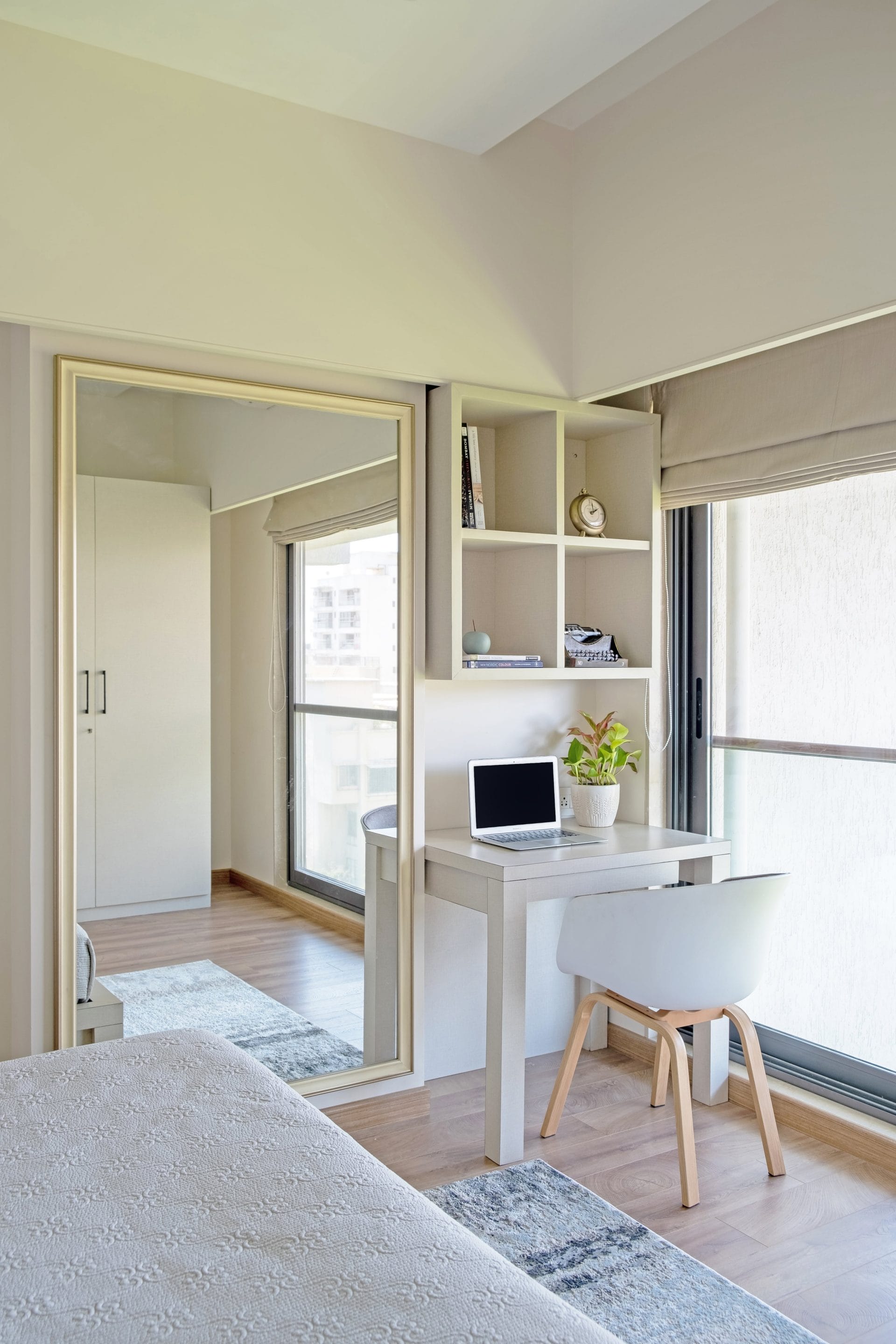 Fact File
Typology: Interior Design – Residential
Name of Project: The Jardin Home
Location: Juhu, Mumbai
Design Firm: Quirk Studio
Design Team: Shivani Ajmera & Disha Bhavsar
Site Area: 2000 sq.ft
Photographer: Kuber Shah