Anu Kewalram, Interior Designer and founder of Anu Kewalram Interiors firm based out in Dubai recently completed a project that was assigned by an Arab African client. With the best use of technology, the designer got to feel the property through the 3D walk-through video of the property to develop the design process.
As per the client brief, the designer team designs the space, which includes the upstairs family lounge, the entryway, the living, and the dining spaces. Neutral and light palette being the preference of the client, the design team used the accent color on the armchairs; the dining chairs, and the cushions. The walls were primed and painted with Benjamin Moore paint in Chantilly Lace. A wall unit was designed to accommodate the TV, some accessories, and the additional items in the storage cabinets designed below it.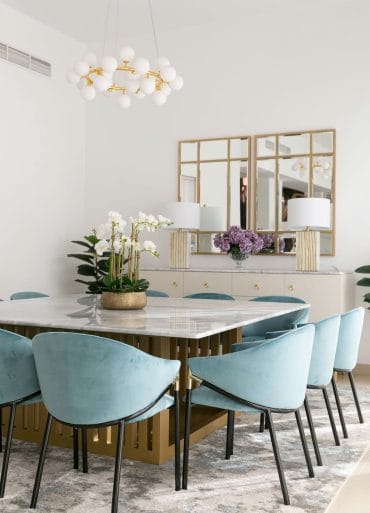 A curved sofa & marble-based coffee table is placed in the living area, which was added with another sofa & two armchairs in teal blue velvet fills the requirement for additional seating. A 12 seater dining table was designed with one single piece of marble as its top. The base of the dining table is made with wood and painted in a champagne gold finish. Added with a sideboard and bespoke mirrors, the dining space greatly highlights the house.
The entrance area has a beautifully curated console table in gold with a gloss finish, which was accessories with lamps and other artifacts. Rug & wall artworks are added to the space to enhance its décor setting.
The upstairs lounge area was kept informal with a grey sectional sofa and a media console. Added with a sideboard on the side, themed-farmed art prints were put up above the sideboard.
Fact Sheet:
Interior Designer Name: Anu Kewalram
Firm Name: Anu Kewalram Interiors
Location: Nad Al Sheba, Dubai, United Arab Emirates
Photography: Larissa Goncalves