Sameer Balvally and Shilpa Jain Balvally, promoters of Studio Osmosis designed a second home for a family for a casual appearance near the beach. With the sea view, the apartment is a favorite of every house member. The design approach of the house was very casual and eclectic. The bold use of art and color made this space lively and alluring.
With the strong roots of culture and tradition, the house has a hidden cabinet-temple with floral-inspired modern layered graphic art printed on the wooden panels and console. Once the customized metal jaili is opened, one could see God Idols inside the same.
The living room is designed to create a clutter-free family space with comforts. The curved façade that runs throughout the living room highlights various design elements. The ceiling and subsequent lighting design radially frame the outdoor view. The lines flowing from the ceiling to the wall subtly pull one attention to the window.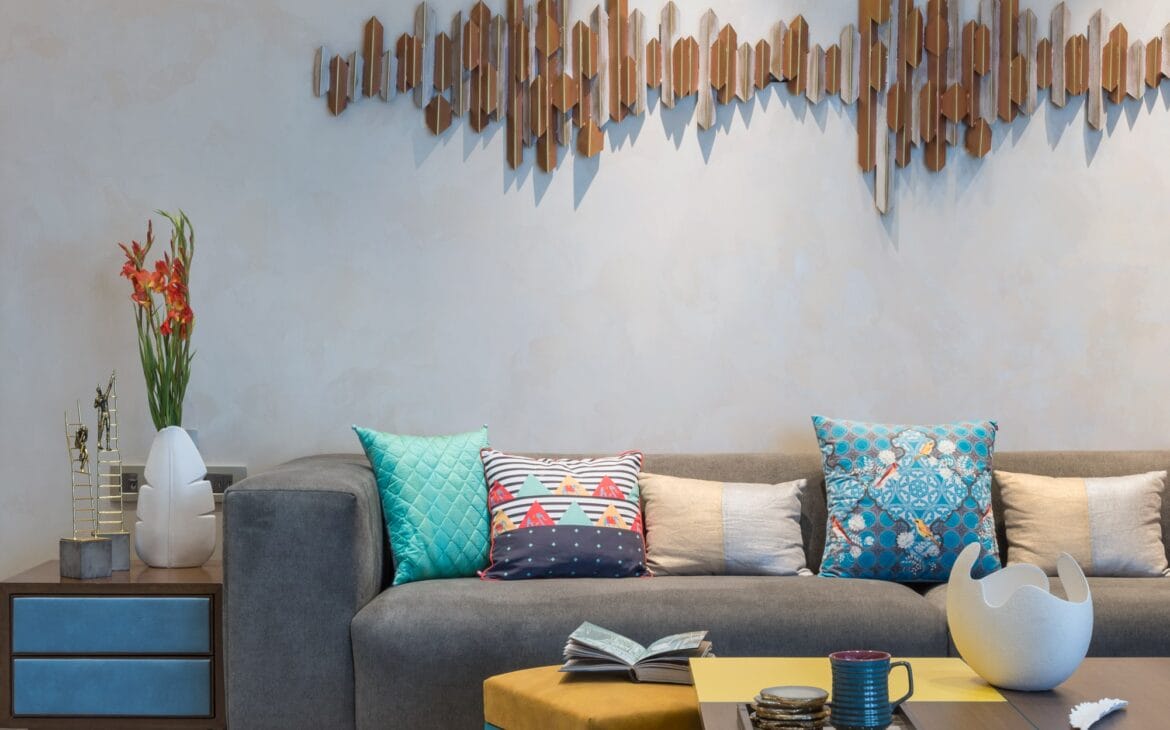 The long passage, which connects the living room to the master bedroom with a door leading to other rooms, becomes the main attraction of the house. A detailed custom-designed graphic along the entire length suggesting an irony of sorts on the concept of urban living and using techniques like satire, humour and off scaling was commissioned by collaborating with Kalaakari Haath.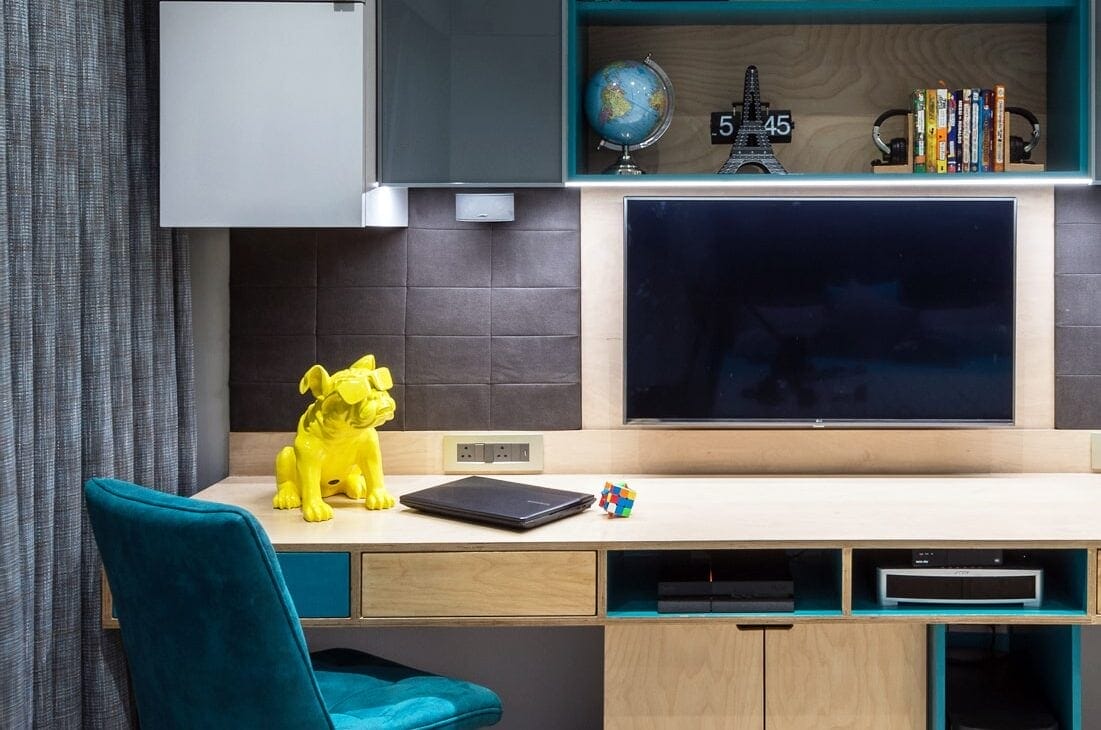 The master bedroom and master bathroom have a bold colour palette with pastel rich grey-blues and greys with jute and white sheers creating a relaxed spa-like feel. The texture paints and concrete elements paired with geometric motifs done in antique metal and English green leather make the room more elegant & unique. The boy's room has a fresh color palette of yellows ochre, teal, light grey with the headwall and study storage.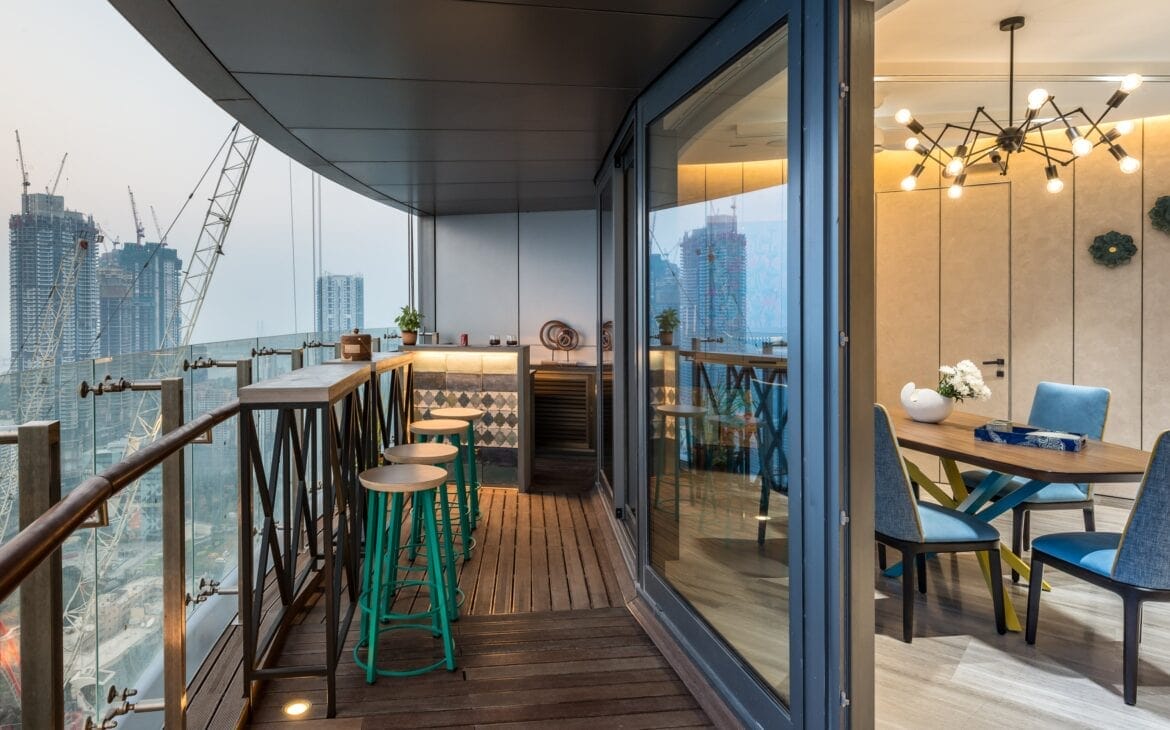 The dining area has a custom-designed veneered with metal inlay table that is not a perfect rectangle but tapers slightly towards one side and blends in with the curved wall perfectly. The metal legs of this table are painted in the accent colours of the space.
The other focal attraction of the house is its balcony that runs along the curve of the living room, which is converted into an outdoor bar area overlooking the picturesque views that the property offers. The Bar sports has a concrete countertop with a front cladded with hand-painted ceramic tiles mimicking the colors of the sea and sky making the space more interesting. Adding with the custom-made wooden bench and a custom swing by Retirement Plan, the house completes the relaxation zone and adds colors to the design.
Fact file:
Location: Bandra, Mumbai
Firm Name: Studio Osmosis
Size: 470 square feet
Design Team: Sameer Balvally and Shilpa Jain Balvally
Photographs: Kunal Bhatia, KB Studio