Vasundhara Sampath, the co-founder of Philosophy Design Studio has recently designed an amazing 3000-sqft space on the ground floor of an upmarket residential building in Banjara Hills, Hyderabad. With the brief of the client to have a spacious, contemporary, and comfortable home with 3 bedrooms and a large living/ dining/bar area, the design team designed the apartment.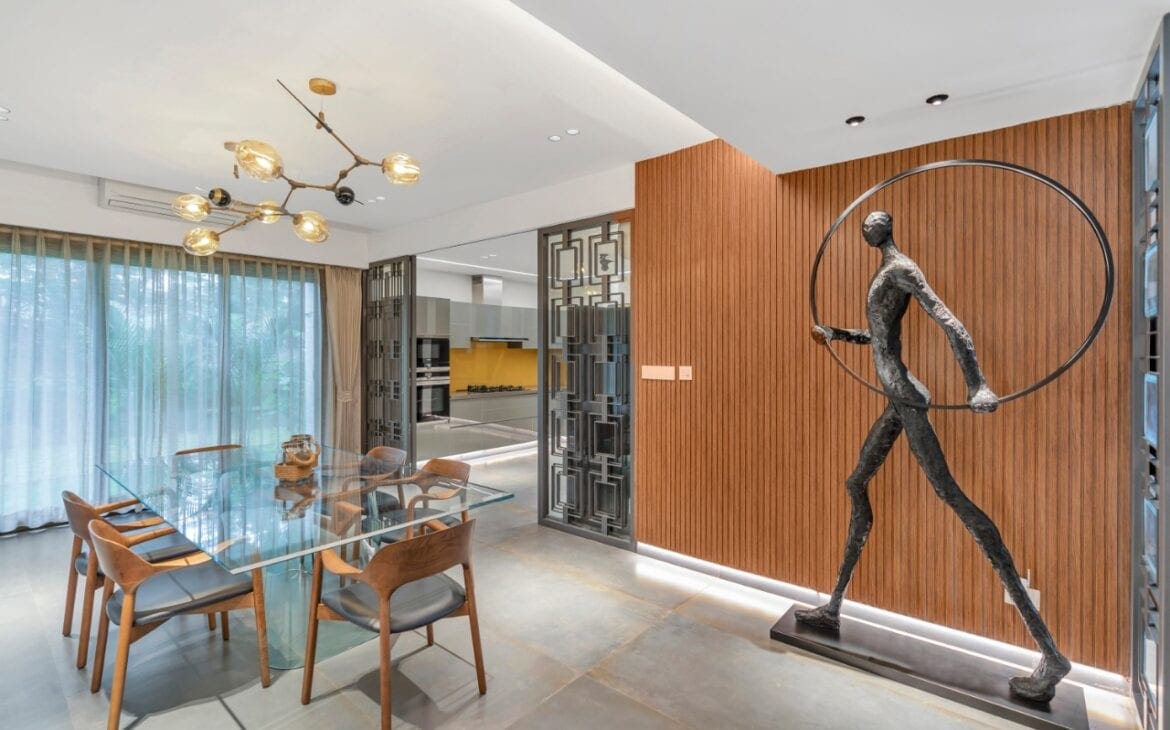 The design team took the advantage of the location and used the manicured lawns of the building as a visual natural extension to the home. All the walls were eliminated to view of the lawn and replace with end to end. French doors & glass are used to ensure that the open area could fully use the outside view.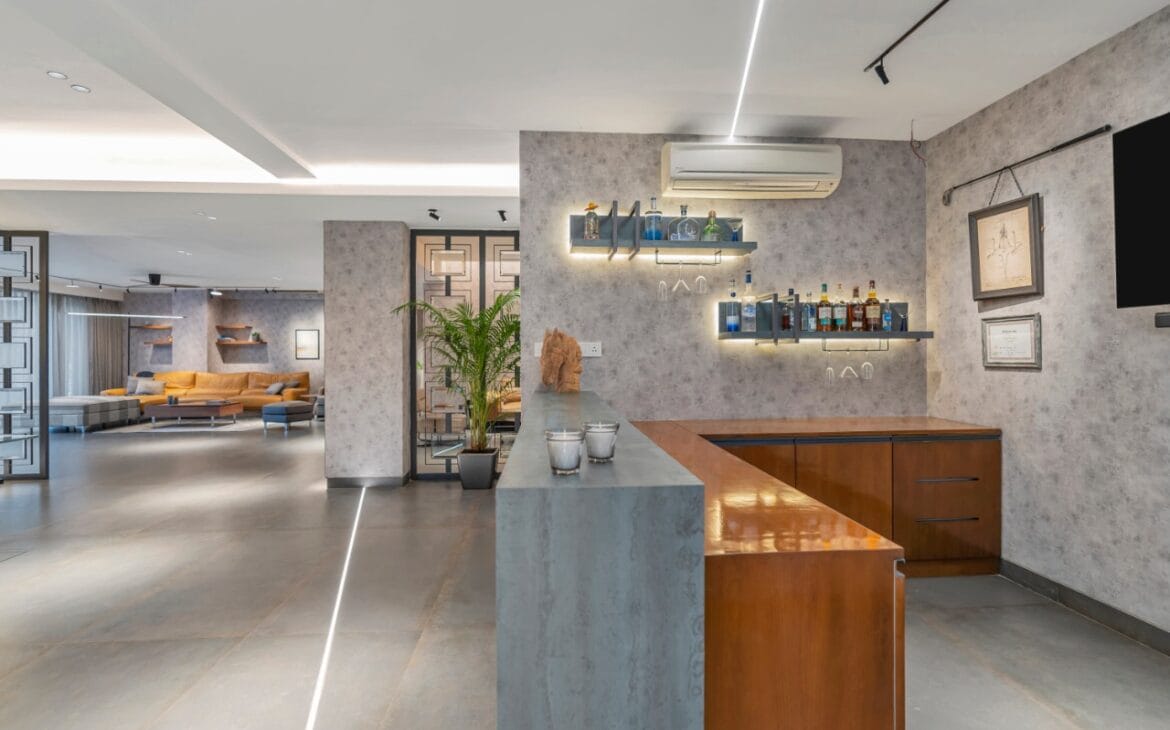 The fourth bedroom was knocked down to create a large bar area while the attached bathroom was also reduced to a smaller one. Sliding glass doors were used in kitchen walls to give the option of keeping the kitchen open when required and when closed it gives the feel of an open view. Grey colored vitrified Spanish tiles were used to add a very contemporary look to space.
The furniture for the living, dining area and bedroom were in tune with comfort, style, and luxury. Tan couch with sleek Black and white accent chair makes the drawing quite inviting while the yellow couch in the living room is perfect to relax and watch the TV. The quirky artifacts like the planters, wall plates, and the large floor lamp became the center of attraction of the room. Metallic tiles, blue laminate, and matching veneer to match the wall panel has been used in the bar room. Beautiful wall art on the concept of the golf club is designed. Magnetic track lights have been used to illuminate the area, which is dropped from the ceiling onto the wall and continue on the floor in the bar area.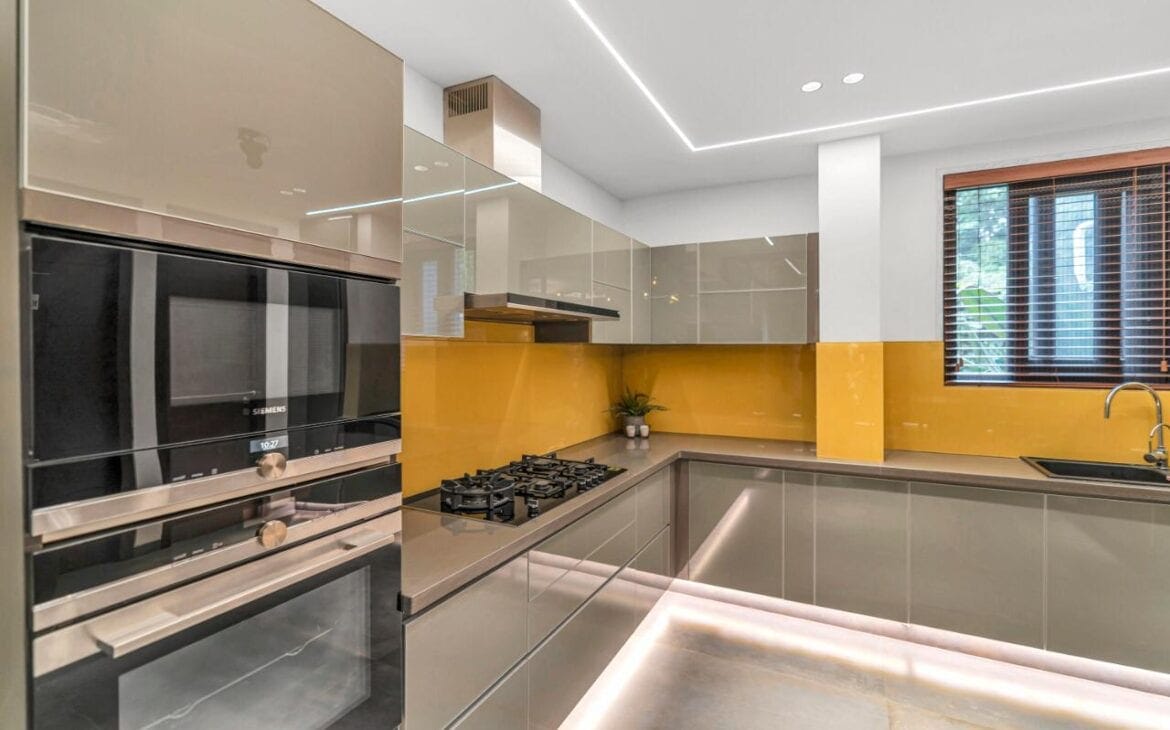 Interesting chandeliers in the drawing and dining add a hint of luxury. Leather beds in the bedrooms were complemented with interesting wallpaper in the rooms while the wardrobes are kept neutral. The kitchen in grey glass has a yellow glass backsplash to continue the pop of color. The curtains, wallpaper, customized bedding, and rugs enhance the décor setting of the house.
Fact File:
Architect Name: Ar. Vasundhara Sampath
Firm Name: Philosophy Design Studio
Location: Hyderabad
Photographer name – Rithika Jain