Light and materials take center stage at this luxurious penthouse on the 21st floor designed by Architect Anirban Dutta, overlooking the river Ganges. The Formations Studio had characterized the interiors by a balance between forms, elements, functionality and aesthetics. The penthouse is a contemporary space that exuded casual chic.
The Definitive Guide To Optimizing Room Layouts:
Customizing to the clients needs, the 4-bedroom apartment is converted into a 2-bedroom penthouse. The designer used contrasts to accentuate the space and provide a sleek and elegant look. The seamless transitions between different spaces bring harmony and integrity to the overall design of the apartment.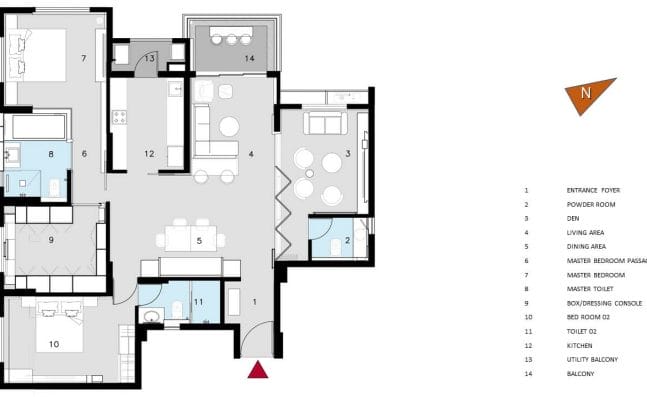 Sustainable Materials: The New Luxury:
The changes in floor material signify division between different zones.The use of vernacular materials such as handcrafted terracotta tiles, abstractly arranged over the wall creating a paneling and backlit mud blocks at the entrance porch are adding on the Indian contemporary architectural perception.
Measures were also taken to reduce the carbon footprint within the apartment by using earthy materials.The den area is designed with terracotta panels, exposed concrete panels, and wooden beams. The entire place is designed in the style of Indian traditional extravagance.
A Master Bedroom With A Master View:
The master suite consists of a Bed Room, Toilet and dressing area connected through a private passage. Anyone who wants to have a panoramic view of the River Ganges can go to the Bedroom. The solid wall that was between the bed and the toilet was removed and replaced by a clear glass panel. Also, the Bathtub is placed right after the glass partition which provides a seamless view of the river from the Bathtub itself through the transparent glass wall and window of the Bedroom.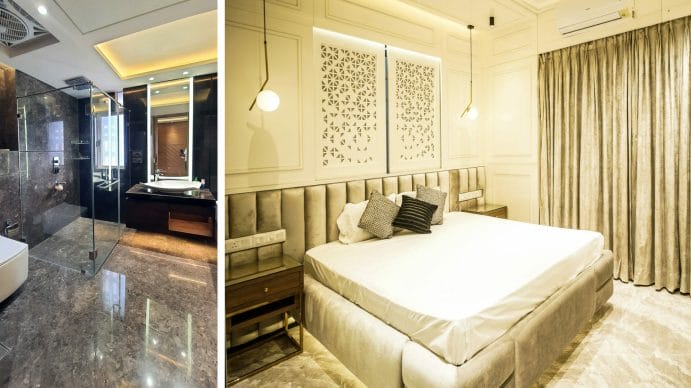 To ensure privacy, motorized remote-operated vanishing blinds are used for both bedroom and toilet.
Fact File :
Project: Priyadarshini's Penthouse
Typology: Residential apartment
Design Firm: FORMATIONS
Principal designer – Ar. Anirban Dutta
Project Location: Aurobindo Sarani, Kolkata,
Built up area – 2000 sq.ft.