New Shoots Children's Centre is a space for children to interact in a natural way created amidst a natural setting on Aranga Road in Kerikeri Northland, New Zealand. The city has a hospitable climate which led to the environment-centric design of the project. 
The center is divided into four pavilions covering an area of around 700 sq m with each pavilion housing children of different age groups. These built forms are connected with a soaring roof that allows the movement in between these spaces and protects the pavilions from sun and rain. This sheltering protects all spaces like outdoor dining and external circulation areas, which are planned with pocket gardens throughout the design.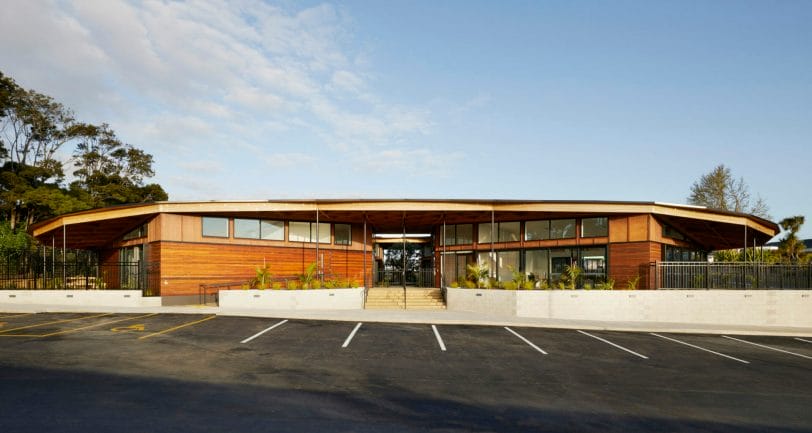 This New Shoots Children's Centre has a Pohutukawa tree in the heart of the center that is visible from all the designed pods to develop children's connection with nature. The built form blurs boundaries between outdoor and indoor, motivating the children for open-end exploration and self-discovery. The architecture of the project is reflective of the local culture. 
The warm and welcoming ambiance for children is created with a more natural material palette. The timber is cladded horizontally with aluminum joinery creating a lighter environment. The sliding doors used in the pavilions with Low-E coated glazing provide access to abundant ventilation and daylight and an added advantage of maximizing the outdoor connection to the playgrounds. These natural elements peeping inside the New Shoots Children's centre ensure a healthy and safe environment for the children with over 80% visual connectivity with the outdoors and availability of natural ventilation – six times the minimum requirement.
Different age groups at the New Shoots Children's Centre have different requirements which are catered with unique classroom experiences for each group curated by the team of the center. The cabinets and furniture used in the project are customized as per the needs of the users and intend to create a sense that every space has been well-considered.
Abiding by their concept of Sustainable design and creating spaces that support the environment, Collingridge and Smith Architects have created areas in this project as per the standard indoor and outdoor guidelines. The design of the New shoots Children's centre takes into consideration the accessibility of design concepts and is fully accessible to wheelchair and ambulant disabled users. All areas including the kitchen, laundry, and staff facilities are planned as per accessibility guidelines.
High-rated water fixtures are used which facilitate the reduction of flow to the sewer. All the products and finishes, from plasterboard, paint finishes, timber, and carpet to adhesives, are low volatile organic products and environmentally certified. It is a design that caters to environmental protection and maintains a connection with it throughout the project.
Fact Sheet
Project Name: New Shoots Children's Centre
Location: Aranga Road, Kerikeri Northland, New Zealand
Gross External Area: 1300 sq m approx
Firm Name: Collingridge And Smith Architects (UK) Ltd. (CASA)
Image Credits: Amanda Aitken