A serene property located in Thane, with a mesmerizing view of the city, this 3bhk apartment is transformed with a vision by Archligne Design Studios to create a tranquil environment. Designed for a family of three members, the client's thoughts were very clear: they desired a modern home with simplicity and functionality at its core. Each and every corner of the house was minutely designed and detailed to give a very elegant look to the house .
The extravagant entrance door is what one sees the moment they enter from the lift. The veneer-made door with a finish of brass in duco and the black corian grill. Is what gives that grand look. The main highlight are the angular strokes of the veneer which gives a brief of what is beyond it.
The Living area is an uncluttered space using white, Brown and beige tones inducing comfort and a welcoming ambiance. Clean lines and slightly curved ceiling gives a sleek and smooth look. The linearity of furniture is interrupted by a large colorful art piece that acts as a focal point with optimum illumination. The defined sculptures, vases and other décor elements are personally handpicked by Archligne Design Studios, making sure to break the monotony and keeping the eye active.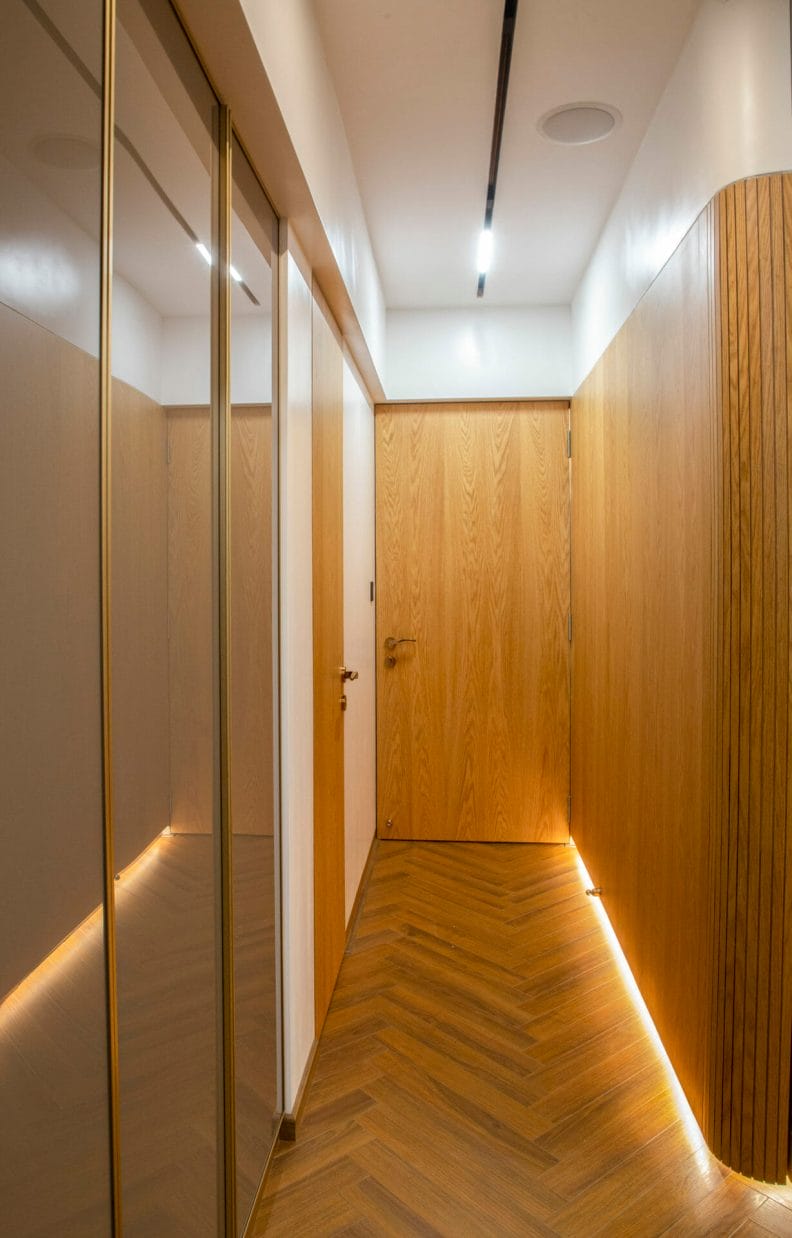 The kitchen is designed with a neutral color palette using modern light fixtures around the ceiling and flooring to accentuate the whole look of this luxurious residence by Archligne Design Studios.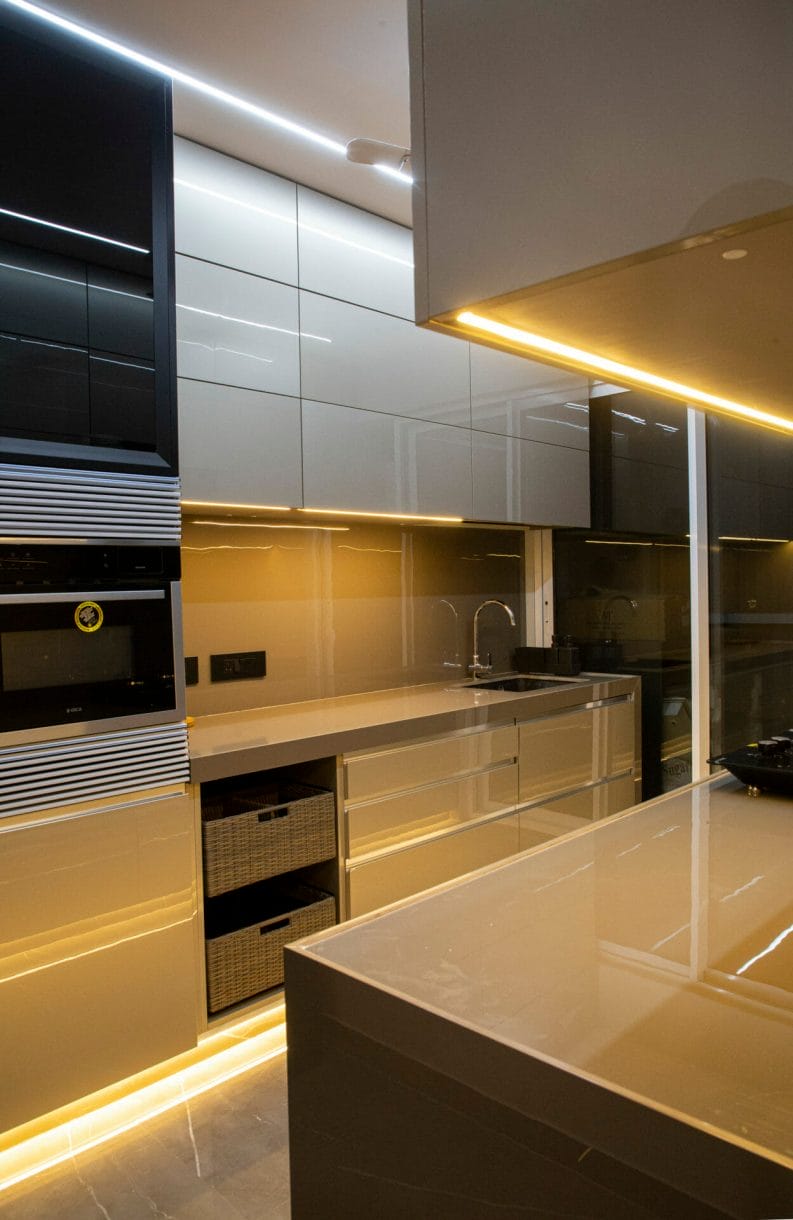 The splash of colors through painting, artifacts and soft linen is flawlessly balanced with the nude shades to enhance the master bedroom. By adding these pop of colors, the room gives a joyous and vibrant feel.
Grey hues contrasting with the bright tan leather clad bed and criss cross wooden flooring induces a dynamic elect to the son's room. The use of concrete finish textured wall paper with a self portrait by Archligne Design Studios adds on to the quirk of the room.
Brass handles, Golden vase and a pendant accent light is what went into creating this Guest bedroom room. The curved headboard with inbuilt lights and pastel wall art accentuates the whole décor but the polished and perfected carved fluted panel in white is the main highlight of the room, which will give the guests a luxurious comfort.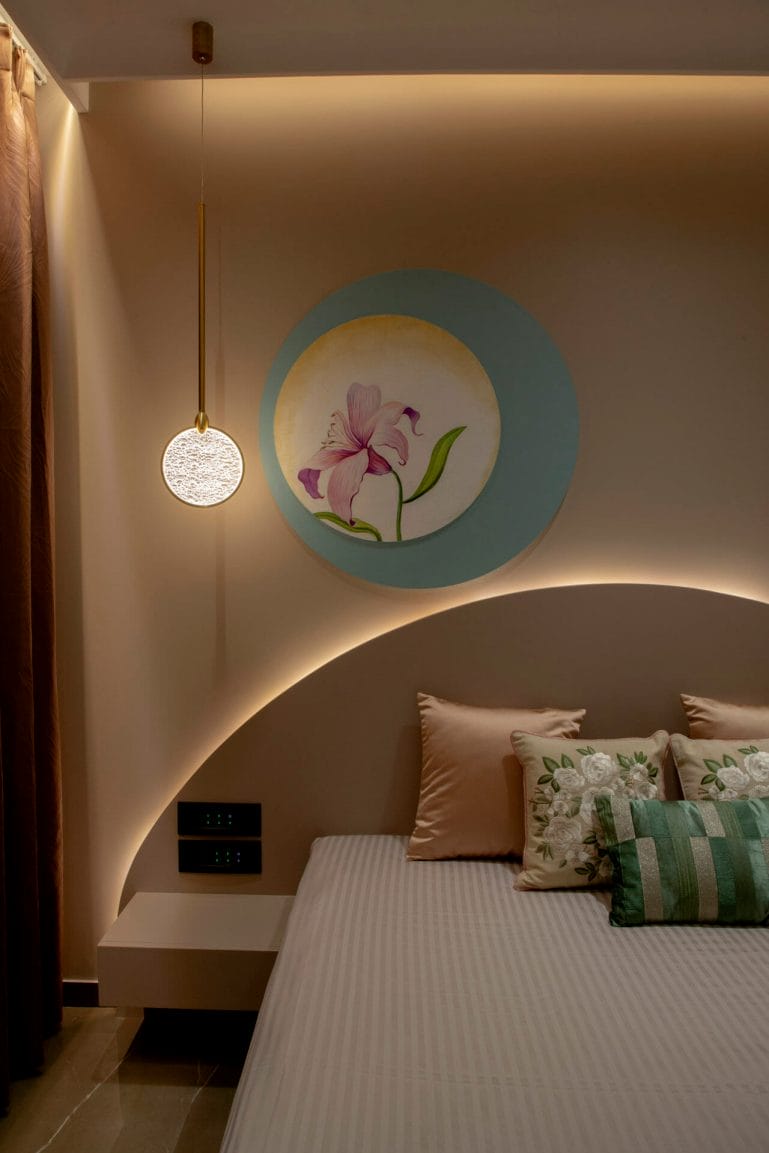 Fact Sheet
Project Name: The Luxury Comfort.
Total Area: 1150 sqft
Firm Name: Archligne Design Studios
Design Team: Nitesh Nagpure, Omkar Paralkar, Aparna Bhurke
Image Credits: Akshay Keni