A stunning, warm, and contemporary apartment in Parel has just been completed by the Inc design studio. The apartment spans 1,300 square feet and features three bedrooms with en-suite bathrooms, a spacious living room that opens up onto a balcony, an open-plan kitchen with a dining area, and a powder room.
For a living room, exposed pipes for the wiring. Exposing the house's wiring has made the living room feel open and airy. The full-height ceiling is created by dangling wires that are easily within reach. Not only does this unique look add a cool industrial element to any space, but it also makes it easier for you to run wires through the walls and ceiling.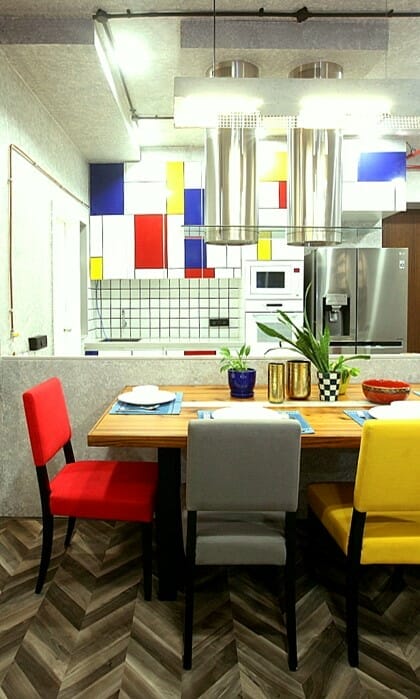 For the kitchen, the idea of a modern industrial look with lots of exposed piping as well as natural wood cabinets has been used. Keeping the countertop white is important for functionality and makes it easy to clean up.
The open Mondrian kitchen is designed to create an airy and spacious environment that is both calming and exciting. Muted grey paint creates a soothing, neutral backdrop that contrasts with the vibrant furniture and accents.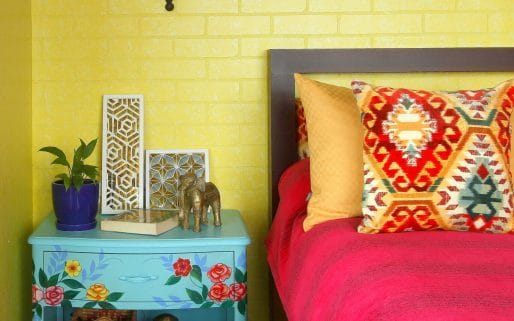 The master bedroom, complete with a Mexican-inspired theme, features an oak wood headboard reminiscent of the classic American furniture style that was popular during the 1950s. The room is painted a light yellow to match the headboard. A bright turquoise and blush colour scheme accents the room's elements, the bedding, throw pillows, and wall art to give it a retro style.
The guest bedroom is furnished with predominantly white furniture, including the bed frame, nightstand and dresser. Costa Brava brings a touch of the Mediterranean to a kid's bedroom. A soft blue and green colour palette are used throughout the room to create an airy and light feel.
Fact File:
Architect – Inc Design Studio
Area – 1300 sq.ft
Location – Mumbai
Photo credits – To respective person