Turn your existing bathroom into decadent, relaxing, opulent, sophisticated space
Let me start you on a small exercise of closing your eyes and imagining sheer decadence, the utter relaxing feel of warm frothy bubble bath to sink into, as soft music helps you undulate after a day's hard work. Next, open your eyes and assess if your bathroom evoke the same pampered luxurious feel. Question yourself if it offers the ultimate luxury indulgence of expansive, opulent and painstakingly designed space for maximum comfort and space efficiency? If not, read on for design inspiration for creating the most luxurious bathroom to suit every taste, from colors and materials, to fixtures and finishes.
Install rain shower and tub: Sensuous water indulgence, relaxation which relaxes while luxuriating in a warm bath to elevate your bathing experience. The wood themed bathroom, plush robes, non-skid floors, a deep soaking tub, and a top-of-the-line shower complete with wall jets and rainfall shower head is the ultimate way to relax and enjoy water in abundance. Thanks to its spray disc, the overhead shower integrates seamlessly into the ambience.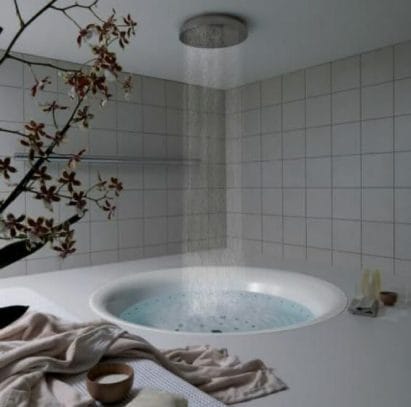 Bay Window Bath: If you are luckyenough to have a private garden, then design your bathroom with a big picture or bay window. Soak in the bathtub while enjoying stunning views from your bay window bath! These windows tend to be large and can be great for letting in natural light. Create a relaxing, spa-like effect and maximize the comfort level with a tufted chair, potpourri and scented diffusers.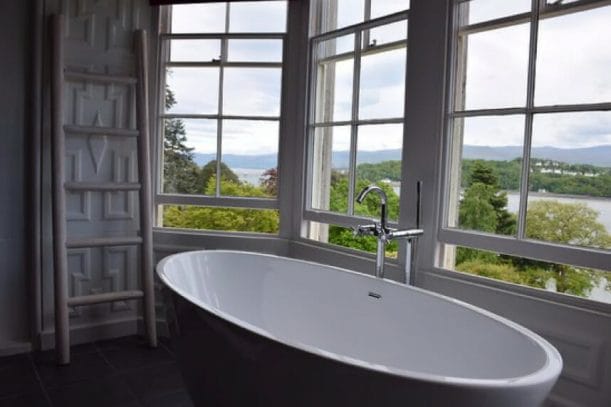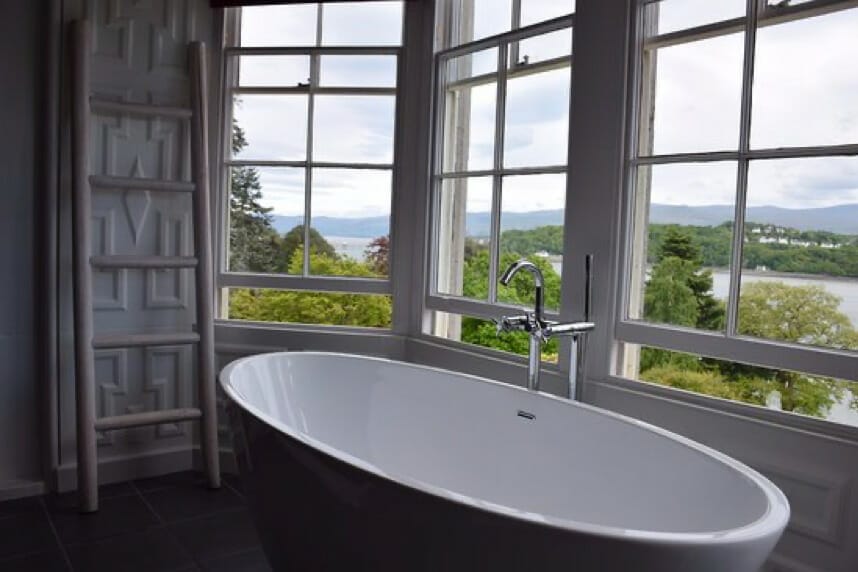 Create a courtyard. If your bathroom overlooks a garden, add a clear bathroom window which blurs the border between the garden and bathroom. Introducing nature with style by creating a vertical garden wall, or grow an indoor garden of potted plants. Potted plants and pebbles they bring in a lot of life, color and texture to the bathroom. You must consider building a privacy wall outside the window and crafting a mini garden within its confines.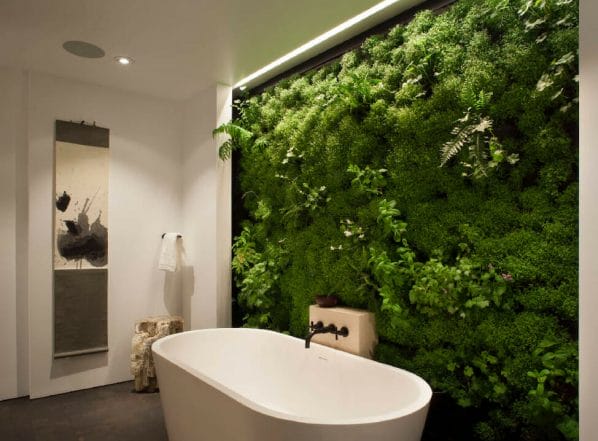 Ultimate flooring: Marble is a top element of luxurious bathroom ideas and designs. The border to wet zone is accentuated by a geometric section of wood flooring. Gorgeous white marble or tiled floors complemented with white walls, huge mirrors and gold accent brings in a spacious look and airy feel to the design. For safety, matte finished anti-skid tiles must be installed on the flooring. Distressed wooden areas visually add beauty and warmth of a spa to help restore mental and physical wellbeing.
Set the mood with lighting. When it comes to relaxation time under the soothing bubble bath, avoid harsh overhead lighting – instead opt for soft glowing lamps or suspended under-lighting over the tub because this adds to decadence of the atmosphere. Light candles add softness, romance and a perfumed aroma.
Exquisite Fittings. Infusea luxe look into the drab generic looking modern bathrooms with fancy ornate fittings on dual sink bathroom vanities. The expensive sheen of quality copper, chrome or brass finish fixture gives the much-needed sparkle and are a must have for luxurious bathrooms. Install a bathtub with jacuzzi if the bathroom is spacious enough. Even a wall-mounted WC introduces a sophisticated look— as it increases sightlines and makes the bathroom easier to clean.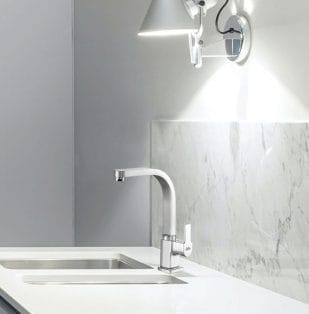 Stylish unique vanity can transform a bathroom. A designer vanity is an integral part of a luxurious bathroom. But keep in mind that vanity countertops are practical and beautiful. Focused task lighting are a must around the vanity with task lighting which illuminate both sides of the mirror with bracket lights at eye level. Backlit mirror for subtle illumination over a vanity wall can be considered. Ornate vanity mirrors can translate our very own luxury home bathroom.