Mini home bars make excellent add-ons to well-designed homes as there is nothing more relaxing than sipping while sitting on comfy stool with your acquaintances or watching a game at your own mini-bar. The mini-bar is your own style statement with minimal mess; whether you have build your own in a small stationary corner of your home on a movable cart or just turned your kitchen counter into one which let you whip up a martini or a rum and Coke, without leaving the convenience and comfort of the home. Here, we offer you a list of design ideas which help you design a mini-bar without sacrificing the coziness of a home or the personality of the people who live there.
Planning the mini-bar
You need to plan it right; answering the following questions will help you design a personalized mini-bar to perfection: —
Do you plan to enjoy a drink alone or with friends?
Want to flaunt the bar to visitors or keep it secret?
Do you need to store a collection of bottles or just keep 1-2 bottles at a time?
Will you stack glassware in the bar?
Based on all these questions, decide on the location, storage and seating size.
Location of the bar
This depends on the space you have in your home by checking your floor plans and your requirements. Do you have a niche or corner, kitchen, spare room or even a large living or bedroom room to house your mini-bar? Or your balcony for a great spot with a view!
Install mini-bar in a nook or corner
You can install a mini-bar in empty corners. Every home has an underutilized nook or corner, elegant compact and accessible functional straight or front mini-bars can be designed for using these awkward niches to perfection. These consist of shelves that are used for displaying and storing liquor, ingenious wall-mounted storage cabinets, and small marble countertop, stand for club glasses, a couple of black metal bar stool and LED lighting are a complete crisp, curated makeover which offers you and your guests the refreshments needed all day. Corner bars arebest used in rooms where floor space is limited and because of their small size, they're more of decorative features rather than complete mini home bar solutions.
Parallel Bars in living room
When space is not a constraint and you love to have friends over, create a parallel mini-bar design for living room. This design has two counters parallel to each other, while one counter can be used to mix the drinks and the other can be used as a bar table and this design has circulation space enough for 2 people to comfortably help themselves.
Mini-bar in kitchen
When you are installing a minibar in your kitchen, you have to ensure that the cooking area is not covered. Mini-bars in an island kitchen gives it a dynamic different look. An island counter can double as a bar counter in the night, as well as a breakfast counter in the morning. A part of the kitchen counter it can be used to display the drinks and mix. And the island can be used to serve it. Corner tables can hold all your beverages, bottles, glasses, garnishes, and utensils along with the ice bucket.
Transform that Closet
This home mini-bar bar is modern, elegant and posh but kept hidden away from plain sight but is handy when ever a situations call for a party celebration or just a relaxing nip before bed. The cabinet adds to life at the party as it is complete with a bar cooler, a wine rack and storage drawers and service countertop. The understated light grey tone highlights the elusive look. Tucked away in the cabinet, it does not flash drinks to visitors or children a very accessible yet discreet home bar. Lockable mini-bars in closet are your best choices if you have children. Mini bars in closet are easily hidden once the party is over and melts into the backdrop.
Under the Stairs
Put that awkward space under your stairs to great use. The black granite countertop sets the moody vibe, while the muted wall brings in the rustic and charming look add to complete with shelves for the bottles, mood lights and a cooler.
All in the Wall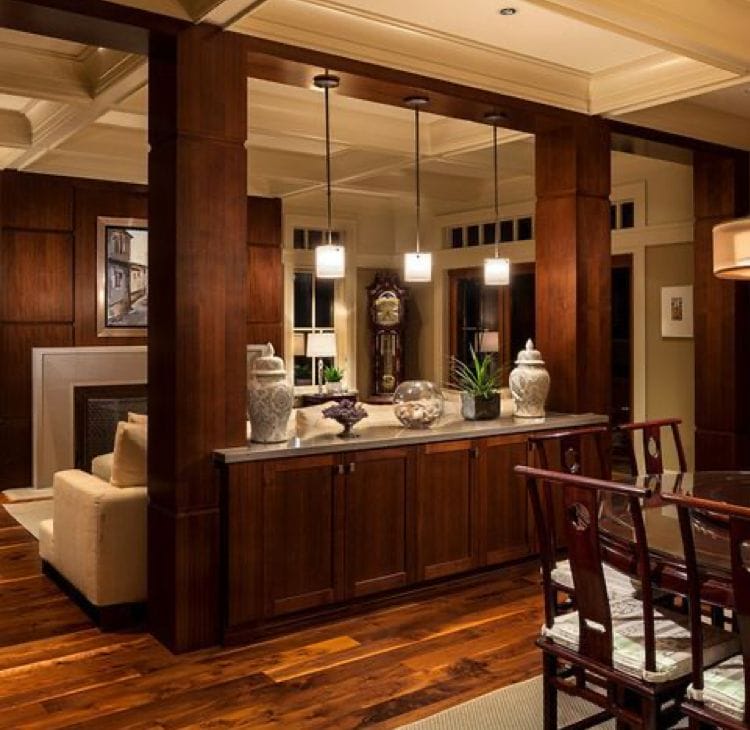 This home mini-bar also doubles as wall décor and is apt for smaller homes which need creative designs. Save up on floor space by installing your mini- bar on the wall by using your creativity to design the best mini-bar your taste and personality. This can be installed in bedroom.
Floating Bottle Storage
Amazing and interesting are floating storages for bottles in a modern minimalist home, wooden shelves impart a more rustic vibe.
Pool House Bar
Sip your drink by your pool and organize brilliant pool parties. A wall can display the accessories with neatly stacked glasses, typical counter in front, followed by a couple of bar stools but keep in mind that the flooring should be skid-proof, especially in a poolside bar to avoid mishaps.
Outdoor mini-bar in garden
Bring the party outdoors with this garden or patio inspired mini-bar perfect for parties or just lounging alone or accompanied with friends having a drink. Complete with coolers, wine shelves, a bar, sink, and lots of counter space for mixing drinks. Your guests will enjoy just lounging here in your backyard with you.
A home mini-bar can be put together in absolutely no time giving your home a dashing personality. Get inspired from the ideas mentioned above to gift yourself a stylish home bar!