Located in the vibrant neighborhood of Pitampura in New Delhi, HRM Global School stands as a shining example of how internal green spaces within an educational environment can profoundly impact the learning experience. This exceptional K-12 institution, designed by the esteemed Vijay Gupta Architects, has been commissioned by the Gulshan Education Society, with a commitment to providing a world-class educational facility. Spanning across an impressive total built-up area of approximately one lakh square feet, HRM Global School stands tall as a beacon of knowledge and innovation.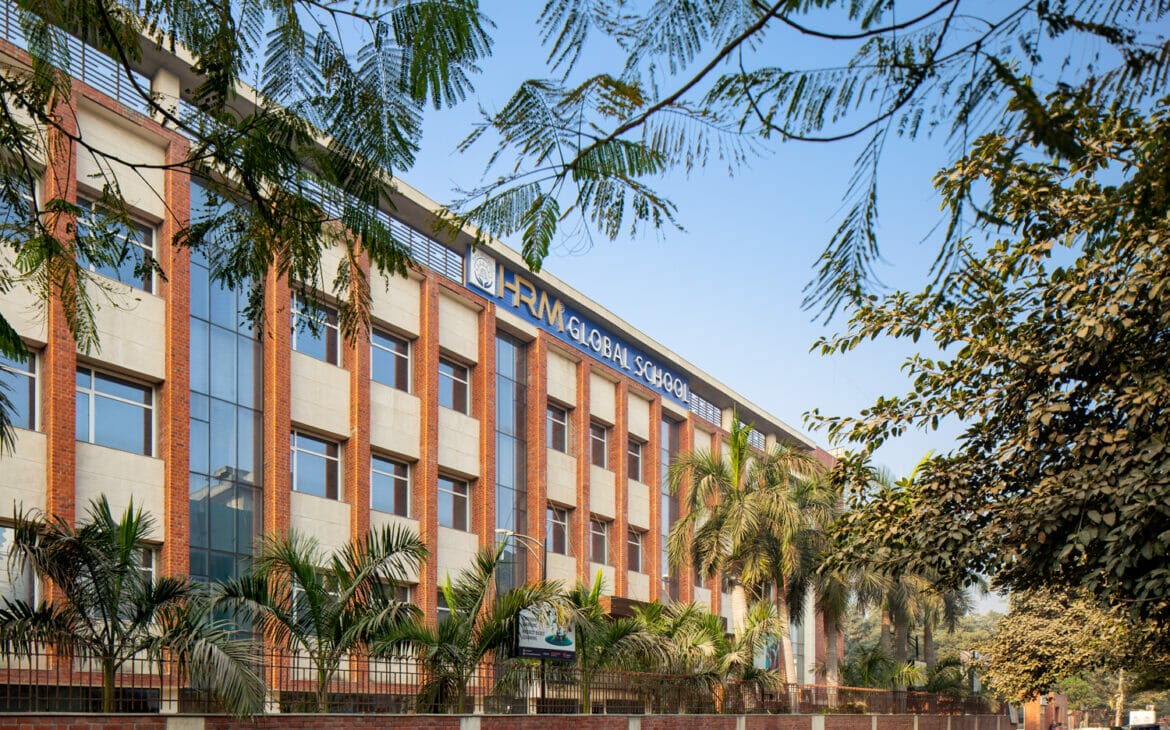 Situated amidst dense, low-rise, mixed-use development and in close proximity to the city's outer ring road, the site of HRM Global School has been thoughtfully planned. The layout strategically separates high and low activity zones, with the academic block on one end and a playfield equipped with sports courts and a swimming pool on the other. Due to its adjacency to a bustling and often noisy road, the school's design focuses on minimizing its connection to the outdoors. The primary design approach revolves around creating inward-looking green spaces to compensate for the absence of external views.
To achieve optimal spatial utilization in the academic zone, the client's vision was to create a well-planned layout. The design faced the challenge of working within space constraints and fulfilling a comprehensive list of functional requirements while preserving a pleasant learning environment. As a solution, the school adopted an introverted typology, featuring a central courtyard surrounded by singly-loaded classroom blocks. This four-story structure serves as a haven for both primary and secondary students, with classrooms enveloping the interior green space, fostering a constant connection between the indoors and outdoors. Additionally, on the upper floors, a diagonal corridor connects the two classroom blocks, which face each other.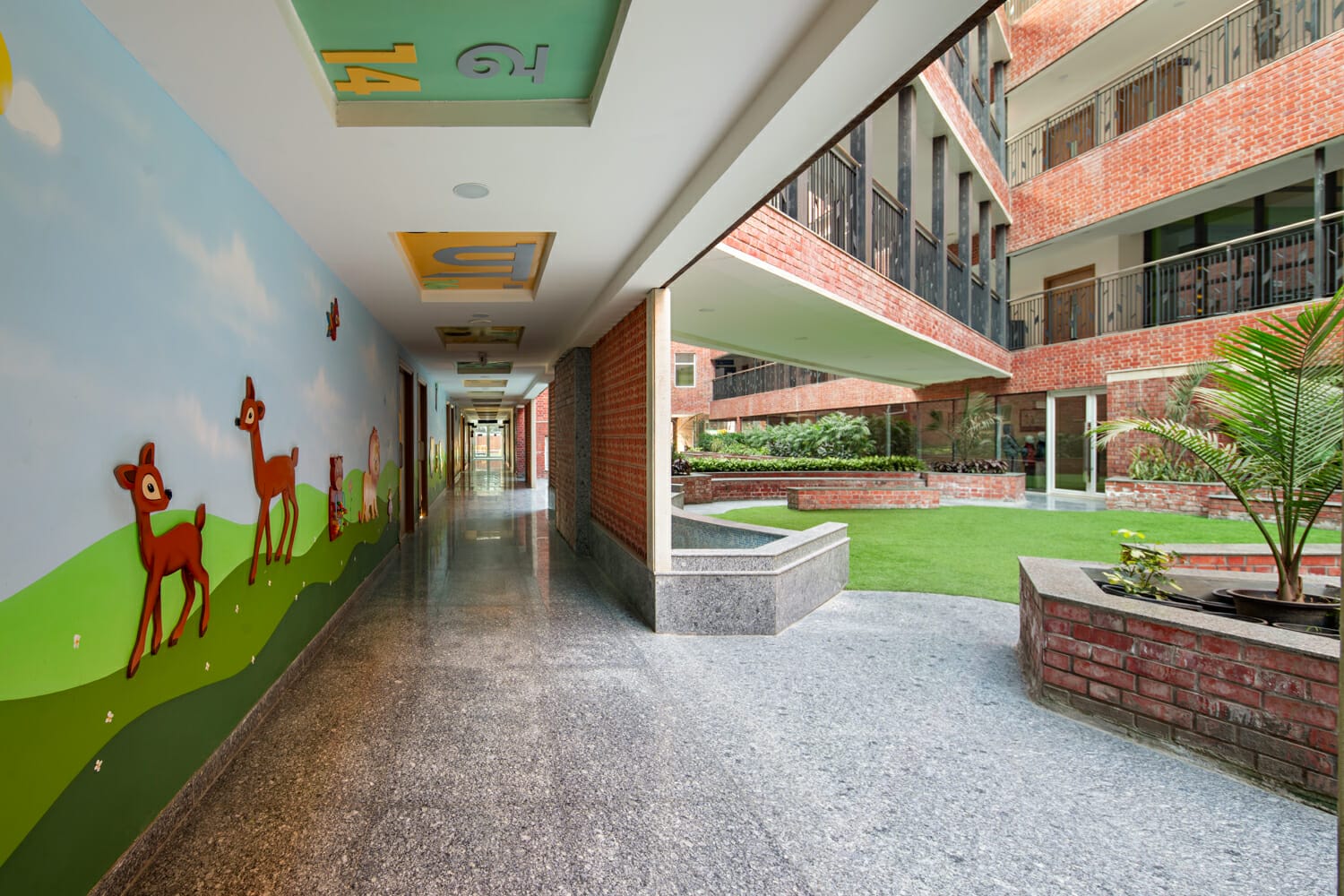 Strategic planning techniques have been employed to optimize facilities and ensure effective functional segregation within the school premises. Upon entering, visitors are greeted by a double-height reception area, which guides them towards the courtyard and other parts of the building. The ground floor is dedicated to administrative areas, staff rooms, the principal's cabin, and a conference hall. Lower-grade classrooms are situated on the ground floor, while upper-grade classrooms are located on the upper floors. Staircases and other service areas are positioned on the eastern and western corners, flanking the courtyard. To foster a sense of unity during events, a central activity zone is situated in the basement. This bustling and lively hub of recreation encompasses a multipurpose hall, cafeteria, visual arts studio, and music and dance halls.
The school's design exhibits a distinct sense of direction, characterized by clean lines and uncluttered spaces that prioritize mobility and openness. The landscaped courtyard plays a vital role in maintaining a refreshing and cool atmosphere, acting as a vibrant green oasis and a focal point for spontaneous interactions. Additionally, it allows ample natural light to permeate the interior areas of the building. Serving as a catalyst for seamless communication, this central hub of socialization fosters an unhindered learning experience. Furthermore, the courtyard layout promotes wide-angle visual connectivity between the learning spaces, contributing to a sense of well-being and security among students and staff.
The classrooms in HRM Global School are meticulously designed to optimize attention span and enhance concentration, catering to the CBSE board curriculum. The interior spaces are carefully conceptualized, considering children's behavior, anthropometry, color psychology, and scale. Embracing the advancements of the digital age, the school incorporates robust technological interventions at all levels. Smart boards and iPads are integrated into the classrooms, and teaching is conducted through the Smart Class module. Moreover, a digitized screening process using access control cards is implemented at all entry points to ensure security and streamlined access to the school.
The exteriors of the school feature a combination of exposed brickwork and Gwalior sandstone cladding. These materials not only offer durability and low maintenance but also harmonize beautifully with the natural greenery in the courtyard, imparting a rustic and earthy ambiance to the campus.
The design of HRM Global School prioritizes a central inward-looking space, fostering a welcoming and comfortable environment for curious minds to explore. Through mindful ergonomics and a sensitive approach, the design ensures that every area of the school is conducive to learning. In an era where indoor and digital learning is gaining prominence, this design represents a commendable effort to strike a balance between indoor and outdoor exposure for students.
Fact Sheet:
Typology: Institutional
Principal Designer: Arti Gugnani
Firm: Vijay Gupta Architects
Design Team:  Pimki, Rachna
Area (Sq ft): 1,00,000 sq ft
Photographer: Suryan Dang  
Product Library:
ACP / Glass / Concrete: Saint Gobain
Sanitary ware / Fittings: Duravit and Jaquar 
Furnishing : Earcons, ABI Acoustic Boards                                                
Furniture : Popcorn and Geeken                                           
Air Conditioning: Daikin                 
Lighting: Havells
Paint :Asian paints                                                 
Elevator :Schindler